At this spring's EXPONENTIAL event in Orlando, FL, Stratom's RAPID autonomous refueling system received an AUVSI XCELLENCE in Technology Award in the "Hardware & Systems Design" category. The awards honor "companies and organizations, and individuals that achieved significant accomplishments in operations, technology and innovation across the uncrewed systems community."
Stratom was recognized for its autonomous refueling capability, an approach that uses robotics along with vision sensing and detection systems to increase accuracy in locating a target vehicle's fuel port. Called "RAPID," the system was also designed to effectively manage vibrations and environmental conditions that could hamper refueling operations, such as aircraft movement, dust, dirt, sand, rain, and snow.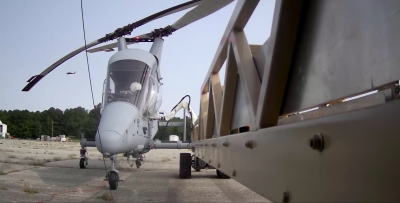 The company offers two automated refueling prototype systems: an autonomous ground vehicle refueling solution and an autonomous refueling system for aviation applications.
According to Stratom's president and CEO, Mark Gordon, with customers moving towards autonomous and uncrewed systems, it is a logical step to perform the refueling autonomously, as well to continue to increase the efficiencies found in these autonomous systems.
"We have demonstrated the capability in multiple scenarios to use robotic systems to refuel aircraft and ground vehicles," Gordon stated. "We believe "RAPID has the potential to be connected to the uncrewed air vehicle space, specifically on the commercial side."
He said that Stratom's refueling system could work particularly well with larger UAVs. "If it's a small drone, it's probably powered by a battery pack, so RAPID is probably not going to be the right fit," Gordon stated. "But if it's a larger class UAS system, a vehicle that's being run by fuel, we would be a great fit to perform refueling using our RAPID robotic refueling system."
Gordon said that his company works collaboratively with customers seeking refueling solutions for their aerial operations. "We take a multi-tiered approach to solving problems," he explained. "We have an advanced base technology offering, and then we sit down with the customer and figure out how they are going to integrate that technology, what aircraft they going to use, and how they are going to deploy it."
This process, Gordon asserted, "drives a lot of different decisions we make, including what is the reach that need to have with the robotic arm? Where will the system be placed within the infrastructure? How are we going to sense the fuel port? What is the working environment? We work with the customer on these questions to develop solutions that work best for them."
Based on Stratom's experience creating aerial refueling solutions, Gordon is excited about how the RAPID system will enable continued growth and acceptance of commercial drones.
"More companies are adopting robotic technology and UAV technology," he said. "With the way that we work with our customers to implement our systems, I'm excited about how our technology will continue to move the industry forward."