A few years ago, the Mexico-based UAV firm Sky Solutions realized that it needed to provide a more complete solution for its clients. Although the company had been successful building and selling its own drones, its customers were asking for a variety of services and components to help them derive greater value from drone-based operations like photogrammetry, precision agriculture, and inspections.
"We came to a time where we had to define this problem in our business model," explained Daniel Domit, co-founder and CEO of Sky Solutions. "We knew that we needed to create a solution that was really fast, agile, and economic."
To develop this solution, Domit and his colleagues looked at the many logistical issues that hindered drone operations with their clients in Mexico.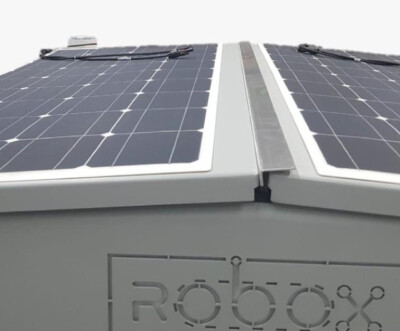 "For example, if one of our customers was located on the other side of Mexico and wanted to use drones for mapping or a similar operation, we first needed to see which drone pilot was available, then what equipment was available," he stated. "Then, then we had to send the pilot all the way over there and send the batteries and all the other equipment needed for the job. And, obviously, we had to stay there for a while, so we had to pay for hotel bills, airplane, tickets, etc."
Faced with these challenges, Domit and his team came up with a plan. "We decided we needed an autonomous drone system where clients wouldn't need any experience to fly," he reported. "They could fly it completely autonomously online."
Moreover, he said, "this system should be 'smart,' in order to decide if it was a good time to go out on the flight or not. So, that's when we use started with the idea of robots. Nowadays, it's pretty common to see a drone-in-a-box, but a few years ago it was something new."
Also, Domit reported, they needed the system to be rechargeable. "Many customers in agriculture and mapping, for example, are 'off the grid,' so we created a system that recharges automatically with solar panels. There's no need to have an electrical socket or a grid connection."
With these components, the Sky Solutions drone-in-a-box system is helping clients take control of their operations and save time and money.
"We have our own platform with a 3d viewer, so you can plan a mission online and select the area that you want to fly," Domit explained. "After that, you just pick the drone that you want to fly the route that you've just created, and the drone goes out of the box, completes its mission, then returns back to its hangar where it gets recharged automatically by solar panels."
The system, he stated, "is really dynamic and easy to use—and it can be fully independent and fully autonomous without needing human supervision."
At present, Domit said, Sky Solutions only has customers in Mexico, and those clients use the solution for mapping, surveying, and security operations. However, the company is in talks to expand to Europe.
"Right now, we're working with a Spanish company that uses drones to record football (soccer) matches, and they do trainings with drones," Domit reported. "They love the autonomous technology."
This company, he said, is looking to sell the solution to "some of the of the biggest teams in Mexico," and they have plans to bring the system to teams in England, Germany, and other countries.
"This is an application that we never thought would be our main focus," Domit stated. "But it it's turning out to be something really interesting. It's great!"