Drones were well represented at last week's Geo Week event in Denver. Many presenters on the show floor showcased uncrewed systems, and a number of talks and workshops demonstrated how the technology is being used to bring added value to operations involving lidar, geospatial technologies, and more.
On the final day of the conference, two sessions presented real-world examples of how companies and organizations are integrating UAV systems for mapping, construction, inspections, and surveying operations. Here's a look at those sessions.
UAV/UAS Sensors and Workflows
Moderated by Colin Romberger, a Solutions Engineer at Skydio, the "UAV/UAS Sensors and Workflows" session presented four real-world examples to make the case for incorporating UAVS into workflows involving dangerous conditions and hard-to-reach environments.
Scott Tiller, a geospatial developer, geologist, and UAV pilot with HNTB, led things off by showing how his firm is leveraging UAS hardware and software solutions to tackle projects such as inspecting a historical building in the Texas Hill Country, providing crucial information on highway conditions in Maine, and evaluating a bridge in Minnesota.
For this work, he explained, HNTB relies on in-house pilots and equipment along outside vendors to tailor data capture and post-processing operations in ways that best suit specific projects.
"We're constantly looking for new opportunities, new technology, to make sure that we can right size the particular solution to meet the client's needs," Tiller asserted.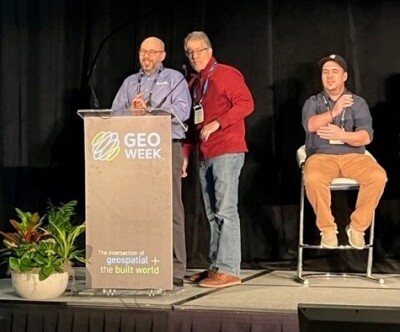 Next, Pini Goldman from Skyline Software and Jay Perkins from B+T Group explained how they use UAV systems for utility and cell tower inspections. Drawing from actual project experience, the speakers explained how they integrated drones to make close range photogrammetry and GIS asset management more efficient. The discussed how they handled crucial tasks such as flight planning, photogrammetry processing, desktop-based inspection, asset inventory monitoring, and reporting.
AirWise Solutions' Chief Technology Officer Josh O'Leary explored how repeatable workflows and tools can be used to create precision digital twins. Through years of working with drones on mapping projects, O'Leary and his colleagues realized the need to develop simple, repeatable workflows to effectively address issues such as flight planning, authorizations, and data collection. Drawing on use cases from the construction and inspection industries, he explained how AirWise is now working to develop consistent workflows that deliver precision at any scale. "The goal here is to make it so you can go out in the field and use these drones effectively and easily," he stated.
Finally, Mackenzie Mills of Blue Marble Geographics, presented a comprehensive look at how her company enables the creation of digital twins with UAV-collected data. An associate project manager with the company, Mills walked the audience through a common workflow using her company's geospatial program Global Mapper—in this case, data collection of a large school building. Step-by-step, she explained how a UAV with a camera for data collection, along with GIS software for photogrammetric processing, enabled GIS analysts to collect information and then create a digital twin with image, point cloud, and mesh layers. She also showed how derivatives of the geotagged UAV-captured images could lead to further analysis the generation of terrain and surface models and the ability to overlay additional data for 3D rendering, leading to a greater understanding the condition of the building.
Advanced Aerial & Hybrid Workflows
Hosted by Kiewit's Director of Geospatial Services Steve Shin, the afternoon session on "Advanced Aerial & Hybrid Workflows" offered four case studies that demonstrated the innovative ways that uncrewed systems are being used acquire remotely sensed data for use in research and practical applications.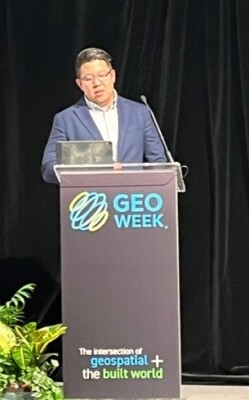 Mark Topping, Geospatial Technology Specialist at WGI Geospatial, discussed high density aerial lidar and comparative analysis. He described how his firm used uncrewed systems, along with topo-lidar and imagery sensor technology, to perform an acquisition project of a railyard network in eastern Texas in 2017 and later in 2022. Examining this project, he explained how the acquisition project demonstrated the ways the technology had changed over a five-year span and highlighted the strengths and weaknesses of the utilization of UAS and ground-mobile sensor platforms.
"Fully flying in GPS-denied environments is really hard to do," said Exyn Technologies' Director of Autonomy and Mapping, SLAM, Denise Wong, and "these challenges make data collection, really expensive. Oftentimes, we're not doing it as frequently as we'd like. And that can also be inaccurate as well." In her presentation, Wong showcased her company's approach to enabling pilotless aerial robotic flight in complex, GPS-denied environments like mines and warehouses. She showed actual films of Exyn drones operating in mines to demonstrate how her company's software and systems are advancing autonomous data collection.
Guy Meiron, Science and Technology Manager at Fugro Earthdata, presented a series of UAV-derived photographs to demonstrate the differences between "true" orthophoto—an image that has every pixel placed in its "true" geographical location including all "above the ground" features such as buildings and bridges— and conventional orthophoto, in which where only the "on the ground" features are in their true geographical location. He explained how his company meets client requests for "true" orthro images of buildings in heavily populated urban areas and the differences in the uses and interpretations of these images.
Finally, Ryan Rittenhouse, Geospatial Coordinator for the Florida Department of Transportation, took a detailed look at geospatial data automation, quality, and integration. In examining workflows involving lidar, multi sensor data collection, and 3D data acquisition, Rittenhouse showed images of pavement, curbs, and other transportation assets. He showed variations and discrepancies and talked about how levels of accuracy and can impact our understanding of assets. Ultimately, he explained how each phase of a topographic mapping project using multi-sensor data collection can impact quality assessments.