"Our mission is to restore America's industrial UAV fleet by building a drone that pilots love," stated Flyby Robotics founder Jason H. Lu.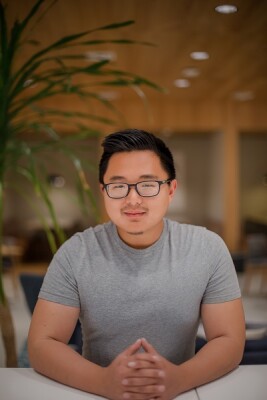 As Lu explained, "My family came to the United States as political refugees from China. Most people don't understand that in mainland China, all private interests are ultimately in service to those of the CCP. Every large company has CCP-directed political committees. It's a totalitarian state. So, I know all too well how dangerous it is that our critical industries in the United States rely on DJI drones. Our operators are stuck in this position where we have to get off of Chinese-made drones but need better US-made options to get the job done at an affordable price."
To create these better options, Lu's Los Angeles-based company works to incorporate the latest technological advances into its systems while staying mindful of the needs of commercial drone pilots. "We've gathered an amazing team of technologists here at Flyby Robotics, out of Yale research, NASA JPL, and Anduril, to build UAV systems for problem areas that we see as underserved in the US," Lu said. "Not only do we have expertise in vehicle design and control, but we also have talent in-house who have built machine learning applications and top tier user experiences on mission critical systems."
Central to his company's approach to product development is allowing commercial drone pilots to add components essential to their specific tasks. To this end, Flyby Robotics' UAV platform is designed with the ability to mount payloads on both the bottom and top of the vehicle.
"We want to make it easy for operators to integrate a variety of different sensors and run more advanced AI features on their drones," Lu explained. "We give pilots six accessible ports they can interface sensors with and have available integrations with leading sensors such as the Gremsy series, Sony A7Rs, and FLIR radiometric thermals."
Exceptional processing power is another important component of Flyby Robotics' methodology. "We have a GPU in our drones with 50 trillion operations per second of real-time processing power for computationally heavy tasks. That allows us to offer advanced AI features such as precision LiDAR-based obstacle avoidance that can see even tiny wires, and autonomous flight in GPS-denied or full-darkness environments. It also allows operators to run AI imaging tasks in real time on-board our drones, such as counting animals for wildlife preservation or addressing vegetation encroachment over railways. Anything you can dream of and program, you can do on the Flyby F-11," Lu reported.
This emphasis on processing power also enables Flyby Robotics to take advantage of the many opportunities presented by machine learning. "When we think of intelligent machines, one thing that we often don't consider is that the intelligence of a system is actually downstream of its computational capability," Lu said. "Recent advances in GPU computing are making it possible to do 100x more sophisticated things than we could even three years ago. 50 trillion operations per second of computational power have never been put onboard a commercial drone before—that means AI resources have never been this accessible. "
Putting these resources to work has resulted in improved performance and capabilities for Flyby Robotics' commercial drone customers. "We're seeing huge improvements in reducing fatigue and cognitive load for pilots, who are often flying in stressful environments for long hours," Lu asserted. "We're unlocking new multi-drone operational capabilities that dramatically speed up inspection tasks and enabling real-time data analysis to provide time sensitive insights from gathered imagery."
"Using these new advances and approaches to drone system development enables Flyby Robotics to continue to serve the needs of commercial drone operators. "Pilots already know exactly what they need," Lu said. "Our job is to help make capabilities and features accessible."
According to Lu, Flyby Robotics is currently engaged with development partners in a wide range of industries. "We can't share too much at the moment, but we're already working with folks in construction, oil and gas, and government use cases that leverage our high on-board computational capabilities to do things that were previously not possible on other platforms," he said. "If you're working on something with drones and would like to join, reach out to us."