Each year, Commercial UAV Expo attracts UAV companies from around the world. In addition to displaying their latest innovations on the show floor, many of these industry leaders take part in the Exhibitor Showcase Presentations, where they explain how their products, services, support, and software are making commercial UAV operations safer, faster, less expensive, and more efficient.
Companies represented at this year's Exhibitor Showcase Presentations included NV5 Geospatial, Aerial Vehicle Safety Solutions, Korea Drone Industry, Workhorse, BRINC, Skygauge Robotics, ideaForge, RIEGL USA, Virtual Surveyor, Cloud Ground Control, Sharper Shape, 3Dsurvey, Frontier Precision, and CSC Leasing.
Here's a look at a few highlights from this year's Exhibitor Showcase Presentations:
NV5 Geospatial touched on how they are implementing the hottest buzzword into the drone space, discussing their usage of artificial intelligence (AI) with data collected by UAVs. They touched on the reasons why AI is such a game-changing technology for the industry, looking at the ways it reduces both the required amount of manual labor as well as sheer time to complete a project, and the ability to open up new potential deliverables for customers. Specifically, they looked at how point cloud data collected by a drone can be processed through an AI and machine learning system to identify and segment different assets for infrastructure and other projects.
Workhorse's presentation centered around their delivery system, and was entitled Delivering the future. The company's foray into the aerial space is a relatively new one, as they originally manufactured electric delivery trucks, and still do today. In fact, as the presentation mentioned, they are currently working on a connection between their trucks and drones to for delivery. Generally speaking, they looked at how drone delivery can already be extremely useful for developing locations and isolated ones, and as regulations ease will be an important tool in traffic-filled urban environments.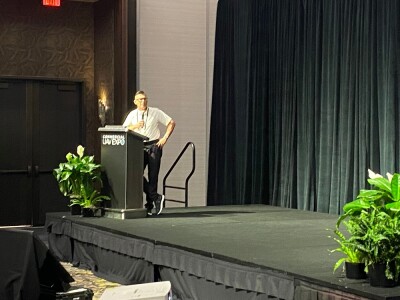 In the law enforcement and public safety space, BRINC discussed their technology in assisting law enforcement in tense, dangerous, and critical situations. Specifically, they looked at the Lemur 2, which as the name suggests is their second generation of law enforcement-aiding technology. The Lemur 2 improves upon the ease of use compared to the original version, and is capable of 360-degree position hold. Equipped with a new glass-breaker, the drone can fly into indoor spaces – working in GPS-denied and no-light environments – and uses its lidar sensors to provide accurate mapping of the interior, which is crucial information for law enforcement officers on the ground.
Looking forward to what they call the "Workforce of the Sky," Skygauge Robotics discussed how their unique drones are perfect for ultrasonic inspections of infrastructure like exhaust stacks, piping, storage tanks, and more. Traditionally, these workflows are undertaken by human inspectors, which can be a time-consuming process and, more importantly, extremely dangerous. Drones have been ill-equipped to handle these missions in the past due to the requirement for physical contact, but Skygauge has been able to get around that with their tilted rotor technique. Rather than the entire drone tilting like a traditional UAV, only the rotors tilt, allowing for the sensor to make the necessary contact to the structure in question from any angle. The result is much more efficient workflows, which are also significantly safer.
Also looking at the infrastructure space, Sharper Shape gave their presentation on their digital twin software, CORE. Standing for Cloud Optimized Remote Evaluation, CORE is Sharper Shape's proprietary software suite designed for inspecting infrastructure. The software handles end-to-end processes, from flight planning and assignments to data ingestions and review, remote inspection, defect identification, assessment, and reporting. Combining AI and human intelligence, the software streamlines workflows, with the presentation noting a 25 percent reduction in time spent on project and data management.