"When we were designing our new drone, we knew that it had to have state-of-the-art performance, but it also had to represent beauty. We are Italians, you remember."
Those are the words of Pietro Lapiana, President of Eurolink Systems. Speaking with Commercial UAV News at AUVSI's recent XPONENTIAL 2022 in Orlando, Florida, Lapiana described the development of his company's new Beluga® Mini-Drone. He explained how the Beluga combines classic design elements, inspired by Italian masters like Leonardo Da Vinci, with cutting-edge technology.
Several years ago, Eurolink started work designing a drone that was fast, quiet, and could be adapted to perform a wide variety of operations. According to Lapiana, Beluga is the first member of a family of innovative drones, and it is in production in three versions: cargo, surveillance, military.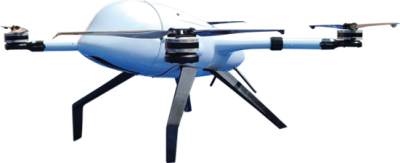 For inspiration, Lapiana and his team followed "Leonardo da Vinci's instructions," meaning that they looked to nature to "see what has been done already and create an optimized-by mother-nature/technological solution."
Looking to nature, they found the beluga whale, a creature known for its unique shape and intelligence. In the beluga, the Eurolink team saw an aerodynamic body, which enables the whale to move swiftly despite its heavy weight. They also saw the beluga's large head, which, when adapted to a drone, supports the housing of sophisticated technology.
Drawing on the natural "design" of the beluga whale, the Eurolink team created a drone that "can fly 69 miles per hour for one hour carrying 1.5 kilograms—with artificial intelligence processing on board," asserted Lapiana.
To address noise reduction, the Eurolink designers looked to other species. By examining birds of prey, such as night owls, they developed, in partnership with the drone laboratory of Niccolò Cusano University of Rome, unique propellers sporting a "toothed" design. These propellers, Lapiana said, make the Beluga as much as nine times quieter than standard commercial drones in range of weight 7,5Kg. "Beluga," he said, "is bigger and much more powerful than this class of commercial drones but tests performed verified it is quieter."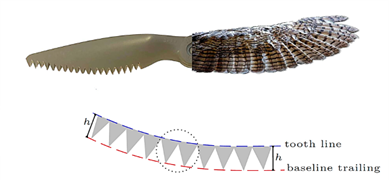 Reducing the noise produced by UAVs is essential for expanding the use of this technology, particularly in urban environments. As Lapiana said, "you could have hundreds of drones flying over your house," and humans and animals are "very sensitive to the noise level, frequency spectrum created by the propellers and the human perception and wildlife of a new type of noise."
The toothed propellers applied to the Beluga will enhance noise reduction and lead to more acceptance of drones in heavily populated areas. "It is a natural evolution," Lapiana said.
Looking beyond the Beluga's unique design, drone users will find a vehicle capable of performing a number of tasks. The drone can be fitted with a wide range of payloads, gimbals, and sensor suites.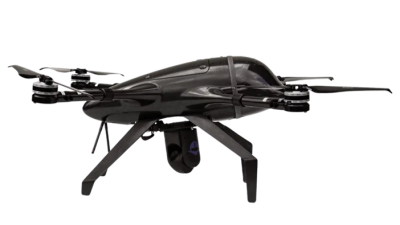 Also, Lapiana said, the Beluga is "extremely composable," meaning it can be easily configured to take on operations including the delivery of packages and medical supplies, 3-D mapping, search and rescue missions, surveillance, and work in agricultural settings.
In addition, Lapiana reported, the AI on-board processing allows for heterogenous drone swarm operations. With this technology, Eurolink is actively working on a precision farming project with a swarm of Beluga and ground UGV/dog robots for creating a digital twin of grape vineyards in the Dolomites area, a UNESCO heritage site.