Geo Week focuses on the integration of the built environment, advanced airborne/terrestrial technologies and commercial 3D technologies. This year, Diversified Communications held the event from February 13-15 at the Colorado Convention Center in Denver. It featured a ton of new tech innovations, including geo-focused integrated drone solutions.
Here's a snapshot of some, but not all, of those featured at the show.
Wingtra
Team Wingtra was out in full force with its distinctive orange VTOL, the WingtraOne Gen II. The company brought its A-game to Geo Week because data collection is their "bread and butter," per Andrew Fore, the company's Regional Sales Manager for the Eastern Rockies.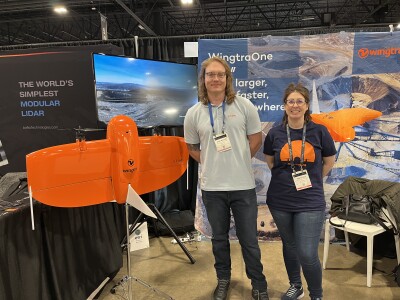 Unlike some other OEMs, Wingtra singularly focuses on being the best mapping drone on the market.
The Wingtra One Gen II takes off and lands like a multicopter but flies like a fixed wing aircraft. Ideal for surveyors and geospatial engineers, this lightweight (8.1 lbs. with batteries) drone provides absolute horizontal accuracy down to 1 cm (0.4 in) at speeds 8x faster than multi-copter drones and 2x faster than standard fixed wings. It can carry almost 2 lbs., up to 59 minutes, at operational cruise speeds of 35.8 mph. Given this profile, users deploy the Wingtra One Gen II across a wide range of applications including mining & aggregates, surveying & GIS, construction & infrastructure, environment & research and precision ag.
What sets Wingtra apart from the rest of the pack, in Fore's eyes, is the drone's reliability and ease of use.
Discover more about the WingtraOne Gen II here: https://wingtra.com/mapping-drone-wingtraone/gen-ii/
Frontier Precision and Freefly
Several exhibitors displayed the Freefly Astro, including reseller Frontier Precision. According to Hayes Guillot, UAS Sales and Support Specialist at Frontier, his company carries the Astro to give customers a wide range of quality options.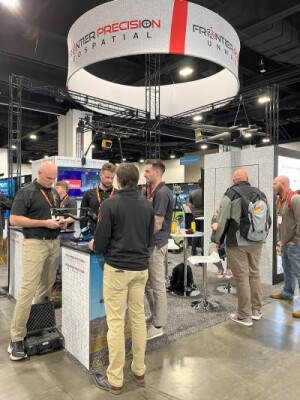 Precision Frontier sells drones, geospatial equipment and, per Guillot, "everything GeoWeek's about," including the Astro.
A made-in-the-US alternative to DJI's Matrice 300 (which was usually featured in the same booths as the Astro), Freefly's Astro quad can carry a 3+ lb. payload for up to 25 minutes. Equipped with RTK, a 61 megapixel Sony camera, a custom version of Skynode (LTE cloud connectivity, onboard Linux mission computer, and seamless connectivity to Auterion Mission Control and the Auterion Suit) powers the craft.
Freefly extensively tested the Astro during its development. To ensure the Astro would be worthy of carrying some of the world's most expensive sensors, the company subjected the drone to over 200 engineering test plans and more than 1000 hours of flight and simulated tests before launch. Today, the Astro boasts over 100,000 successful commercial drone flights.
Learn more about Freefly's Astro here: https://freeflysystems.com/astro
Hexagon and Leica
Frank Collazo, Reality Capture Consultant for the US & Canada for Leica Geosystems, showcased the Leica BLK2FLY drone in the Hexagon booth. Inspired by the precursor BLK2GO handheld scanner, the company sought a better way to scan higher hard to reach outdoor spaces. It added multi-rotors, GNSS and radar to its scanner and voila! The "flying laser scanner" BLK2GO was born.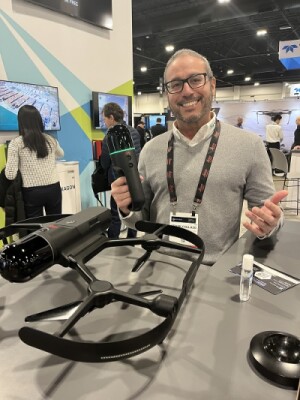 With a range of 82 feet, the fully autonomous BLK2GO is perfect for scanning rooftops, vertical facades, bridges and construction sites. It uses advanced sensor fusion tech that combines LiDAR, SLAM, visual SLAM, radar and GNSS for accurate and complete reality capture, at less than 1-2 cm accuracy. It launches with the push of a button and can be remotely operated from an iPad, using the BLK2FLY App. With flight times of about 13 minutes at max speeds (without obstacle avoidance) of 5 m/s, this lightweight bullet-with-wings drone is the world's first fully integrated autonomous LiDAR UAV.
It's no wonder CONEXPO just selected the BLK2FLY as a Top 10 finalist for its Next Level Award. Earlier this year, TIME magazine listed the BLK2FLY as one of the Best Inventions of 2022.
Get more information about Leica's BLK2FLY here: https://shop.leica-geosystems.com/leica-blk/blk2fly
Easy Aerial and Exyn Technologies
Widely known for being a DIU "Blue UAS" company, Easy Aerial also boasts a rich history of commercial drone success, according to Bar Shoham, the company's Marketing & Sales Manager.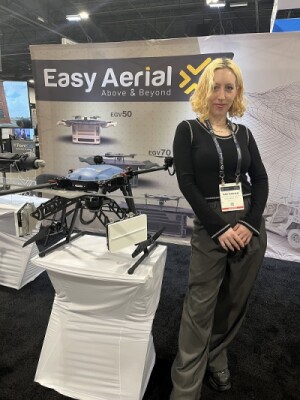 At Geo Week, EA showcased two new drones, including one custom-made for partner Exyn Technologies (winners of the event's Pitch the Press Award).
Easy Aerial redesigned its Osprey Blue UAS drone to create the hardware for the 100% autonomous ExynAero EA6 to operate in challenging and complex environments, including GPS-denied zones. Specifically, Easy Aerial made the EA6 arms and props shorter on the EA6, to fit into tight areas, such as mines. To compensate for this, Easy Aerial also "beefed up" the motors, using ones similar to those on its Osprey Heavy, Shoham explained. The company also added a quick release battery for rapid redeployments. "The ExynAero EA6 essentially is a new combination for all of our best features, with Exyn's amazing tech on board," she said. That Exyn tech includes Level 4 autonomy which enables beyond-visual-line-of-sight operation. Not surprisingly, the ExynAero EA6 is also Blue UAS compliant.
Easy Aerial also revealed its Sparrow drone at the event. A backpack-portable capsule drone that can carry 5 lb. payloads for 30 minutes or an EO/IR camera with advanced analytics, up to 50 minutes.
Learn more about the Easy Aerial - Exyn Technologies partnership here: https://www.geo-week.com/community-news/exyn-announces-partnership-with-easy-aerial-to-integrate-autonomy-on-new-flagship-airframe/
Emesent and Acecore
Emesent, known for its Hovermap ST-X SLAM-based LiDAR mapping solution, featured a few drones in its booth, including the Acecore Zoe.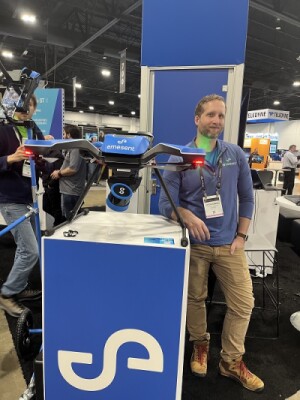 Made in the Netherlands, this autonomous rotor-craft drone boasts an impressive set of specifications and can lift payloads up to 6kg due to its carbon fiber low frame weight and custom-designed brushless motors.
The Hovermap ST-X provides sensor range up to 300 m, across 32 channels with an accuracy of plus or minus 10 mm. This versatile system, whether mounted to a drone, a vehicle, placed in a cage, dropped down a shaft, used by hand, produces the same high quality of data capture and visualization.
Justin Simkins, Technical Specialist for Emesent, explained that this one sensor can do multiple things, while working flawlessly. This alleviates the need to use multiple sensors for any application such as in mining, which might otherwise require 5 sensors. Other features include automated GCP registration which allows for autocorrections of SLAM drifts during long scan runs. Add to this, fast onboard processing speeds (1:1). Simkins said, "With Hovermap ST-X, you never have to touch the internet. All you need is a laptop and the Hovermap."
Simkins explained how the Zoe is perfect to integrate the company's Hovermap ST-X payload. As he described it, Hovermap "takes over the brains of the drone and uses it for navigation in real time." This enables flight in GPS-denied environments, such as indoors, underground or in canyons.
When integrated on Acecore's Zoe, mapping missions can run anywhere from 18 to 20 minutes including BVLOS and out of communication range. The Zoe collects the data with Hovermap and simply returns when the mission is completed or the drone needs a a battery change.
To learn more about the Emesent / Acecore integration visit: https://acecoretechnologies.com/hovermap-zoe/
Skyfront
Several companies showcased Skyfront's hybrid gas/electric Perimeter 8 drone. This workhorse drone boasts the unofficial world record for the longest flight time (13 hours), but typically flies anywhere from 2 to 5 hours, depending on payload weight.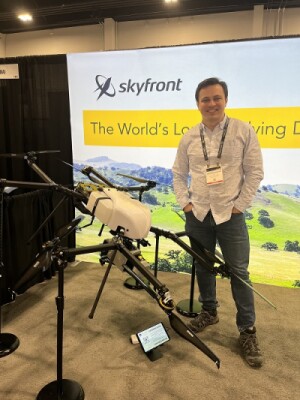 It integrates with a wide range of high-quality sensors including those from GeoCue, GeoDetics, Yellow Scan, Astralite, and Riegl. It can fly up to 12K feet and is weather resistant up to 25 mph winds.
Company CEO and drone designer, Troy Mestler PhD, explained the value proposition of his Perimeter8. "LiDAR is very expensive," he said. "We provide a platform that allows our customers to maximize their return on investment by covering a huge area in just a single flight. This equates to less manpower and time in the field. Time is money."
Visit here to learn more about Skyfront's Perimeter 8: https://skyfront.com/perimeter-8/
TOPODRONE and FIXAR
Another drone that seemed to pop up all over the floor was FIXAR's 007. With flight maximum distances up to 60km (37.3 mi) and cruise speeds of up to 65-72 km (40-45 mph), this shiny red bird can fly up to 59 minutes carrying payloads up to 4.4 pounds.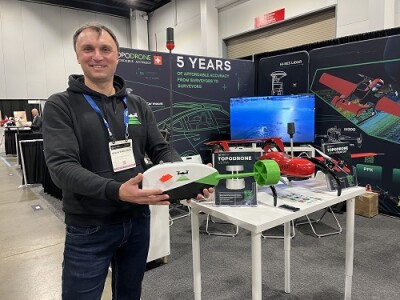 One of those payload-providers, TOPODRONE, featured FIXAR's drone in its booth. (FIXAR had its own booth at the show.)
Swiss-based TOPODRONE has become one of the world's top LiDAR-systems producers. Maxim Baklykov, CEO & Founder, a 20-year surveyor, created the company to increase the safety of these operations by alleviating the need to place GCPs and checkpoints in dangerous and difficult areas. Today, the company's high accuracy global solutions, which combine best-in-class Honeywell IMUs, Velodyne and Sony cameras and self-developed GPS system microcomputers, cost on average 5 times less than other systems ($15K). According to Baklykov, the TOPODRONE solution is also the only one that allows for use of the same camera for RGB, multispectral and LiDAR integration. TOPODRONE created a special integration for FIXAR based on the Livox LiDAR. Baklykov said it is his company's most lightweight sensor.
TOPODRONE also featured its Aquamapper for bathymetric surveys. It attaches to a drone by a tether to run, at fast speeds under water. The Aquamapper combines the company's IMU, GPS, microcomputer and adds an echo sounding sensor in a streamlined shape to provide real time profiles of water depths and temperature, among other things. It comes with software to process this data automatically.
Here is a case study on the Fixar 007/TopoDrone integration: https://fixar.pro/casestudies/lidar-mapping-with-fixar-007-and-topodrone-in-switzerland/
Here is a case study on bathymetric surveying of a Swiss lake with TOPODRONE Aquamapper TOPODRONE LiDAR and bathymetric survey of Luc de Bret in Switzerland: https://topodrone.com/blog/1377/
SmartDrone
The SmartDrone Discovery 2 is a LiDAR and RBG all-in-one drone made in Tyler, Texas. And it has a handle!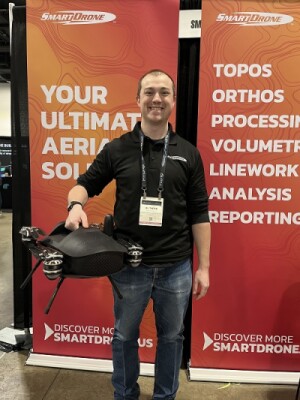 According to Al Thead, SmartDrone VP of Services, the company "goes where pulled" with its engineering efforts. One small example of this is that customers asked that deploying the drone in the field be easier, so SmartDrone built a handle into their product, which set it apart from almost every other drone on the show floor. The company continues to focus on making a tool that each surveyor can use. Thread said, "People can easily carry our drone, pop it out and set it up. It's automated. It provides the user the ability to get their own results from the data and begin processing themselves, which also differentiates us from the rest."
The Discovery 2 can cover 50 acres in a flight. The company's hardware comes with software provided through a perpetual- use license that provides unlimited access to its advanced processors with 15-minute LiDAR and 45-60-minute ortho processing included for customers. The company both sells its drone and offers drones-as-a-service. Either way, SmartDrone Field Application Specialists go directly to customers to deliver or support drones and complete work in their designated regions.
The drone's onboard processor georeferences data and then puts it out as a full point cloud .LAS file, a .TIF for orthomosaics, or a .XYZ for vegetation-filtered ground grids. Thead explained, "We can provide highly technical point cloud data in simple text or other files because that's what our users—surveyors, civil engineers and earthworks companies—want. Getting started this way, they can seamlessly input it into their current CAD workflows and get started using this technology, and if they decide to get more involved with point clouds in the future they can."
Thead says SmartDrone prides itself on its product and service. "We have a 75% uptake rate, in repeat customers," he said, "because we have a heart for service."
Learn more about the SmartDrone Discovery 2 here: https://www.smartdrone.us/product/discovery
Harris Aerial
Stephen Maciong, Director of Sales & Marketing for Harris Aerial, highlighted the company's Carrier H6 multirotor platform and its three power formats; Hybrid Electric, Fully Electric, and Hydrogen Gas.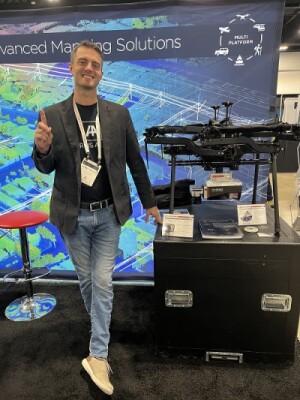 This Blue UAS 2.0 drone is not only used by the Department of Defense and public safety but is a favorite for geospatial applications as well.
The Harris Aerial Carrier H6 Electric, displayed at Geo Week, can be converted to a hybrid-electric or hydrogen-gas format in less than 10 mins using a 3-step procedure. According to Maciong, the Carrier H6E, in its various configurations, generally gets longer flight times than comparable electric platforms used in the remote sensing industry. Maciong says the H6 EFI has logged in linear inspections up to 77 miles long.
Harris Aerial has 5 unique patents on the Carrier H6 and machines large portions of this aircraft in-house. The company has partnered with all the largest sensor manufacturers in the world, including Riegl, Workswell, PhaseOne, and Phoenix LiDAR, to make this USA-made drone an ideal pick for geospatial applications. And how much can it lift? "Probably more than you are legally allowed to," said Maciong.