For over 120 years, humans have been fascinated with the potential to leap to the skies and see our good ol' Earth from above. Unfortunately, the privilege of being at the command of a flying machine has been, for the most part, an expensive proposition, and one that many consider out of reach.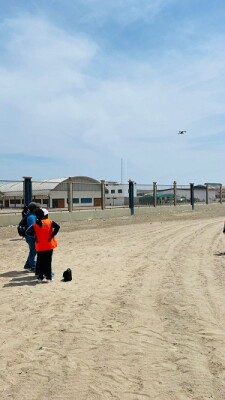 In general terms, a private pilot's license would cost approximately $35,000 and take about six months to complete. If you decide to become a commercial, multi-engine, and instrument-rated pilot, now we are talking over $100,000 and a year or more dedicated exclusively to hone your skills enough for the Federal Aviation Administration (FAA) to allow you to carry passengers or cargo for hire.
And that is just the beginning of a long and tortuous road to accumulate enough hours (normally 1,500) to be eligible for a job with an airline or an aerial cargo enterprise. Most recent graduates of commercial flying schools obtain their certified flight instructor (CFI) license and spend the next three years teaching in exchange for hours, in an effort to get paid to reach the sometimes elusive 1,500 hours.
Now there is a new possibility for newcomers who are excited about careers in aviation, and that is uncrewed aircraft. With equipment prices listed in the hundreds of dollars as opposed to the hundreds of thousands, and training courses that are affordable and short, new pilots are arriving in this nascent industry at an exponential rate.
According to the FAA, the number of commercial + airline pilots at the end of 2022 was 271,000, and the number of drone pilots was 304,000. Since the inception of Part 107 in 2016, the number of uncrewed licenses issued by the FAA has grown steadily from 20K in 2016 to over 300K in just seven years; a growth rate of an average of 47,000 new pilots a year.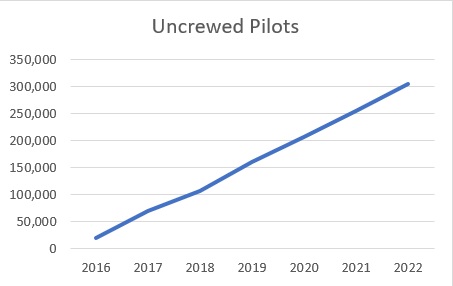 In the meantime, the number of commercial and airline pilots has grown at a meager average of 2,800 pilots a year in an industry that is growing exponentially with more low-cost airlines adding new aircraft to their fleets.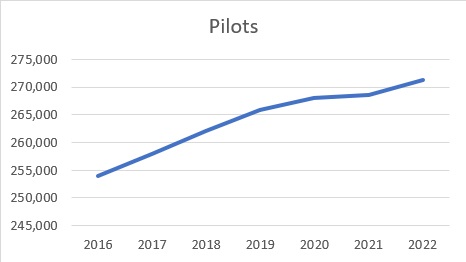 So, how are we, as an industry, trying to bring more people into aviation?
One initiative happening organically throughout the world is the introduction of drones to underserved communities in many countries by organizations that have realized that uncrewed aviation might be a good source of new jobs and innovative ways to improve the lives and prospects of hundreds if not thousands of young people.
One great example of these initiatives is UAV Peru, an organization that specializes in drone services in mining, inspections, delivery, and many other fields. UAV Peru is taking the time and investing the resources to bring drones to small communities. We spoke with Kimberly Rojas, Engineering Manager at UAV Peru, who described her efforts to bring uncrewed aviation to a small community south of Lima.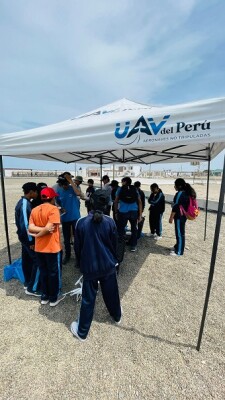 "We established partnerships with Flying Labs Peru and with the Universidad de Ingenieria y Tecnologia – UTEC to bring drones to the town of Nuevo Cañete, 160 km (100 miles) south of Lima," Rojas said. "After weeks of preparation and coordination with leaders of the small community, we managed to get 32 children who attended the two-day workshop and learned to plan a flight, perform it, and then processed the data to create a map of the community."
With the understanding that these types of activities required a large amount of people, UAV Peru invested in the training of UTEC students and volunteers to perform most of the field work.
"We worked with UTEC to offer volunteers the opportunity to learn about drones and become train-the-trainers in this fascinating new field, and we had over 30 applications," Rojas said. "We trained them for a month in all phases of flight, from pre-planning to image processing and all aspects of the legal framework required to perform a drone flight in the Peruvian territory. Most of them have never heard that there was a law covering the use of uncrewed aircraft!"
Another example of the efforts of drone experts to expose underserved communities to the new uncrewed aviation is Rafa Ocon, one of the most important YouTube Spanish influencers. In his constant traveling around the world, he always takes the time to show, and in some cases train, children and adults alike in the use and possibilities of drone technology. The videos that he has captured with young faces in full smile regalia are a blessing for all of us who believe aviation should be the realm of everyone, and not only a lucky few with the resources to pay for a long and expensive education.
"I travel the world as part of my filming work capturing beautiful nature scenes and that sometimes takes me to remote communities where tourism is scarce and the exposure to new technology is almost non-existent,"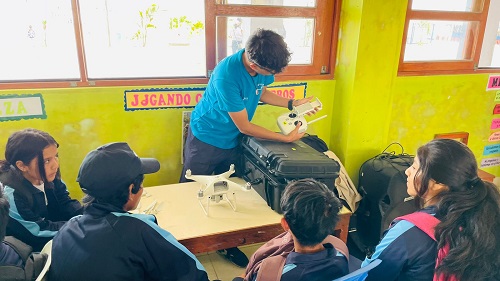 Ocon said with enthusiasm. "I'm always amazed at the reaction of children to drones and the excitement to learn to fly and to understand the basics of aviation in such a small, but functional airplane. I try to take the time to teach a group of young, and not-so-young, people how to operate the drone and to think of what benefits this technology could bring to their communities. More recently in Iceland, while filming aurora borealis, a group of young children and elderly people showed interest in the technology, and we spent time with them explaining and teaching the basics. They not only learned it fast, but I believe we planted a seed that will bring fruit someday."
Ocon and his team have also spent time in Indonesia, several countries in Africa, and many other regions around the globe. We firmly believe that by exposing everyone around the world to this inexpensive, easy-to-use technology, we will be adding a new, affordable tool to their toolbox and that only their imagination on how to use to benefit their communities will be the limit.
Humanity will be better off by increasing access to uncrewed technology all around the world.