One of the most difficult things to do when involved in a new technology or an emerging industry is to keep up with new developments, especially in a globalized economy where the "next big thing" can come from anywhere.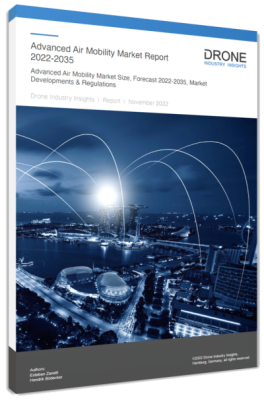 One company in particular, Drone Industry Insights (Droneii), has captured the worldwide drone reporting and consulting market niche with a series of insightful reports about the industry that provide timely intelligence in a fast-moving field.
We connected with Eduardo (Ed) Alvarado, Head of Communications for Droneii in Hamburg, Germany, for an insightful conversation about the art and science of drone reports.
"The first thing we realized is that advances in the drone industry are happening simultaneously all over the planet and therefore our audience needs to be global," Alvarado said. "This creates wonderful opportunities but also challenges. Many organizations around the world which are not necessarily involved in the development of the drone industry are looking for information on when and where to invest. Many are banks and international financial institutions (IFI's) which are joining the evolution by adding much-needed funds to the growth engine."
At this point we are all aware that aviation, crewed or not, is an expensive industry and therefore new entrants need funding to develop their ideas. Droneii plays a key role in providing potential investors with the necessary information to place their money in those sectors and identify specific companies with the greatest chance of success and improved return on investment (ROI).
"We have identified certain markets that have the most potential in the short term," Alvarado said. "And our reports reflect our methodology and our systematic approach to gathering and analyzing information. Events are happening at an incredible rate and the sheer number of new technologies and improved products is constant and never-ending. All we need now is the spark of less regulation to ignite a number of these technologies to become mainstream."
When it comes to the issue of uncrewed aviation, Droneii has decided to address both the small UAV (sUAVs) and advanced air mobility (AAM) markets as one industry with two distinct sectors.
"We believe that AAM, or air taxis, and small delivery drones are here to stay and even though they are not being deployed to the fullest yet, it's only a matter of time and regulation before we have both in our daily lives," Alvarado stated. "Today, there are areas of the world where life-saving medical deliveries are constantly being made to a growing number of localities. With Zipline in Africa and Everdrone in Sweden, we are witnessing the beginning of an industry that will benefit humanity in endless ways, and we are trying to forecast just how quickly this will happen and what obstacles it may encounter."
The same way crewed aviation modified our way of life in the 20th century, uncrewed aviation will do the same in the current century. Perhaps it will have an impact on more people as new applications and new uses can be developed and deployed.
"We at Droneii are making a concerted effort to be ahead on new developments, new markets, and regulations in order to offer comprehensive analysis to our customers through our various reports and consulting engagements," Alvarado concluded.
The reports that Droneii is putting together and regularly releasing are real gems in terms of information and analysis. We look forward to more industry insights from this pioneer in our industry.