This year, drone industry leader Draganfly added three new technologies to its suite of products. The company's new Heavy Lift Drone, Commander 3 XL Drone, and Long Range LiDAR are designed to help companies in industries such as package delivery, agriculture, public safety, mapping and surveying, and energy improve operations and increase ROI.
"These three new drone technologies represent Draganfly's commitment to engineering solutions that address challenges big and small across all industries," said Cameron Chell, President, and CEO of Draganfly. "Draganfly has been at the forefront of drone technology for over 20 years, and our Heavy Lift Drone, Commander 3 XL Drone, and Long Range LiDAR System are just a few examples of how our company continues to push the boundaries of drone capabilities."
Here's a look at the features and uses of Draganfly's new product offerings:
Heavy Lift Drone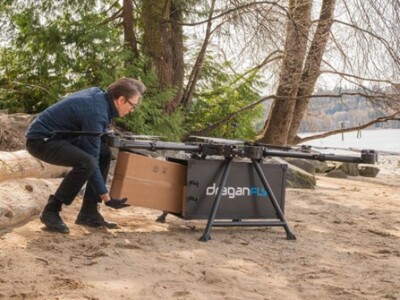 Draganfly's Heavy Lift Drone is a multirotor UAV capable of carrying up to 67 pounds of payload and flying for up to 55 minutes. By lifting more and flying further, this multi-rotor UAV enables low-cost, highly efficient automated transportation.
The Heavy Lift Drone is compatible with a variety of interchangeable payloads. Its modular parcel delivery system payload box can fit objects and parcels up to 15″ x 17″ x 34″ in size, but the vehicle's features enable it to do much more than haul packages.
The lifting capacity permits flexibility for carrying large high-end sensors like hyperspectral and bathymetric LiDAR to conduct large-area surveys. What's more, Draganfly engineers can customize the drone's heavy lift to accommodate specific business needs.
The Heavy Lift Drone has been used by Revived Soldiers Ukraine, a non-profit organization helping people affected by the war, to deliver critical medical supplies and humanitarian aid to some of the hardest hit areas of the country.
With its ability to carry large payloads and sensitive medical material, the Heavy Lift drone is a cost-effective solution for industries in logistics, operations, and distribution.
Capable of supporting automated missions, as well as manual flight operations, this industrial UAV is designed to easily handle heavy winds and high elevations, making it ideal for surveying and mapping, as well as public safety deployments. In addition, the vehicle's LTE-enabled autonomous navigation and advanced flight control system allow long-range beyond visual line-of-sight (BVLOS) operations.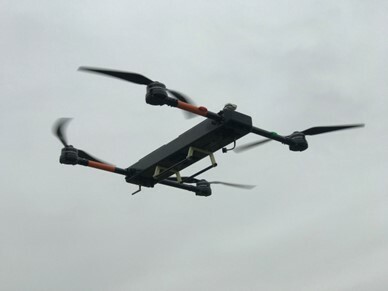 Commander 3 XL Drone
Like the Heavy Lift Drone, Draganfly's Commander 3 XL Drone is a high-endurance, weather-resistant, multirotor UAV. However, the Commander 3 XL is designed for easy assembly and rapid deployment.
The Commander 3 XL was modeled after Draganfly's X4-ES drone, the first drone used by the Royal Canadian Mounted Police to save a human life. In 2013, emergency officials in Saskatchewan deployed the Draganfly drone after unsuccessfully locating the victim of a vehicle rollover. Using an infrared camera, the drone was able to help emergency crews locate the injured driver in a matter of minutes.
The Commander 3 XL drone supports automated and manual flight operations making it the ideal choice for industry leaders across a variety of major markets, including public safety and agriculture.
The Commander 3 XL's fuselage consists of a simple rectangular tube, and each component has been specifically designed to ensure the airframe can pack down into a transportable case. Its propellers have a quick-release or folding function. Two quick-release arm assemblies insert into either end of the tube. Landing folds below each motor along the length of the arm. Batteries are semi-permanently attached to carrier plates. This allows for automatic connection during installation.
The drone is capable of drop and winch-down systems to transport up to 26 pounds of payload, and it can stay airborne for a maximum of 50 minutes. Moreover, the Commander 3 XL comes with a 24-mile flight range and supports a maximum airspeed of 45 miles.
Because of its flexible design and wide-ranging capabilities. Draganfly's engineers call Commander 3 XL "the Swiss Army Knife of drones."
Long Range LiDAR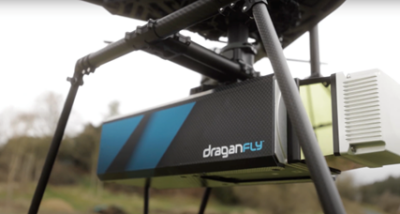 Draganfly's new Long Range LiDAR system is a sensor technology created to add value for various customer-driven applications, including mapping and surveying forests, cities, real estate, energy infrastructure, and telecommunications infrastructure.
Draganfly's Long Range LiDAR system has been used during the conflict in Ukraine providing de-mining teams with data that allows them to map anomalies discovered in the field.
The Long-Range LiDAR system enables accurate distance measurements and improved resolution over conventional photogrammetry methods. What's more, the system is compatible with a wide range of aircraft, including UAVs and helicopters. It can also be used as a mobile scanning solution when mounted on a vehicle or backpack.
Central to the Long Range LiDAR system is its integration of advanced sensors from Teledyne (LiDAR sensor) and Applanix (IMU + GNSS).
The Teledyne sensor produces survey-grade point clouds with a 360-degree laser scanner up to a 750-meter range (50kHz). With this scanning range, the system can produce 0.5-centimeter point cloud precision with two-centimeter global accuracy, ensuring high-resolution data at two million points per second. Also, the system's four laser returns capture more ground points and enable high-accuracy bare earth models under the thickest vegetation.
To learn more about these products and discover many ways Draganfly can improve your drone operations, visit them in Booth 238 at the 2022 Commercial UAV Expo.