How many people can claim that they have over 4,000 hours of drone piloting time? Probably just a handful worldwide, and Dennis Lobos, a professional drone instructor from Chile, is one of them.
Lobos is a pioneer in the field of unmanned aviation. He has been flying almost daily since 2012, first as a hobbyist, using remotely controlled helicopters and fixed wing aircraft, and then with multi-copters. We encountered Dennis as an instructor at the USA Drone Academy, a prestigious flying school in Miami, Florida, where he trains an average of 10 pilots a month.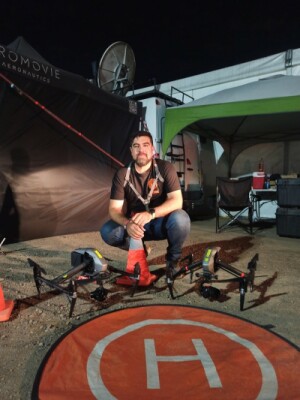 "I began flying in 2012 when still the Chilean authorities had no idea of what a drone was," said Dennis. "It was a pretty relaxed environment where regulations didn't exist yet, and everyone we went, it was the first-time people saw a drone. Eventually, the Direccion General de Aviacion Civil (DGAC), the equivalent of the FAA in Chile, heard of our activities, and the situation changed."
In 2015, the DGAC mandated that, in case of accidents, the pilot of the drone and the company hiring his/her services would have to share responsibility equally. This situation grounded all non-piloted flights around the country until a solution was found.
"We had to approach an insurance company and convince them to create a policy for drones, which they reluctantly did," Dennis said. "As soon as we could prove to the authorities that we were fully insured, they dropped the requirement of equal responsibility, and the industry took off."
Dennis specialized in video filming and live broadcasting, and his business began to grow as TV audiences grew accustomed to seeing new perspectives of sporting events and crisis sites. He was approached by TV and film producers, and his company entered a period of high activity and low competition from 2013 to 2019. In 2019, the Chilean government launched an initiative called Calle Segura or "safe street" in which certain areas of the capital city of Santiago would be monitored 24/7 by security cameras to prevent crime and allow these areas to prosper economically.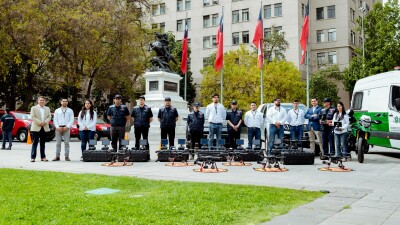 "The government outsourced the monitoring duties to companies that specialized in security monitoring, and I was contacted by the largest firm in the country to apply as a pilot in their new drone-monitoring initiative," Dennis said. "After the interview and because of my experience, I was given the job of supervisor, and a crazy period in my life began. We flew non-stop for almost 20 hours a day for weeks on end making sure the designated streets were filmed constantly. We had seven drones, and each flew five-and-a-half hours a day. The Calle Segura initiative was hugely successful, and soon I found myself training pilots to expand the operation to other cities in the country. At this point, I received a job offer from the most prestigious mining surveying company in Chile, and I gladly accepted and moved on to working on some of the largest copper mines in Chile."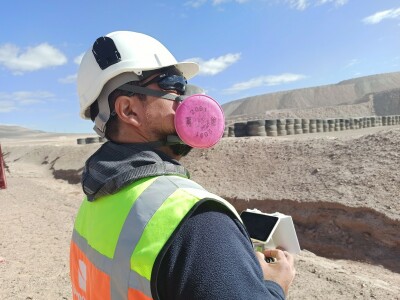 In 2021, Dennis received an invitation from North Training Group, a professional training organization interested in having experienced teachers in the US. Eventually the USA Drone Academy heard of Dennis' experience with drones and reached an agreement to use him as a Part 107 trainer.
"From a professional point of view, I saw an opportunity to be at the center of the drone universe—the United States—where most regulations are born and then followed around the world," Dennis said enthusiastically. "I'm a great supporter of Remote ID and every other legislation that allow drones to fly legally and safely in the vicinity of airports, and I'm convinced that all these rulings will eventually allow crewed and uncrewed aviation to share controlled airspace."
When we analyze the number of pilots who are applying for Part 107 training, it is easy to extrapolate that when the Federal Aviation Administration (FAA) releases its much anticipated beyond visual line of sight (BVLOS) ruling, the industry will leap forward to the next level of services and availability of autonomous applications. With people like Dennis training the next generation of aviators, we are confident that there will be no shortage of pilots to fill the huge expansion of business that this ruling will bring to the industry.