The first units of StrixDrone's DroneDock drone airport rolled off the assembly line in Dayton, Ohio in June. The Israel-based company set up shop in Ohio a year ago with the intention of tapping into the region's growing presence in technology and manufacturing. This first batch of drone docks, built to enable Spright to expand its drone-based healthcare delivery missions, signals StrixDrones' commitment to doing business in the US and to building on its expertise in uncrewed systems for commercial clients.
"For me, business is made by people," Niv Aharoni, founder and CEO of StrixDrones, told Commercial UAV News. "We found very good people for our team in Ohio, and a spacious facility in a convenient location with a great environment. It was the right decision to base our product production and US operation in Dayton."
Last year, StrixDrones established a manufacturing facility in Ohio's Montgomery County and hired two skilled assembly line technicians as full-time employees. They also subcontracted with local material suppliers, including RAM Precision Industries and NCT Technologies Group, to build the docking stations. These arrangements helped the company create an infrastructure to meet global demand for the DroneDock.
Today, that work is paying off as Spright takes its first order of docking stations. "We developed two docking systems for Spright, the Drone Drop and the Strix 2100," Aharoni explained.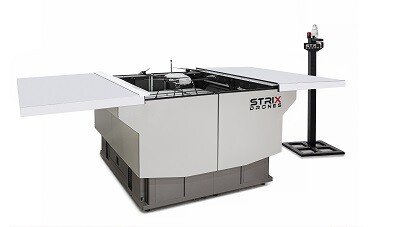 "The Drone Drop is the system that Spright will use during the day for fast delivery of blood and other life-saving medical supplies and products. During the night, the Strix 2100 will host the drone or the eVTOL."
The Strix 2100 provides drones with a safe and secure place to land. Once in the unit, drones can recharge, download data, and prepare for future missions—without the need for a manual operator. The Strix 2100 station can accommodate a wide variety of drone models, including eVTOL, and it offers custom software that enables efficient charging, internal climate control, and a telemetric weather system to aid in flight planning. An alert system to report adverse weather and system failures is also included.
Aharoni stated that the Strix 2100 is ideal for a variety of commercial missions because of its ability to coordinate operations across a number of units and adapt to changing situations. "Our system is like a 'family,' because it doesn't rely on just one unit," he said. "If a drone is sleeping inside one station, you can simply use a drone from another station to complete a mission. Or if a certain drone is not the best for the job, you can select the better drone from another station. The network of stations provides options making a drone fleet more productive and cost effective."
The ability to operate without a human operator is another important feature of StrixDrones' drone airport systems. Developed through work with military clients, the autonomous capabilities of StrixDrones' docks allow drones to return to the station, receive new mission details, and launch themselves—all without human oversite.
"Whether it is a civilian or military mission, the need for autonomy is the same," Aharoni asserted. "We have achieved full autonomy with our system, and we can replace the need for a human 24/7."
Looking back on the past year, Aharoni is proud of the progress StrixDrones have made and excited about the future. "Everything is working in Dayton, and now we are going forward," he said. "Our goals for the next year include expanding our current manufacturing facility and adding more people to the local team."