We recently had the opportunity to speak with Martin Marinak, who is responsible for the eVTOL aircraft and drone market development at Kistler. Kistler Group is a Winterthur-based Swiss company leading the way forward in drone and aerospace measurement technologies. We asked Martin, about the future of drones, and how Kistler Group plans to stay way ahead of the curve by forming strategic and key relationships with industry leaders within this market.
H2: Q1: For those unfamiliar with Kistler, what are the company's core businesses?
A: Kistler Group is the global market leader for dynamic pressure, force, torque, and acceleration measurement technology which covers the complete measuring chain from the sensor to the measurement-data analysis software. The piezoelectric sensor is at the heart of every measurement system from Kistler and, based on piezoelectric technology, the most important element of our measurement technology. We are an owner-managed corporation, with a focus on helping to shape future innovations in many newly emerging sectors, such as drones and eVTOL aircrafts. Based on our extensive application expertise in advanced testing on the ground and in flight, and always with an absolute commitment to quality, Kistler Group, plays a key part in developing the latest drone solutions.
Cutting-edge technologies provide the basis for Kistler's modular solutions. Our products and services are already used in a variety of industries, including the automotive industry, aerospace, plastics processing, and metal working. We have also been involved in the development of drone technology for several years. In fact, we saw the potential of drones early on and decided to focus our R&D efforts on this exciting and emerging new field. As a result, we have developed several innovative products that are now helping shape the future of drone technology. This enables our customers to optimize their own products and processes, secure a competitive advantage within the market, and position themselves as industry leaders.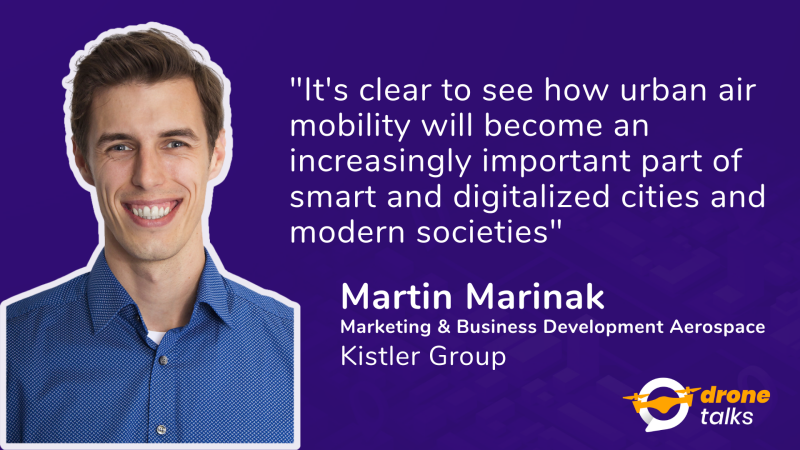 H2: Q2. You are involved in several major aviation applications. What led you to focus time and energy on both UAVs, drones, and VTOL testing?
A: Well, the unmanned aircraft system markets have been experiencing unprecedented growth in recent years, which is why we've chosen to invest our time and attention into drone technology and eVTOL aircraft testing. We genuinely believe that this is a megatrend and will form critical pillars within the global aviation industry. Even when you consider the number of ways a drone or eVTOL aircraft can be used, from delivering packages to reducing traffic congestion, it's clear to see how urban air mobility will become an increasingly important part of smart and digitalized cities and modern societies.
And really, our drive and focus come down to our established and proven portfolio for the aviation and space industry (ground and flight vibration testing, propulsion testing, payload testing, electric motor testing, structural health monitoring, impact measurements, crash tests…), which led us to pursue this even further. For example, we are helping to improve precision and reliability in regard to space travel to its physical limits. Why not utilizing our proven industry experiences in aviation and space for drones and eVTOL aircraft to make the ecosystem safer together?
H2: Q3. Which Kistler partnerships or solutions-related drones are you the proudest of and why?
A: At Kistler, we are in contact with both smaller utility drone manufacturers and large eVTOL aircrafts OEMs that are already equipped with our solutions, as well as aviation test centres. When you talk about pride, I think the products our partners use at university centres for developing such innovation and that go on to be used by industry leaders within the UAM market are what we are most proud of. In fact, we have forged over 30 research and development partnerships with universities and colleges so far.
We can support eVTOL and UAV companies through the entire product design cycle. We have the products and expertise to help them at all stages, from R&D, prototype testing to zero defect, hand assembly or fully automated industrial manufacture. Our devices can measure the noise level of the aircraft or the vibration of it. By utilizing our sensors, you can have information about the maximum performance of the drone or how much energy you need to transport payload, just to mention a few capabilities.
H2: Q4. How do you envision the drone ecosystem evolving in the near future? And what are the most important and significant changes you are anticipating?
A: There's no doubt that the drone ecosystem and UAV industry will continue to thrive over the next couple of years, and we expect to see new infrastructure and legislation come into play. There will also be an increase in testing and monitoring of such vehicles in order to guarantee safety and prevent noise pollution, especially in city centres and suburban neighborhoods.
I also anticipate the topic of social acceptance to become more prominent in discussions related to drone technology as well as certification required to own and fly drones as well as the need to adhere to safety requirements.
Since there will be more testing of drones in the next couple of years, of course, there will be an increased demand for more testing facilities for UAVs and eVTOLs too. Along with test requirements geared towards BVLOS vehicles as well.
H2: Q5. Kistler Group has more than 60 facilities across the globe. Which countries do you tend to focus most on in relation to drone partnerships? And which partnership are you looking to nurture even further?
A: While we do have a prominent global presence at Kistler Group, we are focusing our attention to the US, DACH (Germany, Austria and Switzerland), UK, Korea and China and looking to develop stronger partnerships with UAV and eVTOL companies, along with drone aviation test centres. We are also interested in forming strategic partnerships with any R&D departments or centres with a strong focus on UAV and eVTOL aircraft.