Last year I had the privilege of attending the first-ever Urban Air Mobility (UAM) Conference that was organized by Aviation Week Network (www.aviationweek.com) in Atlanta, Georgia. Attending a conference focused on such a nascent technology and meeting with the people who are helping to enable it was an incredible experience. It meant being able to connect with experts from NASA, the FAA, Boeing, Airbus, EmbraerX and many others, all of whom are defining a brand new aeronautical frontier.
I was already looking forward to attending the 2020 edition of the live event as soon as it wrapped up, but as it has with everything else in the world, COVID-19 changed everyone's plans. That adjustment saw the event become Aviation Week's UAM Virtual conference (#AWUAM), which had me further learning about this nascent technology and connecting with these experts in a whole new way.
Some have found the virtual event experience to be taxing, but I found AWUAM to be just as riveting and as fascinating as it was in person. It was illuminating to get a better sense of how these large, unmanned vehicles are going to be added to the National Airspace System (NAS). Given the logistics and costs associated with safely doing so, it has become one of the most pressing issues in the entire drone industry.
It's no secret that the three big aircraft manufacturers along with plenty of other smaller players can build electric vertical take-off and landing (eVTOL) platforms that can fly efficiently. The problem is how to add these vehicles to an already crowded sky in order to make them financially viable.
The panel of experts addressing this conundrum was precisely what was needed to look at the dilemma from every angle. Representatives from NASA, the FAA, end-users such as UBER, manufacturers and European private air traffic controllers explored what these challenges look like and what it will mean to address them in terms of technology, regulation, the market, and more.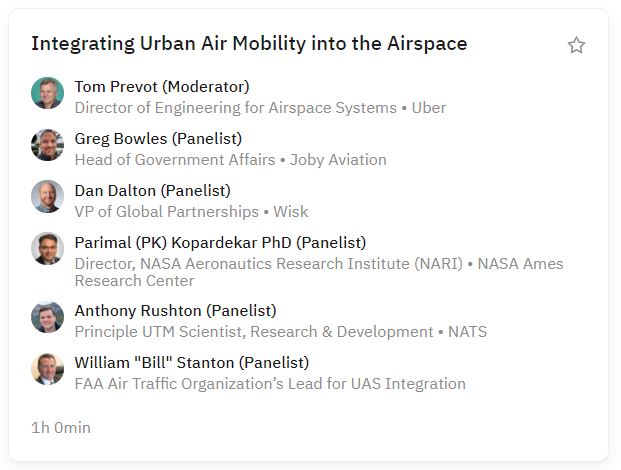 Tom Prevot from Uber Elevate started off by highlighting the ridesharing company's initiative to enter the UAM space. He highlighted the recently published UAM Concept of Operations version 1.0, which was jointly developed by NASA and the FAA. This comprehensive document presents the first set of guidelines that would be necessary to add UAM vehicles to the NAS while also preserving the current levels of efficiency and safety. It's an impressive resource that offers a sneak peek into what NASA and the FAA are thinking when it comes to this kind of mainstream integration of the airspace.
Prevot reinforced the position that adding air taxis or UAMs to the NAS as it is right now is not feasible. He explained why new concepts and new regulations must be developed and enforced in order to have a viable industry.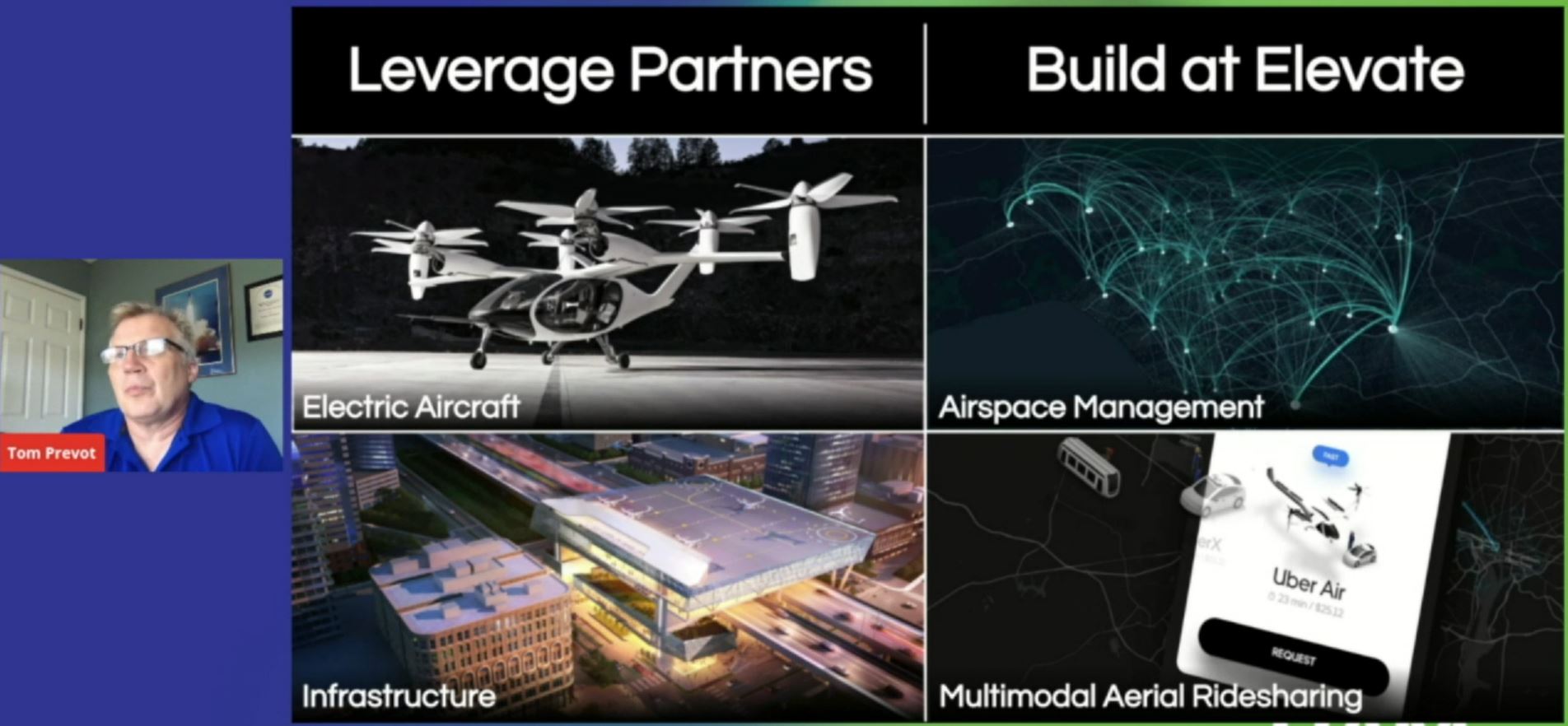 After he was finished, Parimal Kopardekar (PK) from NASA opened the discussion by describing what his organization is doing in collaboration with industry and the FAA to create the concept of "corridors" below 400 ft that would allow new aviation technologies to be added to the NAS.
"The focus is on unmanned traffic management (UTM) and how we integrate these vehicles into the current air traffic control (ATC) without adding to the burden of human controllers," PK said. "This means creating a digital infrastructure to communicate with the unmanned aircraft with non-verbal means inside the corridors."
Bill Stanton, representing the FAA and ATC, made the point that whatever we come up with to solve those challenges has to be approached in thoughtful manner that considers the present and future for the entire industry.
"We need to be patient and apply the old precept of crawl-walk-run to this integration," Stanton declared. "We all want it to happen but if we hurry and implement something that adds burden to existing controllers or create chaos, the industry is going to suffer or fail entirely."
Greg Bowles, from Joby Aviation, described the challenges that his engineering team is having designing a vehicle for a future that hasn't arrived. Their solution can't just focus on the technology but the environment in which that technology will be operating.
"We are developing a piloted eVTOL aircraft which will be very quiet and will be affordable to operate," Bowles said. "At the same time, we are convinced that UAM operations, in order to succeed in the near term, will have to use existing infrastructure. In other words, they'll have to use airports and heliports in urban areas. Initially, that won't cause the skies to be overcrowded. The introduction of UAMs will be gradual and it will certainly operate within corridors, probably below 400 ft but eventually will 'graduate' to operate above 400 ft."
He also mentioned that Joby Aviation is aiming at having commercial operations by 2023 under a Part 135 certification, which is something we've seen organizations like Wing pursue and secure.
Dan Dalton from Wisk, which bills itself as the company behind the world's first autonomous, all-electric eVTOL air taxi, further explored what this ecosystem might look like in the context of his company's solution.
"At Wisk, we are developing a non-piloted eVTOL aimed at joining the NAS but without adding any extra work to existing ATC," Dalton said. "We need to add these vehicles to the current crowded sky with the same level of safety and reliability of today's manned aviation. This is our challenge. We have a pilot project in New Zealand that's providing us with a lot of useful data and we are sharing this data with the FAA in the US in order to resume our testing here in the very near future."
Anthony Rushton from NATS explored this issue from the context of private ATC companies that are trying to understand the implications of adding these vehicles to the NAS across many countries. NATS is a private air traffic control company in the UK.
"We operate in an environment in which every region in the European Union (EU) has different regulations and requirements," Rushton mentioned. "Therefore, the challenge is exponentially more complex as we try to be a player in each one. We are committed to the integration of these new kinds of aerial vehicles to the NAS as long as they don't affect the current state of safety."
Stanton said that the FAA is working with its international counterparts to ensure a smooth transition to the new reality of unmanned vehicles. He explained that there there are two different offices within the FAA working to coordinate ATC standards internationally. He said that Jay Merkle, the Head of UAS Integration at the FAA, is playing a leadership role in spearheading the effort to have good interagency communications.
Bowles further explained that one key element of this integration is to understand this is a new technology. He talked about the tendency to think that UAMs are just a variation of current urban helicopter operations, but that's not the right way to think about or position this technology. He explained that the right comparison is to a ridesharing model so that UAMs can be affordable and accessible to everyone. Focusing on any other model could create another elite-only way of transportation, which will cause the industry to fail.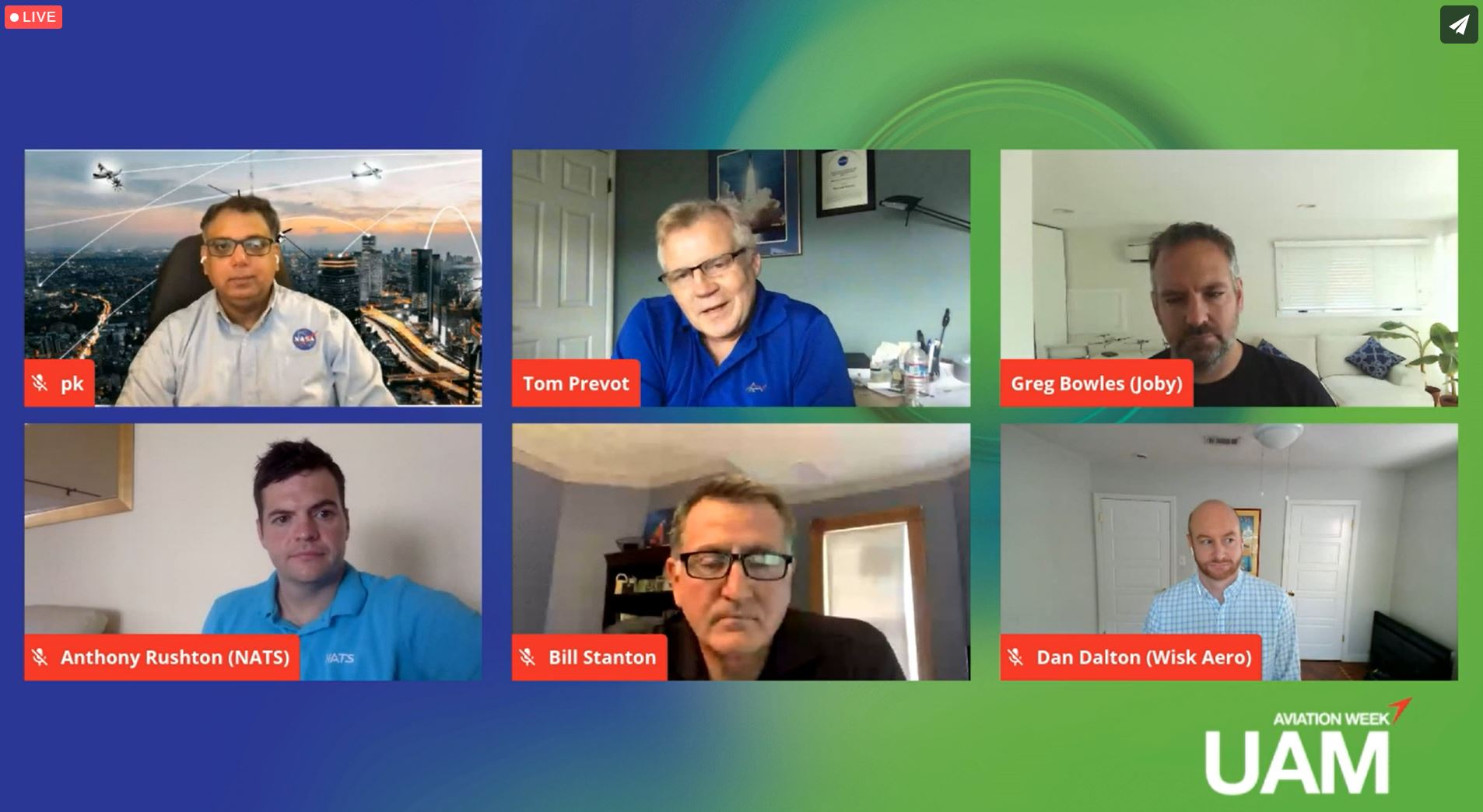 The floor was then opened for questions, which compelled one that sought to clarify what it could look like to enable a UAM ride-sharing model, as opposed to creating an expensive alternative to solutions we already have.
"One mile of road creates access to one mile of terrain; one mile of runway opens the entire world," PK said. "We need to invest in expanding current infrastructure to support new aviation expansion and we, at NASA, are working feverishly with the FAA, industry and academia to create a comprehensive and workable set of rules to make it happen sooner rather than later."
"The first thing we need to do to make this technology affordable is to address the immediate challenge of flights beyond visual line of sight (BVLOS)," Stanton explained. "Then, we need to replace the human eye with technology that performs the same function effectively and efficiently. Thirdly, we need to be inclusive and we need to integrate instead to segregate. We need to add technology to the current infrastructure to make it viable for new aviation to become mainstream."
A few more questions came in, but with time running out, Prevot asked the panel what they'd do if they had a magic wand that would allow them to create something that would more easily enable the integration of these vehicles into the NAS. Their answers were quite telling.
"A detect and avoid system that mimics the human eye," Dalton said.
"A detect and avoid system that would allow Digital flight Rules (DFR) replacing forever IFR (instrument flying rules) and VFR (visual flying rules)," Staton further defined.
"A microweather understanding of flight levels below 400 ft," PK mentioned."
"A black box in the sky that would allow the new technology to operate safely in the cloud avoiding the current explosion of data," Rushton said.
"Time travel!" Bowles explained. "I can't wait 20 years to see what became of this technology. I would love to jump 20 years into the future and see what happened. How did we solve the challenges?"
The session was a rare insight into the efforts that these organizations are embarking on in order to have UAMs joining manned aviation in the NAS. It provided a unique perspective of where this technology is and where it is headed in the short and long term.