In Part One of this series, we talked about the need to establish a traffic management system independent of the current air traffic control (ATC) in order to add unmanned aerial vehicles (UAVs) and eventually urban air mobility (UAM) platforms to the national airspace (NAS). These non-traditional aircraft will only be able to use controlled airspace if they do so safely, and do not add stress to an already stressed ATC. This is the main reason why the Federal Aviation Administration (FAA) launched the Integration Pilot Project (IPP) and the UTM Pilot Project (UPP) to bring together NASA, industry and academia to solve the riddle of adding these unconventional platforms to the NAS.
UPP was a Congressional directive to the FAA and NASA to establish a Research Transition Team and partner with industry and academia to help advance the safe integration of unmanned aircraft into the national airspace. IPP is a Presidential directive to the Secretary of Transportation and FAA to create a partnership framework for private sector and local/state/tribal governments to help direct broader national policy.
In UPP Phase two, two FAA test sites were selected to partner with industry and the Agency to conduct the tests and many private companies joined the effort to showcase their technologies.
One of the most interesting proposals in terms of technology and innovation in this group was OneSky and we had the opportunity to connect with its Co-Founder and Head of Strategic Development & Partnerships, Chris Kucera, who gave us a great view of the program and how OneSky contributed to the overall effort.
"OneSky is focused on helping customers plan and operate safe and efficient UAS and UAM operations," Chris said excitedly. "By combining analytical flight dynamics with advanced simulation capabilities, we offer an enhanced level of engineering and operational analysis to the challenges of UAS and UAM integration into the national airspace."
When asked about the specific role that OneSky played in the UPP Phase Two, Chris had a lot to say.
"We, as OneSky, became involved because our focus on safety and ability to use advanced analytics and simulation capabilities to integrate UAVs and UAMs to the NAS," he said. "We are leveraging over 30 years of industry experience and proven aerospace grade software and we can deliver real-time situational awareness and decision support in our UTM and operations center products."
One of the main differences between conventional ATC and the proposed UTM solution is the fact that ATC is a single system, covering an entire geography and under management of specific air navigation service providers (ANSP) as opposed to UTM, which is built as a distributed system, composed of different microservices and service suppliers.
"We believe this difference is beneficial for the deployment of UAVs and UAMs into the NAS." He said emphatically, "Multiple UTM providers will be able to offer different solutions for different needs and the market will ensure that the resultant deployment will stay efficient, scalable, and always evolving."
When asked about the key differentiator between OneSky and its competitors in the space, Chris gave us a great answer.
"We design our products with the idea of placing powerful predictive capabilities into the hands of pilots, operators, and systems integrators, allowing them to conduct safer operations in controlled airspace," he said with conviction. "The OneSky UTM solution is based on enterprise air operations center technology deployed to the US military and refined by OneSky to address the unique needs of UAS and UAM operations."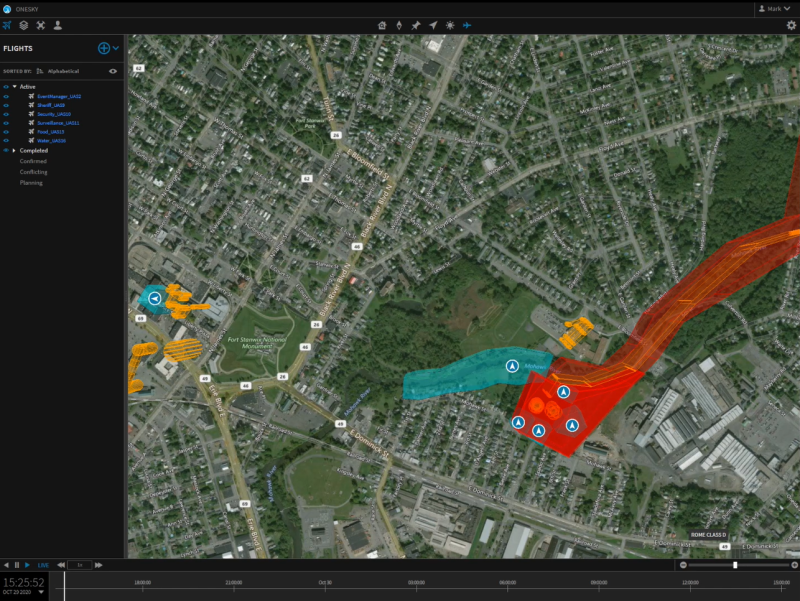 The FAA, NASA, industry and academia have collaborated for years to advance the cause of a safe integration of manned and unmanned aircraft in controlled airspace and the UPP and IPP programs strengthened this collaboration. We hope that in the future similar efforts, like the new Beyond program, will bring flights beyond visual line of sight (BVLOS) and the launching of real-life programs aimed at establishing that the integration is safe and ready for daily use.
To find out more details about OneSky's takeaways from UPP2, you can read the blog in the following link: https://onesky.blog/2020/11/18/5-takeaways-from-faas-utm-pilot-program-2-upp2/