As with every other industry, the formation of groups and associations, "birds of a feather" if you will, is inevitable. Common goals, interests and the need to have one solid voice, present the fertile ground for these organizations to form and act in the advancement of a specific cause.
In the case of drones, or unmanned Aerial vehicles (UAV), various national and international organizations have formed to pursue specific agendas in an effort to have a unified voice to deal with civil aviation authorities throughout the world.
The World Unmanned Aerial Vehicle Federation (WUAVF) was created in 2017 to provide a forum for manufacturers and academia to create standards and to cooperate with governments in the implementation of policies that would allow UAVs to become mainstream. The WUAVF has over 50 national chapters throughout the globe, mostly in Asia and Europe, but more countries are joining regularly.
The first Latin American Chapter opened in November 2019 under the management of Rafael Padilla, a telecommunications expert in Bogota, Colombia. We had the opportunity to talk to Rafael about his plans for Colombia and what drove him to create this first LATAM chapter.
"The World UAV Federation was created to help establish industry standards for UAVs, drive innovation and cooperate with government's guidance and regulations," explained Rafael. "We need to protect the legitimate rights and interests of member companies and countries in order to forge a harmonious order of market competition."
Rafael in his private practice specializes in consulting for Internet of Things (IoT) projects, therefore we found it interesting that he was drawn to the issue of UAVs.
"Yes, it's strange that we all come from different facets of life!" He said laughing. "You come from manned aviation and aerial mapping, I come from IoT, others come from artificial intelligence and an increasing number of young people are just growing into it organically. It's an exciting time to be involved with drones, and even though is not the center of private practice, I wanted to be involved in a technology that's bound to change our lives forever."
The WUAVF organizes the yearly World Drone Forum and last year Rafael attended to make his first presentation about the Colombia Chapter.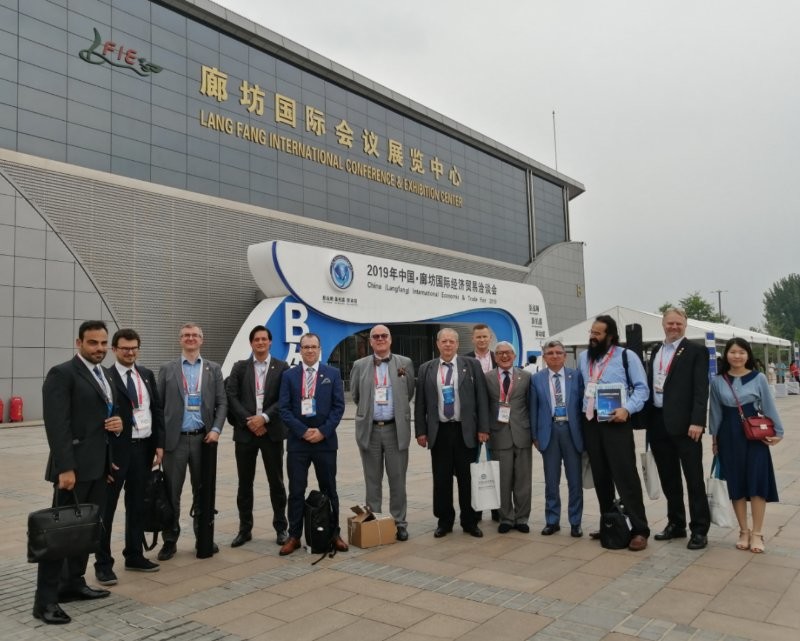 "It was energizing to be there in China, surrounded by UAV experts presenting their daily challenges and opportunities," Rafael said enthusiastically. "It was my first opportunity to present the Latin American region in general and Colombia in particular to the plenary and to meet people from over the world who are facing the same challenges we are in dealing with regulations and technology adoption."