One of the obstacles of deploying drone flights beyond visual line of sight (BVLOS) has been the ability to transmit large amounts of data from air to ground nationwide, in real time, allowing remote pilots to fly unmanned aircraft safely with an in-the-cockpit experience.
Recently, the Dallas-based company SqwaQ announced that they had developed a new patented airborne 3G/4G/LTE drone communications solution for multiple partners. According to their announcement, the technology enables drones nationwide command and control, support for all the avionics found in manned aircraft, and an in-the-cockpit experience supporting multiple pilot view cameras. This technology paves the way for helicopters, air taxis, drones and other connected aircraft to share the same airspace rather than being segregated and eliminates the need for UTM (Unmanned Traffic Management) restrictions.
We had the opportunity to connect with Ted Lindsley, founder and CEO of SqwaQ in an animated and informative phone chat in which the UAV visionary shared his thoughts on the recent announcement as well as the industry in general.
"We developed the SqwaQbox with FAA certification in mind, knowing that it would become a component in UAS completing FAA certifications like Part 135 Air Carrier or Part 27 Rotorcraft," Lindsley explained. "That's why it is already AS9100 and DO-160 compliant. SqwaQ technology sets the precedence to eventually become the mandated requirement for all drones to operate BVLOS unfettered. That has always been a big disconnect in the UAV market. The drone industry is still waiting for the FAA to tell them what they can or cannot do. But the FAA doesn't do that. The onus for change is entirely on the manufacturer to introduce proper safety capabilities. The FAA simply approves and stamps OK on it."
Rather than restricting drones, SqwaQ enables safe, unfettered integration into controlled airspace while also resolving Remote Aircraft ID, Pilot Credential Verification, Flight Path Management and other challenges that have limited UAS operations.
"SqwaQ spent over 2 years negotiating bandwidth access agreements with cellular networks to resolve their safety concerns," Lindsley continued. "We have been required to restrict many foreign manufactured drones like Chinese ones from accessing U.S. cellular networks for Homeland Security concerns. A publicly traded Israeli company tried to buy SqwaQ in 2019 for that reason. They were blocked from entering our market and wanted SqwaQ to gain cellular network access. We politely declined, but there still are some 'pirate' companies illegally selling LTE dongles for drones. SqwaQ has the only Airborne LTE Operations bandwidth agreement in the world."
Designed to easily integrate or retrofit into commercial UAS, the SqwaQboard is a compact, 3" x 6" x 1" communication module weighing 270 grams (9.5 Oz) that aggregates six 3G/4G LTE connections into one, multi-redundant data pipe to broadcast four pilot view and downward cameras or sensors simultaneously. It also provides multi-redundant command and control (C2) and headroom for an array of avionics like Mode-S transponder, ADS-B in/out and VHF radio.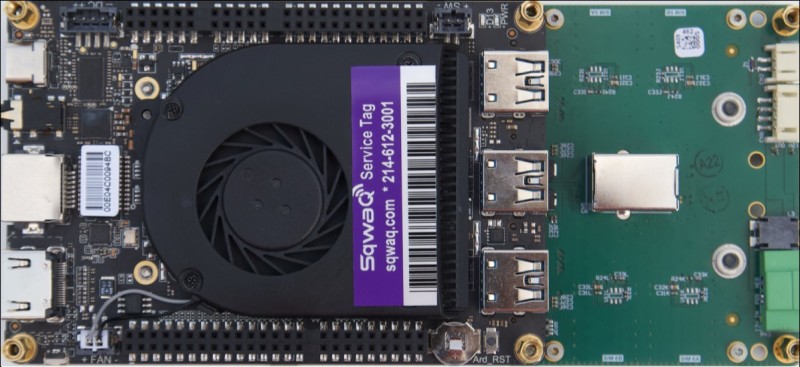 "The resulting SqwaQ protocol can supply customized bandwidth services on 600 different cellular networks across 130 countries in almost every continent and provide inexpensive roaming across entire regions like North America or the entire European Union," Lindsley concluded. "This capability offers the customer a seamless experience given that SqwaQ provides the hardware, data services and warranty support on both, solving any finger pointing if a problem arises. It also means users can fly across wide covering regions without losing connectivity due to the six modules capabilities to roam across dozens of cellular networks simultaneously."
It is only by the crawl-walk-run approach that we will be able to add UAVs to controlled airspace, and the first step will be to have remotely piloted small drones on BVLOS flights. Then we will have one pilot supervising multiple drones and eventually full autonomy, but in order to achieve this goal, we need to transmit enormous quantities of data in real time. SqwaQ is giving us that capability today.