"Our vision is to create a multipurpose workforce in the sky," said Nikita Illiushkin, Chief Commercial Officer and Co-Founder of Skygauge Robotics. "And our new inspection drone is uniquely suited towards creating a new market for drones for doing inspections, but also for physical work like painting, sandblasting, pressure washing, cleaning, and scrubbing."
On June 5, the company took a big step toward realizing its vision by announcing the full-scale commercial launch of the Skygauge Inspection Drone. To demonstrate the capabilities of the drone and make it ready for broad deployment, Skygauge entered into a $1 million contract with Transport Canada. Through this deal, the drone will be used on inspection projects in Canada. Skygauge also has customers in the US, Europe, the Middle East, and Asia.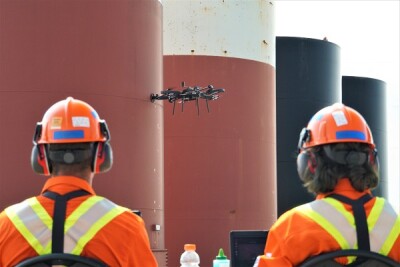 Ultrasonic Testing with Drones
A key feature of the Skygauge Inspection Drone is its use of ultrasound. "In the same way doctors use ultrasound to check the health of people, inspectors use industrial ultrasound to check the health of the structures," Illiushkin explained. "With ultrasonic testing, we can measure metal wall thickness on things like ships, pressure vessels, storage tanks, piping, and other industrial infrastructure. We can detect corrosion and erosion over time on the inside of the structure."
"Traditionally, drones have not been able to perform this type of work, primarily because of the stability limitations associated with conventional drone design," Iliushkin stated. "Also, most drones today are doing visual work. They're focused on visual data collections running on the surface. The Skygauge Inspection Drone lets inspectors see what's happening underneath the surface."
Faster, Cheaper, and Safer
In addition to providing more detailed information to inspection professionals, the Skygauge drone can help make operations faster, cheaper, and safer. According to Illiushkin, typical inspections can last from a week to a month, and cost tens or hundreds of thousands of dollars. Also, he said, traditional inspections involve individuals physically climbing structures using ropes, scaffolding, or cranes and are extremely dangerous, even deadly.
Illiushkin asserted that Skygauge's technology could save hundreds of lives per year and prevent thousands of injuries. Moreover, he said, using its drones could cut costs by 95% or more compared to using scaffolding and reduce inspection costs by 30-50% and inspection time by 80% compared to a rope access team.
"One thing that we noticed is that the majority of the costs of these jobs come from accessing the structures. The actual inspection work is a small portion of the overall job," Illiushkin said. "Using the Skygauge drone can drastically increase access to structures, make the work significantly faster and more cost effective, and keep workers safe."
Adapting and Expanding the Technology
Through its work with Transport Canada and other clients, Skygauge looks to find ways to adapt and expand the use of its drone technology to bring benefits and efficiencies to other operations. "We are always working to integrate different types of tools onto our system, whether it's different types of inspection tools or different types of physical work applications. It really depends on where our customers see the most value," Illiushkin stated.
Ultimately, Illiushkin and his Skygauge colleagues see a future where its drones are called on to perform more and more physical jobs in the sky. "We've created a drone that interacts with the world," Illiushkin said. "Our vision is to find more ways to use it to make work more efficient, profitable, and safe."