Unmanned Traffic Management (UTM) is one of the most important technologies that we need to master if we want urban air mobility (UAM) and unmanned aerial vehicles (UAV) to join commercial airliners and general aviation aircraft in the national airspace (NAS) in a safe and orderly manner.
A Swiss company that is constantly on our radar is INVOLI, whose principals realized, during an emergency in Nepal, that coordination between manned and unmanned platforms was the key to a successful search and rescue operation. In order to accomplish that coordination, they came up with a creative solution that uses existing cellular networks to transmit UTM data from all flying platforms, manned and unmanned, in order for everyone to know where everyone else is positioned, at what altitude, speed and heading.
They have successfully tested their system in Switzerland for a number of years and now they have partnered with AirMarket to bring their solution to Canada. One of the main goals of the partnership is to offer common, scalable solutions to the UAV industry by building upon the experience of both INVOLI and AirMarket to generate innovative technologies, particularly within the telecommunications' framework, and by bringing the lessons learned during the trials to the entire industry.
We met personally with the founders of INVOLI during Commercial UAV Expo in 2018 and have maintained a close relationship with Mélanie Guittet, Manu Lubrano, and Cristina Mihalachioiu, three fascinating young entrepreneurs and true visionaries of our industry.
We reached out to Mélanie, INVOLI's Chief Business Development Officer, and asked her about the importance of the announcement.
"We are very excited to announce this partnership, after many months of working behind the scenes to make it all happen, we can leverage all this work and combine our efforts to bring to the industry a common, enhanced solution for more and more complex drone operations," explained Mélanie. "The ambitious BVLOS drone trials initiated by Canada is a major step forward for the drone industry; this will establish deployment prerequisites of the national's RPAS Traffic Management system. We believe our world-class consortium must be driven by industry needs regarding BVLOS use—not only by technology trials objective. This could not be achieved without the strong involvement of Petroleum Technology Alliance of Canada and one of North America's leading energy infrastructure companies."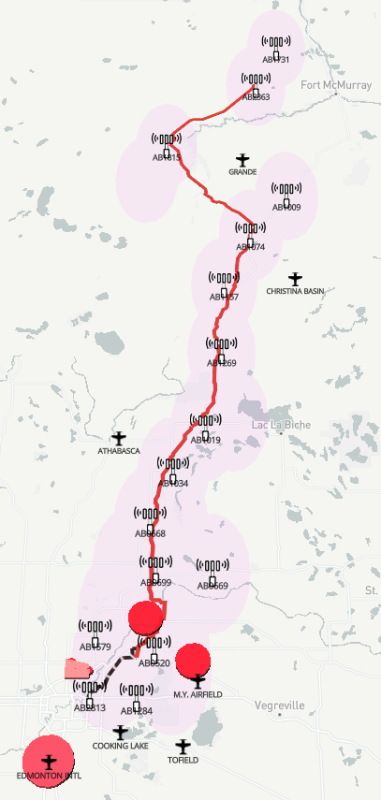 As part of one of the two teams selected to perform Canada's RTM (RPAS Traffic Management in Canada is the equivalent to UTM) Trials, INVOLI and AirMarket capitalized on their individual successes and announced a strategic partnership to bring the trials collaboration to market. The trials aim at generating data and experience that would be used by Transport Canada to develop regulations for BVLOS (Beyond Visual Line of Sight) drone operations and the delivery of commercial cellular-enabled UTM services.
The team, led by AirMarket and including partners such as telecommunication company TELUS, was selected by Canada's RTM Action Team, co-chaired by Transport Canada and NAV CANADA, to execute official service trials. Starting in a 425 km corridor in Northern Alberta, the partners will be conducting Cellular-enabled UTM and Sensing Data Services in conjunction with Petroleum Technology Alliance of Canada and one of North America's leading energy infrastructure companies.
When asked about the importance of this announcement to the internationalization of INVOLI's solution, Mélanie was excited to elaborate.
"We have long pushed to enter the North American Continent, being poised as the next big market for drones," said Mélanie. "Therefore, we are thrilled to have the opportunity to work in close collaboration with world-leading industries and national bodies to participate in delivering safe and commercially viable UTM services."
With regards to the exact technology INVOLI will be using in these trials, Mélanie was eager to describe their innovative solution.
"INVOLI technology is unique at providing such a light and flexible decentralized surveillance system able to detect low-altitude air traffic," she stated. "Our successful and validated deployment at scale in Switzerland (as part of the Swiss U-Space implementation infrastructure) also demonstrates our ability to provide a system tailored for drones but aligned with aviation standards and requirements."
INVOLI contributes to the trials with its unique surveillance system, by deploying a network of receivers onto existing cellular TELUS' infrastructure, and by capitalizing on its experience in Switzerland with national telecommunication companies. The network will gather data on cooperative air traffic, enabling the team to benefit from comprehensive air traffic awareness (including at low altitude) and a general increased level of safety of operations.
It is in this context that the first bricks of the partnership between INVOLI and AirMarket were laid, the two companies seizing the opportunity given by the success and technical integration within the trials to further their collaboration to the market.
We can only hope that these trials bring an added layer of security to the interaction between manned and unmanned aircraft in controlled airspace, hence opening the door for the regulators to allow flights BVLOS in an effort to regularize UAM and UAV services worldwide.