At every Commercial UAV Expo, either in the USA or Europe, there are always innovative technologies that catch our eye. This was the case during the recent Commercial UAV Expo Europe in Amsterdam when we walked into the booth of Drone Rescue Systems, an Austrian-based company that has developed an ingenious parachute system to keep multi-copters from crashing due to in-flight malfunction.
Andreas Ploier is the CEO of the company while Markus Manninger is the CTO, and we were able to connect with both for a long and detailed discussion about what makes their solution different. They explained the basics of their technology and what drove them to start Drone Rescue.
"I have a manned aviation background, and when flying UAVs I got tired of losing valuable drones to malfunction during flight, three in a year to be exact," Manninger told Commercial UAV News. "So I began sketching alternative ways of bringing an unmanned aircraft back to Earth in one piece after there had been a malfunction that prevented the flight from continuing. Our DRS-10 parachute system is the final result of those early efforts," he mentioned while holding a small canister in his hand.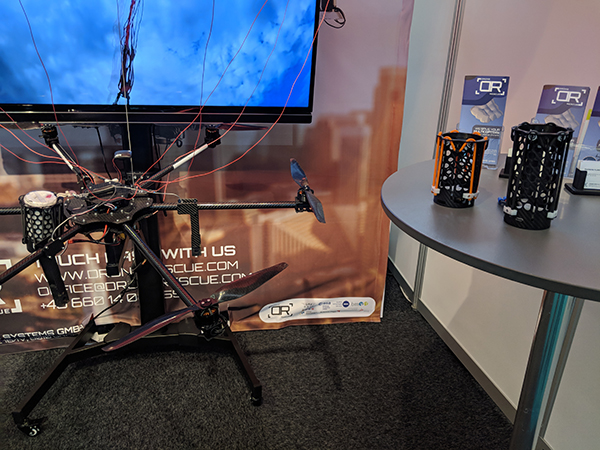 "We have two alternatives for multi-copter platforms," he continued. "We are brand independent, as we manufacture solutions which can be installed on any UAV. For drones weighing between 3 and 7 kilos (6.5 to 15 lbs) the entire ensemble weighs 280 grams (about ½ lb) and for drones up to 15 kg (33 lbs) the solution weighs 350 grams (less than 1 lb)."
"We knew we had to stay away from pyrotechnics," Ploier mentioned. "People are traveling with their drones and doing jobs in jurisdictions where flying with explosives on board might be a problem, so we selected an innovative system with high-powered rubber bands and a very light canister holding the parachute and the electronics. The added advantage of not using pyrotechnics is that our solution is lighter. In UAVs, every gram counts."
The Drone Rescue booth was always busy and the impressive display of the large red parachute fully opened on top of the heavy black drone caught the attention of anyone who walked by.
"The success and rapid acceptance of our solution is based on the sensors we developed and the fast reaction to catastrophic malfunctions while in the air," Manninger said. "Our system deploys in just a few meters of rapid descent so that the drone glides slowly down to safety."
On a personal note, for many years I flew a Cirrus SR-20, the first manned aircraft with a fuselage parachute, so I'm keenly aware of the benefits of flying knowing that there's recourse in case something goes wrong while airborne. In a few years after its inception in the market in 2000, sales of Cirrus aircraft overcame the decades-long leader Cessna and empirical and anecdotic data showed, at the time, that pilots and their spouses felt safer knowing they had an alternative way of coming back to Earth once a catastrophic event took away the ability of the aircraft to keep flying.
I asked Andreas and Marcus about their plans for a fixed-wing solution.
"We decided to focus on multi-copters because of the size of the market and the fact that any malfunction would produce a crash, while fixed-wing aircraft have the alternative of gliding and having a less destructive landing," Ploier explained.
"Also, adding a parachute solution to a multi-copter is just a matter of designing and installing a few external components, while installing an effective system in a fixed-wing aircraft, where aerodynamics are essential to fly, would require an entire re-designing of the vehicle to maintain its flying capabilities," Manninger further clarified. "But we are definitely working on it."
With solutions like Drone Rescue and the leaps and bounds in other safety measures such as detect and avoid and UTM, we can clearly see how the industry is getting closer and closer to the full integration of manned and unmanned aircraft in controlled airspace.
If you want to more about Drone Rescue Systems, check out the interview which was conducted at the event: