The meager 25 minutes of flying time that most multi-copters possess has limited their utility, and it's why so many different power alternatives to keep drones in the air for longer periods of time are being discussed and explored. Hydrogen Fuel Cells (HFC) continue to shine as the leader of all these power alternatives in terms of extending time in the air (TiTA). Not only are HFC efficient, but they also pollution-free, offering a double whammy to manufacturers aiming at markets that demand longer mission time and low emissions.
Recently, two announcements by well-known HFC manufacturers gave us hope that the drone market is getting ready to adopt hydrogen as a viable option to Li-ion technology.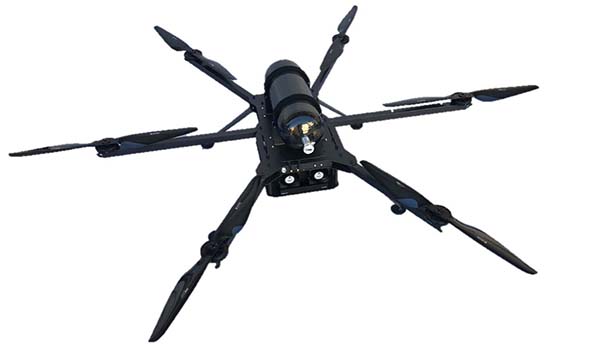 On November 8,
HES Energy Systems
announced the commercial
launch of HYCOPTER
, an industrial-grade multi-rotor drone designed for large-scale industrial maintenance inspections.HES has a long-standing reputation for producing the world's lightest and most compact fuel cell systems, which can be as much as 5 times lighter than lithium batteries. Following a first world distance record set in the US by a NASA-backed team from OSU over 10 years ago, HES has been pushing the limits its energy storage technology increasingly further, working from Singapore on various UAV programs and with leading aerospace institutions around the world.The HES launch statement specifically mentions the fact that the company is currently capable of over 700Wh/kg system-level specific energy and is working to push this limit even further thanks to a variety of novel technologies. Now, HES has merged its core technology with a specially adapted multi-rotor design so that flight durations can extend to 3.5 hours, instead of the typical 20-30 minutes of Li-ion chemistry.The resulting hydrogen multi-rotor system, designed and manufactured in Austin, TX, will now be able to keep precision cameras and other sensors in the air for much longer, opening up new commercial use cases while reducing operational costs for service providers. HYCOPTER also includes a new breakthrough 140g pressure regulator capable of reducing hydrogen pressure from 350 bar to 0.5 bar. Other system components include specially designed HES fuel cell stacks capable of generating over 1W per gram.HYCOPTER can recharge in minutes using bottled industrial-grade hydrogen from local hydrogen suppliers. With further improvements, HYCOPTER-type platforms could also enable product deliveries over much longer distances than are possible today. Versions of HYCOPTER will emerge next in transitional wing VTOL applications, and the same HES core technology is now being scaled up to power manned electric aviation as well as other aerial mobility platforms with various international aerospace companies.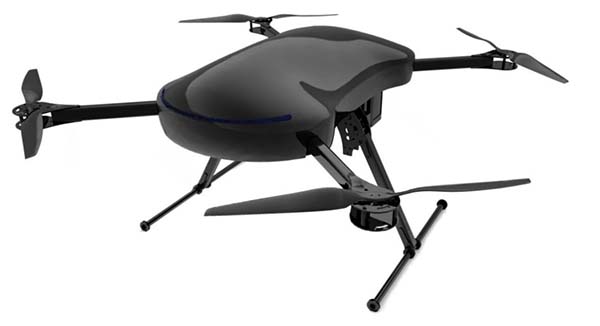 On the same week of the HES announcement, Estonia based
Skycorp
officially launched Europe's first hydrogen-powered UAV, the e-Drone Zero. Their product is a long endurance quadcopter, managed by an advanced Artificial Intelligence-powered drone operating system. It is fine-tuned to pioneer Intelligent Productivity, advanced security and the newest available technologies.As a result of a SKYCORP partner company seeking to extend the flight-time of a small commercial drone by over three times that of traditional Li-ion batteries, HFC was selected as the alternative power source. In addition to greatly improved flight-time, the use of hydrogen fuel cells as the drone power source provides less downtime due to quick refueling and increased payload capabilities.From the beginning, the goal of the e-Drone Zero was to maximize productivity, capabilities, security and safety features. Some of these enhanced safety features include computer vision assisted obstacle avoidance along with various failure management features.Marek Alliksoo, CEO at SKYCORP, said: "It's great to be going to the limits of current drone capabilities to see how far you can push. All you need is a great team, fantastic partners who've been doing the same in their respective fields and then putting it all together. In the end, this is still just a first step in enabling some of the dreams of what the future could hold."Applications for the e-Drone Zero range from surveillance & security to demanding survey, mapping and inspection tasks in a wide range of environments. That said, SKYCORP expects to see the scope of use widened as the number of customers increases."We've already started working with one of the most innovative Mobile Mapping companies around to test the advantages of combining car and drone-based results on their platform," Alliksoo continued. "Considering what they have in store for the future of Smart Cities, it would be fantastic to be able to help out."We are eagerly waiting for more announcements as these and other companies are rushing to introduce innovations, reduce weight and increase TiTA. Operators must also make sure their voices are heard by these manufacturers in terms of the unacceptable flying times of today and the need to adopt new approaches.