This year at Commercial UAV Expo Americas, another large manned aviation player entered the fray of the unmanned vehicles industry. Since being founded in 1951, FlightSafety International has greatly contributed to aviation safety around the world, and they're looking to bring that insight and expertise into the unmanned space with a comprehensive line of Unmanned Systems Training.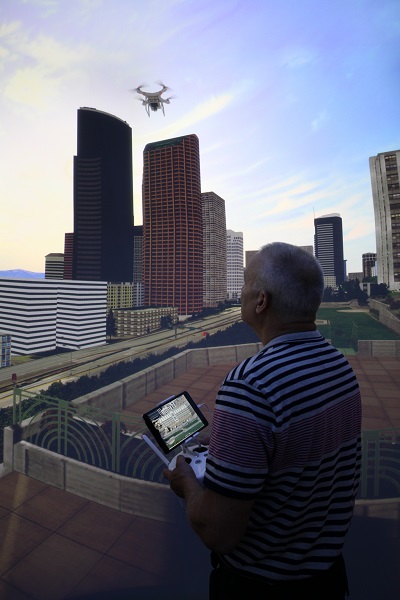 FlightSafety International is considered one of the leaders in professional manned aviation training companies. They're also a well-respected manufacturer of flight simulators, visual systems and displays to commercial, government and military organizations. The company provides more than 1.4 million hours of training each year to pilots, technicians and other aviation professionals from 167 countries and independent territories. FlightSafety operates the world's largest fleet of advanced full-flight simulators at Learning Centers and training locations in the United States, Australia, Brazil, Canada, China, France, Japan, the Netherlands, Norway, South Africa and the United Kingdom.We visited FlightSafety at their booth on the exhibition floor at the Expo and connected with Peter C. Riley, Director of Training Product Solutions who explained the current offering and the reasons that FlightSafety was compelled to enter the unmanned aviation arena."Earlier this year, FlightSafety expanded its offerings to provide comprehensive Unmanned Systems Training through a series of Remote Pilot ground and flight training courses," Peter told Commercial UAV News while showing off a brochure with the details. "These courses are designed to achieve the highest levels of safety and proficiency in the industry. Through customized course development, we can tailor the program to the customer specific and individual needs of a wide scope of commercial operations."When asked about the disassociation between the concepts of pilot in command (PIC) and the person manipulating the controls, Peter was very specific about the challenges of training Part 107."The current legislation does not mandate that the PIC is at the controls of the aircraft and that has created a huge gap with our current offering for manned aircraft," Peter explained. "We started from a regulatory point of view, offering potential UAV pilots the opportunity to learn and understand the responsibilities of a PIC and the strong CRM (Crew Resource Management) that needs to be exercised with the person operating the controls in order to have a safe flight."Since being founded in 1951, FlightSafety has been providing manned pilot education and CRM training. For nearly 70 years, these programs have been at the center of the delicate interaction between pilot and co-pilot during the workload-heavy stages of flight, especially during non-visual conditions."We are investing in the construction of new and innovative simulation technologies that will allow FlightSafety to train UAV pilots in an immersive environment in which the controls and all the realities of flying an aircraft from the ground will be as authentic as possible in order to quickly adapt the software to different training scenarios," Peter continued. "Simulation will offer extreme value for UAS training the same way it does for manned flight by allowing us to train pilots for the unexpected and for when things go wrong. In a simulation, you can present a wide array of emergency scenarios that will allow the PIC to practice making emergency decisions more reflexive and comfortably. Also, we're looking to offer practical training in simulation, for tasks as difficult as inspections, wind and weather, as well as first responder police and fire scenarios. We can't train unmanned pilots the same way we've been training traditional crews, but we can certainly adapt our decades of experience to develop the best possible curriculum."Traditional flight schools
all around the country
are adding Part 107 education to their manned aviation syllabus, allowing aspiring unmanned pilots to obtain their remote pilot certificates. However, FlightSafety is trying to accomplish something entirely different. FlightSafety is focused on professional remote pilots who will be able to smoothly integrate into an operation which has a fleet of UAVs. These operators are looking forward to a safe and replicable deployment each and every time.FlightSafety's decision to enter the competitive arena of Part 107 training is a welcome addition to the industry and will undoubtedly help to professionalize PIC education.