As part of the highly successful North Carolina Drone Summit, a panel of officials from the Federal Aviation Agency (FAA) and the Department of Transportation (DOT) took the stage for an in-depth Q&A session with a large audience. Operators and organizations of all types have questions regarding how both agencies approach regulation and integration for this technology, which made the panel as informative as it was insightful.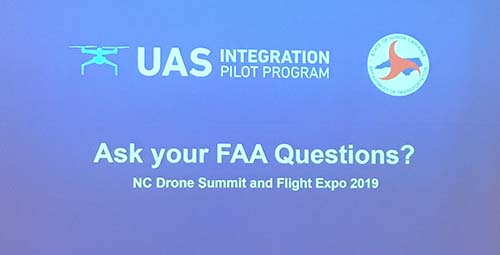 Members of the panel were:
Rachel Carlstorm, FAA Senior Team Leader IPP North Carolina and Memphis
Jay Merkle, FAA Executive Director UAS Integration Office
Josh Holtzman, FAA Director National Security Programs & Incident Response
Lauralyn Remo, DOT, Lead Air Carrier Fitness Division
Damon Walker, DOT, Lead Transportation Industry Analyst
After Carlstorm introduced each member of the panel and explained their scope of responsibility, Merkle got right into the approach he's taking to ensure the safe integration of drones into the airspace. He compared the situation of manned and unmanned aviation in terms of the traditional understanding of certification."For manned aviation, traditionally, the responsibility for the safety of the aircraft in all phases of flight, but especially in operations over people (OOP), has fallen to the manufacturer," Merkle said. "By having an Airworthiness Certificate (AC) on board and compliance with all Airworthiness Directives (ADs) the aircraft is deemed safe and authorities request that the pilot has a valid license and a current medical certificate. For unmanned aviation, the responsibility has fallen entirely on the operator. I would like to announce that the FAA is seriously thinking about moving towards a more traditional approach in which the aircraft is deemed safe for the particular mission, especially in OOP."Someone in the audience stood up and asked for clarification and Merkle explained that the FAA is probably taking a more traditional approach for future certifications of UAVs for certain missions, especially OOP. He also mentioned that the only missing piece in allowing flights beyond visual line of site (BVLOS) is a Sense and Avoid (SAA) system onboard that is reliable and safe."All we need is for drones to have a safe way of getting out of the way of manned aircraft and other drones in case of encounters and provide fair warnings to adjacent aircraft of its presence," Merkle said.Holtzman jumped in to say that Remote ID is also a key component of any future Part 107 update and clarified that the FAA has not set a specific date for the release of the long-awaited Remote ID ruling. Given the delays
we've already witnessed
with Remote ID, it's clearly an issue that is top of mind for stakeholders across the industry, which FAA officials clearly know and understand.Then Carlstorm Merkle and Holtzman went into a detailed explanation of what the future will look like in terms of certification. They explained that in the medium to long term, commercial operations of unmanned aircraft will follow more closely those of traditional manned aircraft. To illustrate what that will actually look like, they cited Part 135 which is required of any unscheduled commercial air transportation operation. They said that in the future, unmanned operators will request a Part 135 certification to operate a drone business to deliver goods and services. Holtzman clarified that the nine participants in the IPP (Integration Pilot Program) were operating under Part 135 but the requirement to have a certified aircraft was waived.A question from the audience regarding drones operating over people in crowded areas prompted Holtzman to clarify how the FAA is addressing this issue from multiple angles."Any drone operating over people without a proper waiver is an illegal act, but the public should refrain from taking unilateral action," he said emphatically. "The FAA is extremely focused on educating law enforcement on what to do in these instances and I encourage everyone to visit our webpage in which we provide all the tools for police departments to have guidelines on what to do."The information Holtzman mentioned can all be found at:
https://www.faa.gov/uas/public_safety_gov/public_safety_toolkit/
Remo and Walker then provided a detailed explanation of what they do and how it correlates directly into the ability to conduct legal work for compensation using an aircraft, manned or unmanned."In order to have an operation in which you obtain a financial benefit using aircraft, you must obtain a license from the DOT that will allow your company to establish commercial operations," Remo said. "There are strict rules of US Citizenship guiding these permits and I encourage you, before accepting any venture capital into your company, to talk to us about the origin of these funds and how the ownership of your company changed as a result of the cash influx."There's been confusion around what Part 107 does and doesn't allow operators to do in this regard, and that was something Walker made sure to clarify."Most people think that only by getting their Part 107 and operating under those guidelines, they're ready to operate commercially, "Walker mentioned. "The truth is that without an appropriate economic permit from the DOT, you are not legal."The session ended with a question requesting clarification from the panel in regards to Part 135. Can someone with a Part 135 for unmanned aircraft use it for manned aircraft?"No," Holtzman confirmed. "When you receive a Part 135, it is for a specific type of aircraft in a specific type of mission."That question prompted a final clarification from Merkle, as he explained how the FAA is working to see this rule evolve."What we are seeing today is that some holders of Part 135 for conventional manned operations are requesting additions or modifications to these authorizations, to include or to add drones and we are working on it," Merkle concluded.How such rules and regulations will continue to evolve was a major part of the session, and it was encouraging to see that officials from both the FAA and DOT are working to enable these evolutions while still making the safety of the people in the sky and on the ground a priority over everything.