Questions about what it means to start or build a drone program have been asked for years now, but with changes to regulation and UAV technology, the answers to those questions are similarly evolving. Effectively integrating drones into the enterprise is often a balance between being able to ensure safe operational standards no matter the situation with knowing how far Part 107 certification will enable this integration. A recent webinar from Skyward, A Verizon company, detailed all of these insights and more.
Drone Ops: Leveraging Professional Services
, explored what it means to start, maintain, and scale an enterprise drone program. The webinar highlighted what it means to create a culture of safety and transparency, how to standardized flights, what it means to start small and scale smart and how to plan for new tech and regulatory changes. Diego Barrera, director of professional services for Skyward, was one of the speakers at the event, and we got in touch with him to further explore some of the insights that we explained during the webinar. We asked him about what kind of challenges can be eliminated when customers invest in training, which misconceptions about drone programs he comes across the most, what single piece of advice he has for anyone looking to start a drone program and plenty more.
 Commercial UAV News: How have conversations about starting an enterprise drone program changed over the past year or so?
Diego Barrera: Depending on the stage of the program, the conversations range from the initial goals of starting a UAS program, such as standard operating procedures, certification, training, and equipment, to more advanced considerations including specialized sensors or pursuing regulatory waivers and authorizations from the FAA. This is especially the case as regulation changes like waivers, or
new airspace rules in Canada
, can get companies excited for new opportunities to use drones. 
On the whole, do stakeholders realize what kind of value the technology can add, or is that something many still need to realize?
Most stakeholders sense the value, especially if they're already using helicopters or other crewed aircraft to capture the insights they need. The difference tends to lie within the company's own culture and purchasing processes. Some companies may invest in a small grassroots UAS program (1-2 drones, 1-2 pilots) as a way to validate a proof of concept at a low cost. Others may embark on a formal proof of concept including
measuring ROI
to earn buy-in from the organization in order to stand up a larger program. Skyward can help with either one.In the past year, we've also experienced more companies requesting our help for waiver applications, especially for flights over people. To me, this is a sign that programs are getting more sophisticated — it's been great to see what a company can accomplish after we've helped them obtain a waiver. 
You mentioned that you often need to explain to customers not to "invest first in the technology and later in the procedures, training, and certification", as Diego mentioned?
We sometimes hear about companies who spend north of $20 or even $50k on a drone — before they have even developed a program. While high-end drones definitely have a place and can add massive value, they tend to be a specialist's tool. Without a robust program to support the use of these complex drones, they may sit on a shelf due to the "fear" factor associated with expensive equipment, or worse, having an incident because larger and more complex systems require a baseline proficiency to safely operate.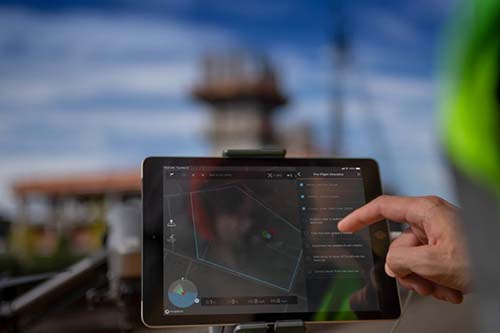 What kind of challenges can be eliminated when customers invest in procedures, training, and certification early on?
When customers invest in procedures, they ensure their program can scale and deliver reliably. Procedures are the foundation from which a program evolves. Specifically, it can help solve challenges like identifying participants' responsibilities, storage, logistics, proficiency requirements, the approval process, and safety protocols to name a few.Training and certification is another important area for UAS programs to focus on. In the United States, Part 107 pilots are only qualified to understand airspace and to avoid crewed flights. However, in order to actually fly a UAS and provide the deliverables your company expects, additional training and proficiency is needed above and beyond what is covered in Part 107 training. Additionally, having a training partner or solution that will be available for recurrent testing (every two years) is important.
 What's the most common misconception Skyward sees when dealing with companies who are looking to start a drone program?
I often learn of nascent programs that invest primarily in aircraft with the assumption that a more sophisticated (and pricey) UAS will deliver better results. Speaking generally, more sophisticated aircraft usually are more capable. The reality, however, is that all companies have finite resources and investing in pilots' training, the development of standard operating procedures, obtaining regulatory authorization and special permissions are often more valuable to a UAS program's ability to deliver results.Additionally, when operating in risky scenarios, near infrastructure or sensitive materials, the optimal aircraft is typically the smallest available that has the camera or sensor to get the job done. In other words, if a simple yet reliable quadcopter weighing in under 4 pounds with a 20-megapixel sensor can get the job done, there's no need to increase the risk by using a 10-pound hexacopter with removable payload — and steeper learning curve.
You also mentioned it's quite a common theme to hear customers say they have "a complex system that they're not quite qualified to fly". What's Skyward approach in these cases?
As mentioned earlier, this scenario may come up when investing in aircraft before fleshing out the rest of a program. Another reason is that more experienced pilots may have left the company — which happens. Whatever the reason, Skyward's professional services provide customers with access to experienced and (as needed) certified expert trainers who can safely familiarize a customer with more complex equipment like fixed-wing aircraft, modular drones, thermal or other complex payloads, etc. Beyond training, Skyward's Take Flight package includes a training handbook with the necessary methodology to enable experienced pilots to safely upskill less experienced pilots on the proficiency of flying with complex UAS systems.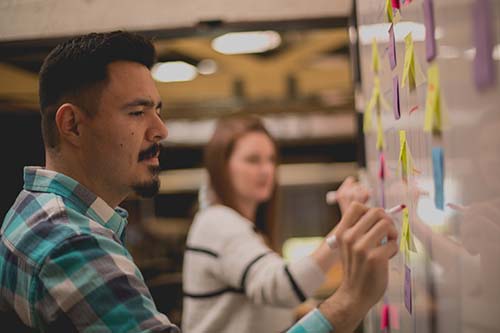 With a large company that might have multiple pilots scattered across the country, what is a good approach to keep all of them updated with flight procedures?
Establishing a hierarchy can help with this. A tight change management process is key for ensuring that changes can be reported by the appropriate participants and distributed across a large organization. Also, most larger programs have a hierarchy which can enable business units to own changes to their own procedures as needed. The Skyward platform is great for organizing and visualizing flight crews distributed across numerous divisions or locations.
 How will the new Aviation Development Centers help customers grow their programs? Are these for testing purposes only, or are there any regulatory waivers involved such as, for example, becoming certified to fly beyond visual line of sight or above people?
The Aviation Development Centers will help with all of that. I'm excited about a future in which we can provide training and testing (initial or advanced) at our centers while providing customers exposure to some of the projects Skyward is developing. 
Is there a single piece of advice you'd give to anyone that was looking to start a drone program right now?
There are so many options! Generally speaking, trying to figure everything out at once can be a lot. Most corporate UAS programs begin as someone's "side project" and later evolve into full departments and job descriptions. This is still a breakneck, fast-paced industry. Trust the experts to help you get your ROI as quickly as possible so that you get in the air sooner and with the confidence that you're in compliance and with the appropriate technology, know-how, and safety best practices. Some programs are shut down before they show value because they experienced an incident, or perhaps took too long to validate ROI and the company's initiatives changed. 
What can you tell us about Skyward's plans for the rest of 2019 and beyond?
This is a fast-paced industry! A week in the UAS world can seem like a quarter in other industries. The landscape is constantly changing. New regulations, new UAS tech, and new use cases mean that we're constantly innovating. You'll see some major updates in our software platform, and we'll continue to work on connecting drones to the Verizon network. Our mission has always been to help our customers fly in more ways and more places, through software, connectivity, and the services we provide. It's exciting to work in an industry where the bar for that is always being raised.