Talk about how automation will change the way projects of all sizes and types can be approached has been a big topic of discussion in the commercial drone space over the past year, and that topic was front and center at the Commercial UAV Expo. Multiple sessions were devoted to exploring how and why automation is the key to a more profitable and reliable commercial operation, and numerous products that are designed to help organizations create those efficiencies were on display at the event.
The exhibit hall contained products that were both
innovative
and
evolutionary
, but it was the
new computing platform
from
Skyfish
that caught our eye.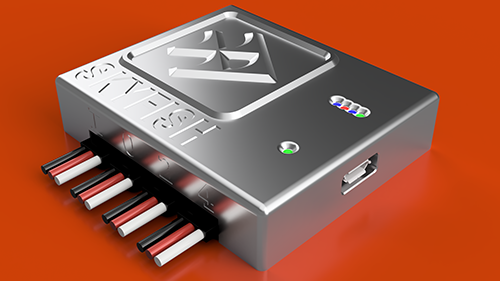 Based in Missoula, Montana, Skyfish has introduced the company's computing platform for commercial drones which fully automates crucial infrastructure inspection and measurement tasks for the first time. The product allows drone service providers working in the communication infrastructure and energy inspections space to achieve unrivaled performance and accuracy.We had the opportunity to sit down one-on-one with Dr. Orest Pilskalns, Founder and CEO of Skyfish. He took the time to explain how he and his team arrived at the current state of their technology."We founded Skyfish in 2014 based on our conviction that openness and automation are the key to accuracy and profitability," Orest told Commercial UAV News. "We analyzed commercially available drones and thought that there was an opportunity to create a platform that would provide improved control over hardware, software, sensors, and onboard computing power. We knew this would enable end-users to have the ultimate flexibility and real-time customization that was missing in the industry at the time."Skyfish autonomous systems can navigate almost any location including radio-denied areas that exist close to cellular towers, high-voltage power lines, and many other industrial environments. Users can quickly install and integrate the small-form, on-board computer with existing robotic, optical, thermal, navigational, radar and LiDAR devices and systems, then generate sophisticated flight plans with very little training. The result is an easily deployable system that produces hyper-accurate 3D models and ortho-mosaics that can be utilized immediately to measure and monitor infrastructure or inventory more accurately and more frequently than ever before."With increased regulation regarding communications at all times, we identified a need for a UAV that could function safely, even if it lost communications with its base for a second or two," Orest explained. "Most communication interruptions around antennas or areas with a lot of interference occur for short periods of time, and we have developed the technology to allow the mission to continue while communications are restored."Skyfish supports DJI and PixHawk flight controllers and other popular drone architectures, as well as 3D modeling software from companies such as Bentley Systems, Pix4d, ESRI and Autodesk. Skyfish also provides a smarter platform so anyone can fly, inspect, and model complex infrastructure with an easy-to-use interface. The platform pre-processes the collected infrastructure data and metadata to help create impeccable 3D models.The Skyfish Platform is now available to selected, early adopter customers, the Skyfish platform comprises:
SkyNode: The application-specific, onboard microcomputer controls the Skyfish system (and any Pixhawk 2.1 or DJI A3-based airframe.)
SkyControl: Industry-leading flight planning software facilitates the creation and execution of complex flight plans in just a few clicks.
SkyFish Smart Gimbal: Delivers unique precision angle measurement with encoded motors to capture deep, highly accurate metadata for 2D mapping and 3D modeling.
"What we're trying to accomplish with Skynode and the other products in our catalog is to facilitate the delivery of a final product to the end-user that would be useful immediately, without the need for manual, time-consuming tasks," Orest said. "The expert requiring the information receives a detailed 3D model ready to be inspected."The level of automation during the mission is a welcome addition to the current state of technology at the cell tower and powerline inspection industry. It will undoubtedly help change expectations around how this type of work can and should be approached.