Technology and capabilities that will extend flight times and increase payloads took center stage in more ways than one at the Commercial UAV Expo. We've already highlighted some of the solutions that are designed to help drones stay in the air longer, but there were numerous companies that showcased and innovative ways to increase TiTA (Time in The Air) by increasing power output and reducing weight.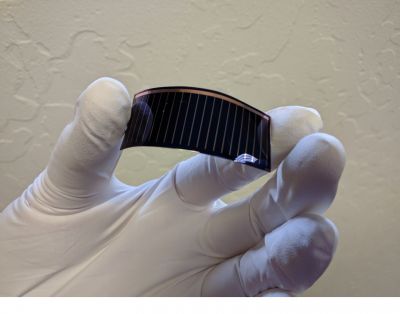 One of the more promising innovations was presented by a long-time leader of the solar industry,
Alta Devices
. Founded in 2008 with the goal of bringing high efficiency thin film gallium arsenide (GaAs) technology to traditional solar markets like rooftop and utility-scale power generation, Alta Devices soon found its way into the UAV industry.We had the opportunity to talk with Eric Sanford, Technical Marketing Engineer at Alta Devices' booth. He explained not only the genesis of the technology but the amazing efficiencies that they have gained from new chemistry and materials."Solar power technology has improved dramatically over the years," Sanford told Commercial UAV News. "Efficiency has gone up, but the existing technology was still too heavy, too rigid, or too inefficient for use on UAVs — until now. Alta Devices has developed an extremely lightweight, flexible, and thin, gallium arsenide (GaAs) solar cell that set the single and dual junction world record efficiency at 28.98% and 31.6% respectively."Alta Devices' first generation products, introduced in 2010, proved the ability of the company to mass produce, and distribute, a thin single-junction solar cell of high efficiency for the drone industry. Over the years, they have continued to invest and improve performance and reliability of their flexible cells while reducing weight. Currently, Alta Devices is manufacturing and selling
Gen4
, their fourth generation product line."Our Gen4 represents a 30% reduction in mass resulting in an areal density of 170 g/m
2
un-encapsulated," Eric continued. "We are also introducing several performance improvements that will result in a more efficient and reliable product. Along with our unique interconnect process, Alta Devices provide customers with the best power-to-weight and power-to-area combination available on the market."The difference Alta Devices technology represents can be seen in the chart below.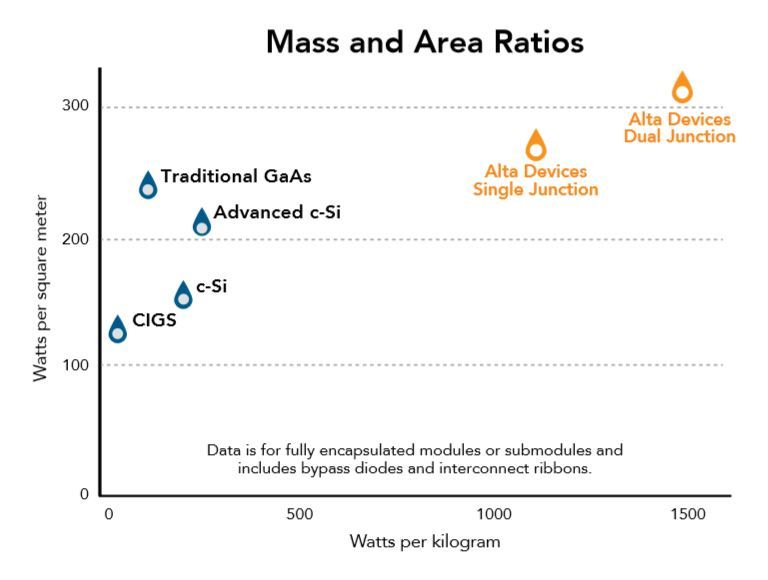 "Solar technology requirements from UAV manufacturers all include high efficiency with excellent power-to-weight ratio to maximize power generation while decreasing weight," he continued. "Moreover, the solar must be flexible, so it can conform to the aircraft without impacting aerodynamics. Our ability to cover the entire upper-wing surface of a sUAV allows GaAs technology to extend flying time from two to eight hours."Throughout the event, we were introduced to revolutionary concepts such as "flying batteries" and many other non-commercially available technologies. Despite the promise that many of those products represent, the thin and flexible GaAs solar cell from Alta Devices is the most promising technology existing today to extend TiTA for long endurance missions.