Commercial UAV Expo Europe
took place in Amsterdam this year, and it was an event that saw everything from insights about
surveying & mapping challenges across the continent
to innovative solutions like the
hydrogen fuel cells for UAVs
that BMPower is building. Before I went to the event, I
published a blog
that laid out five things I was watching out for at the Expo, and I've already explored
what I experienced at the Expo
regarding the maturity of the industry and some of the new use cases. Now it's time to detail those last three items... 
3. Where are we with the EU's UAS traffic management system (UTM / U-Space)?
My key takeaway in relation to the EU's U-Space is that it is not one 'thing'. As Benoit Curdy from the Global UTM Association stated, "It's a system of systems, delivering different services for different requirements but all coordinated." My follow-on takeaway is that it's really complex. There are many 'systems', many functionalities and many stakeholders that need be coordinated. The EU has an ambitious roadmap to make U-Space a reality. And remember they are not just focused on integrating drones as we know them today into European airspace.The plan looks to incorporate 'everything' that will be in the airspace. That includes Civilian & Military craft, Emergency Responders, High Altitude drones, all sorts of commercial drones including potentially parcel delivery, as well as drone taxis. It's a huge undertaking, split into multiple phases.The 1st phase, labeled U1, is set to be enabled in 2019, which will see basic services like registration, e-identification and geo-fencing. For a good overview of what we can expect to see in the coming 18 months or so, I'd recommend you have a read of the
recent update published on Commercial UAV News
.I was also curious to find out more about the industry's perspective on Galileo, the EU's Global Satellite Navigation System. Now I have to admit, unless you are specifically chatting to someone about GNSS, Galileo is not something that comes up in conversation all that often. That said, most were aware that the GNSS components that are in most commercial drones today, and other survey equipment uses the Galileo constellation. They also support the Russian GLONASS and China's BeiDou. So under the covers, Galileo is being used today.What was not evident at the event was anybody demonstrating a competitive advantage you would get by using some of Galileo's advanced capabilities, especially say in urban areas. This work is just starting. The EU is currently funding a number of projects via Horizon2020 and other initiatives that should highlight the benefits of using Galileo for such use cases. As Galileo's full capabilities do not come online until 2020, there's a window of opportunity here.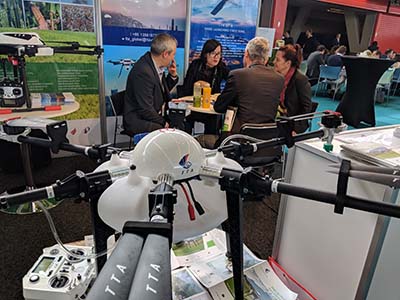 4. 5G or not 5G …
Honestly, 5G was not a big topic of conversation during the event. The general consensus was that 5G is still far away in 2020+. Everyone agrees that greater bandwidth, lower latency & ubiquitous coverage would be great to have. Such capabilities would enable all sorts of new use cases around the ability to stream high-def video in real time, enable location and identification of drones in U-Space and assuming ubiquitous coverage everywhere, potentially enable the communications required for BVLOS flights.However, no one was under any illusion that this is going to happen quickly. There's a huge amount of investment required to build 5G networks, and even if someone has all the money, there are technology challenges. Building out a 5G network in urban environments is one thing. Building out a 5G network for ubiquitous coverage in rural and remote areas is another thing altogether given the small cell architecture. There are issues around signal propagation, more interference and cell association. Now I'm sure these technology challenges will be overcome in time. They always are.Bottom line to me is, 5G 'should' be great but it's not something we're going to be using in the next couple years. Certainly not in Europe. However, we might see a faster buildout of 5G networks in the US and China.  
5. Drone Hero
The drone hero competition had a slightly different format this year. A short list of companies in each of the three categories presented their solutions to the audience, and more importantly, the judging panel. Every company on the short list deserves credit for their innovation and drive to get stuff done. You can get a full list of all the winners over at the
Drone Hero web site
. Do check out what AlphaLink, GEORESEARCH and GMP Defense are up to. Some really impressive stuff.Now personally, I'd give a shout out to two others. One is RoNik Inspectioneering B.V who I mentioned in
Part I of this article
. Their solution is really cool, especially for the Energy Industry.And the other company is
Drone SAR
. Okay, I'm Irish, so maybe I have a sweet spot for Irish companies. But what intrigued me about Drone SAR was how they were taking technology and looking to save lives. Their video is great and really speaks to what
#DronesforGood
stands for.https://vimeo.com/190620784Well, that's it for this year. I wonder what will be new this October at Commercial UAV Americas?
Let's see…
Looking forward to seeing you next year at
Commercial UAV Expo Europe 2019,
set to take place once again at the RAI in Amsterdam from April 8-10!