Offering an improved capture speed and twice the spatial resolution of the RedEdge-MX (RE-MX), MicaSense's RedEdge-P (RE-P), introduced in late 2021, builds on MicaSense's legacy of the rugged, high-quality, multispectral sensor and adds the power of a higher resolution, panchromatic band to double the output data resolution. Compatible with a wide array of drones ranging from large fixed-wing to small multirotor, Wingtra saw an opportunity to fit the RE-P payload onto the WingtraOne GENII to take results and field efficiency to the next level for environmental monitoring, research, and investigation, as well as agriculture.
By equipping a 5.1 MP panchromatic sensor and a three frames per second image capture rate, the RE-P offers pansharpened output resolutions of 2cm (0.8in) flying at 60m (197ft), or 4cm (1.6in) at 120m (394ft), whereas the RE-MX could only reach 6.7cm (2.7in) flying at 60m. The panchromatic sensor produces a panchromatic image - a single-band grayscale image with a high spatial resolution that combines the information from the visible R, G, and B bands and yields a single integrated image band containing no wavelength-specific information. Then, the pansharpening process merges the high-resolution panchromatic and lower resolution multispectral imagery to create a single high-resolution color image.
But why did Wingtra choose a White & Black over an RGB sensor?
"That's due to how these sensors are made," Erik de Badts, Channel Sales Manager at MicaSense, answered during a webinar. "First of all, it is important to have a global shutter for the data quality, not a rolling shutter. That means you are quite limited on the maximum amount of pixels you can use. An RGB sensor corresponds to 40% green, 30% red, and 30% blue cells. So, an RGB camera of 12MP is less than 4MP of real spatial information. With a Black & White camera, you can use the entire array of pixels for spatial information. The RE-P's panchromatic camera is only 5MP, but it is comparable to almost an 18 or 20MP RGB camera - that's the real resolution you can expect."
In addition, the RE-P extracts useful digital elevation models, just like you would with a 24 MP RGB sensor, and with Wingtra's bundle solution, there's no need to switch up your software.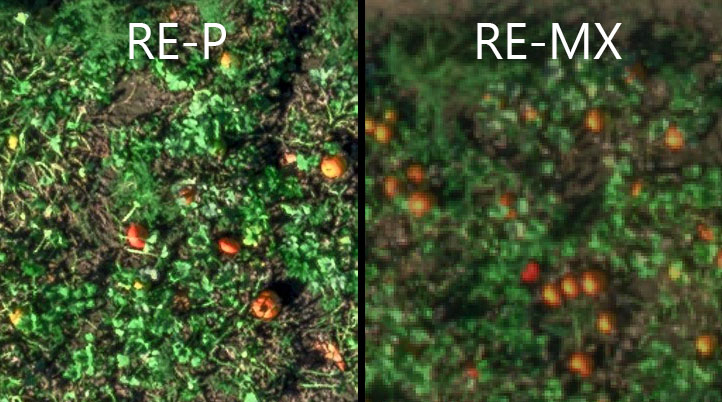 Since its market entry in early 2017, Wingtra has reached various customers in Surveying & GIS, Mining & Aggregates, Construction & Infrastructure, as well as Agriculture & Environment. The company is constantly looking for new and improved technologies to bundle with its drone, so Wingtra's adoption of the RE-P doesn't surprise. Back in 2019, the company had already integrated MicaSense's RE-MX with its drone to boost multispectral camera options for those in need of wide-coverage and high-quality multispectral imagery and reliable mapping results even in harsh conditions.
"We're excited to bring RE-P to our customers, because it breaks through an efficiency barrier while holding to our high-quality standard," said Julian Mackern, Product Manager at Wingtra. "You get both RGB definition and high-resolution multispectral in one flight. Add to this WingtraOne's fast coverage, easy setup, and high-quality PPK, and we now offer an all-in-one solution for a wide range of projects."