The key element to add unmanned aerial vehicles (UAVs) to the National Airspace (NAS) is the ability of these autonomous vehicles to function without the intervention of existing air traffic control (ATC). It is unrealistic to think that a system that is already working at 95% capacity will be able to absorb thousands of small unmanned aircraft requiring guidance and communication at all times.
That's why the drone industry, in partnership with regulators, academia and governmental organizations such as NASA, is working 24/7 on the development of an unmanned traffic management (UTM) system that would take care of non-piloted platforms, while ATC handles manned aircraft.
Everyone is committed to maintaining a safe NAS to which all users, including the unmanned aircraft community, are able to have routine, fair and equitable access. UTM addresses many of the airspace integration requirements for drone operations. This means it requires a coordinated approach across the UTM and UAV stakeholder community to deliver an ecosystem that will ultimately enable the industry to capitalize on the market opportunities presented by drones.
The prestigious drone business intelligence firm, Drone Industry Insights (DII), recently published a comprehensive whitepaper outlining the five key components of any successful UTM system. In the document DII argues what these five components are, the principal stakeholders and the key challenges still remaining:
Software
Remote ID
Regulations
Communication
Stakeholder Buy-in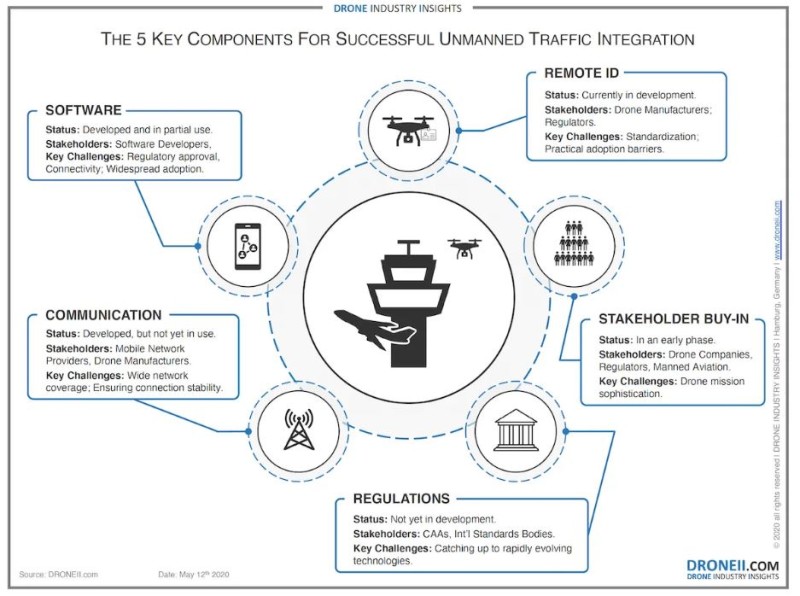 In Europe, there are several different technologies being proposed to facilitate the integration of drones into the NAS. These range from ADS-B IN/OUT, to FLARM IN/OUT, to recovering the telemetry of the drone and sending it to a UTM, to remote ID and so on.
This is not a case of "winner takes it all," and many companies like Unifly, Airmap and Altitude Angel are currently offering UTM systems. But like all technologies, they have their advantages and drawbacks.
One company in particular, Involi, has been focused instead on the development of technology that adds power to the existing UTM proposals by adding a real-time universal Remote ID tracker, known as KIVU.
At only 22 grams, KIVU is the lightest drone tracker in the market. It has 2 hours of battery autonomy, it is self-sufficient with an embedded chargeable battery, and is also rugged and particularly easy to use. KIVU is currently available for purchase on Involi's website and includes a license to access the INVOLI.live platform. The advantage of the bundle with INVOLI.live is that KIVU users will be able to visualize at the same time the tracked drone and surrounding air traffic, while benefitting from all the other advantages of the platform, such as dynamic geofencing around the drone, precise analytics tools and actionable insights.
In an exclusive conversation with Manu Lubrano, CEO of Involi, he elaborated as to the reasons his company focused on technology to help UTM as opposed to develop a new technology themselves.
"Remote ID is really the first one of the components that has been developed from scratch with the drone use case in mind, and that's why it's interesting, and why we pushed our solution in this direction," Manu explained. "We think that for drone operators, our device represents the best balance between factors like positioning precision, communication, privacy, redundancy, price, and so on."
When pressed about the feasibility of the KIVU solution on the field, Manu was able to elaborate on the tests that have been conducted to prove the solution.
"Last September there was a Remote ID demo both in Switzerland (with Swiss FOCA) and in the USA (with the FAA). We participated in the Swiss demo but not in the USA, but I can tell you already that our approach would have been exactly the same," Manu said. "That demo in Switzerland gave us the idea that a product addressing the Remote ID component would be a good direction to go. I know there are some controversies on the usage of Remote ID in the USA, but I had discussions with drone operators here in Switzerland that specifically asked me for this kind of technology."
With the issues surrounding the Remote ID Notice of Proposed Rulemaking (RID NPRM) in the USA, we asked Manu about the feasibility of deploying technology such as KIVU across the Atlantic.
"I would say that the same concerns that apply in certain regions of Europe also apply to US drone operators worldwide. Let me dig a bit into this," Manu began. "First of all, allow me to explain that there are two types of Remote ID:
Broadcast Remote ID: where a drone is emitting its ID and position on a certain frequency, and this is picked up by any device within its transmission range, and
Network Remote ID: in this case, ID and position of the drone aren't broadcast, but rather transmitted via the internet (or other telecommunication infrastructure) to the drone user, authorities and so on.
Our tracker falls in the second category. The position sent by the tracker is traveling over GSM or GPRS technology, which is by design encrypted and secured."
In Switzerland there are drone operations in the same sector, performed by different UAV operators at the same time, in other words, competitors. Sometimes, the same operation performed by drones is also done at the same time by helicopters.
"Imagine, already today, in the same area of a few miles of range, you could have drones from different companies and even helicopters," Manu said with enthusiasm. "Drone operators asked us for a solution that allowed them to see the position of the competitor drones and the position of the helicopters. We proposed our platform INVOLI.live for the visualization, we proposed our tracker to be installed by every drone operator and finally, we proposed to use one of our K-1090 receivers to detect the position of the helicopter (equipped with FLARM)."
In other words, there is now a single platform (INVOLI.live) in which everyone can see everybody else, enabling everyone in the NAS to operate safely.
"There were a few concerns about privacy," Manu elaborated. "Our objective is to allow these companies to operate safely, so our system is built in a way that the ID of the drone won't be transmitted to other drone operators. Also, drone operators won't have access to the "history" of other drone operators, so they can't see where the others are working. On the other side, authorities will have access to all this data. We believe that now it's the time to support drone operators by providing them a device that is really accessible and actually empowers them instead of being a burden."
Manu went on to explain that the KIVU drone tracker costs only $195 USD, and there are no subscription costs for our INVOLI.live platform once the tracker is purchased.
"Our KIVU drone tracker is also used to track the drone in case of crashes," added Manu. "I do not wish this to anybody. It happened to me already, recovering a crashed drone is really painful, and it's something that absolutely has to be done. A real requirement of drone operators is to have a completely independent system from their drones that allows them to find their drone when things go south!"
Solutions like the KIVU will help the deployment of UTM systems worldwide, but we still have to deal with the other four factors mentioned in the Drone Industry Insight's report and that provides a certain cautious optimism that we are getting closer to having manned and unmanned platforms sharing the NAS in the near future.