Detect and avoid (DAA) systems hold the key to the massive deployment of unmanned aerial vehicles (UAVs) and urban air mobility (UAM), even though we all know that the latter will be initially deployed with a pilot on board. But without a reliable and affordable DAA system, the Federal Aviation Administration (FAA) will never allow unmanned vehicles join their manned counterparts in controlled airspace.
Recently, Sagetech Avionics, an aerospace technology company providing situational awareness solutions for Unmanned Aerial Systems, announced it has signed a Memorandum of Understanding (MOU) with American Aerospace (AA ISR) to integrate Sagetech's DAA system into the AiRanger unmanned aircraft.
Commercial UAV News had the opportunity to connect with Tom Furey, CEO of Sagetech Avionics, to discuss the future of our industry in general, the role of DAA and Sagetech Avionics in particular, and more.
"Detect and Avoid systems are critical for beyond visual line-of-sight (BVLOS) flights and critical to the mission of the long endurance AiRanger aircraft," explained Furey. "We are pleased to partner with the innovative AA ISR group to bring the world's first certifiable low-SWaP DAA solution to test flights."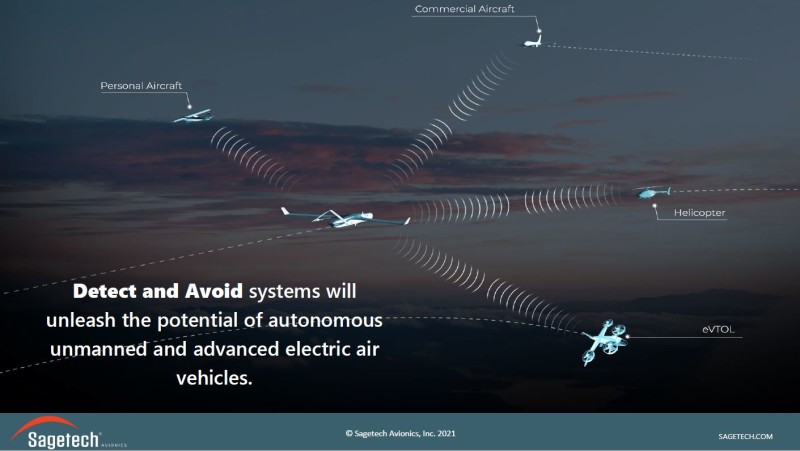 Regarding the availability of the system and the potential for test flights in the near future, Furey has very concise plans.
"We expect to have a certifiable prototype of the system ready for flight testing by the end of the year," he said with conviction. "A reliable DAA system is the only way the FAA will allow for realistic tests in challenging environments where the system must perform. This might include night flight and operations over people (OOP)."
When asked about possible integration with other components of the complete deployment solution, Furey clarified.
"Whether our customers need discrete components or a complete detect and avoid system, they can count on our mission-proven set of technologies to make a safety case and ensure integration with manned aviation, typically operating ACAS (Aircraft Collision Avoidance System) and/or TCAS (Traffic Collision Avoidance System) within the Air Traffic Management System."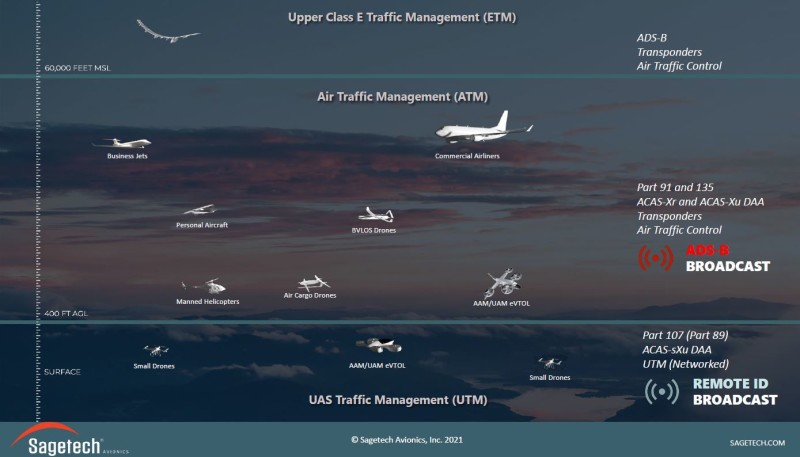 Sagetech's DAA system packages multiple core technologies into a single, small size, low weight and power (SWaP) DAA solution suitable for use on commercial unmanned aircraft as well as urban air mobility (UAM) platforms.
"Traditional commercial aircraft DAA systems can weigh up to 50 pounds, way too much for the emerging class of lightweight UAVs and eVTOLs. We specialize in microelectronics for small UAS and expect that our complete DAA system will weigh less than four pounds including the necessary third-party traffic sensors," Furey explained. "Sagetech's DAA system is ACAS-based, featuring technologies including a transponder, an interrogator, an ACAS-based DAA computer, software package, and other essential components. It is compatible with many off-the-shelf low SWaP radar and other cooperative and non-cooperative traffic sensors. It is compliant to the new DO-365B MOPS and can be certified to the future DAA TSO C211b."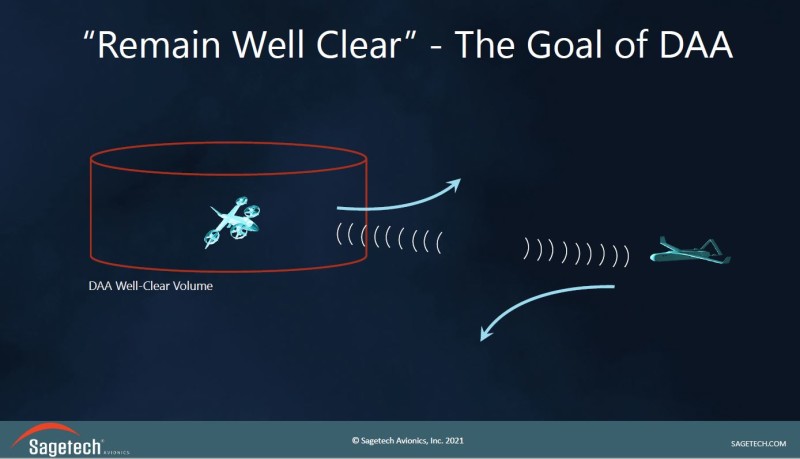 Sagetech efforts to develop and manufacture affordable and lightweight, certifiable DAA systems are a crucial element in helping UAV manufacturers secure approvals and waivers to fly civil BVLOS missions as well as obtaining aircraft type certification. This is a necessary step for the FAA to feel that it's safe to integrate unmanned aircraft into the national airspace (NAS) without compromising safety or adding unnecessary weight and cost to small UAVs or large air taxis.
I look forward to seeing more efforts like these from companies like Sagetech and encourage more alliances between innovators to make sure that UAVs and UAMs can join mainstream usage in the near future, without effecting the FAA's unmatched safety record.