Phoenix Air Unmanned (PAU) has been conducting effective and efficient long-range utility transmission line inspections for its client, Xcel Energy, since 2018 when Xcel received FAA approval to fly beyond visual line of sight (BVLOS). Over that time, the company's drones have racked up more than 13,000 BVLOS miles and collected more than three million high-quality images.
Through it all, PAU has learned a lot about drone-based aerial inspection operations.
Will Wheeler, Director of Operations for PAU, explained that his company's work with Xcel goes back to 2017—before the BVLOS waiver was granted. "Back then, we were flying a very inefficient orbit profile around structures," he said. "The aircraft was cruising from one point to another around a structure instead of just staying at a constant speed of about 25 miles an hour."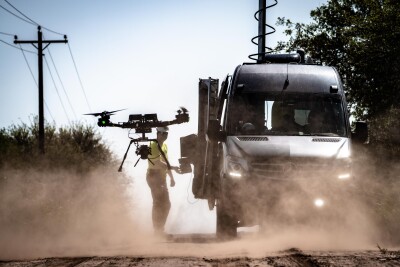 With permission to fly BVLOS, PAU and Xcel were able to change their approach and improve operations. "I'd say that the inspection technique itself has improved since we started the program," Wheeler stated. "Xcel learned that the data set they get from having two cameras onboard the aircraft imaging both sides of the structure in a single pass was sufficient for them. So, keeping the aircraft in a cruise flight led to significant efficiency gains."
Other process improvements involved data collection and processing. Wheeler reported that PAU "has captured over 3 million 100-megapixel photos over the last few years—that's quite a significant amount of data." To deal with this wealth of information, he said, "we had to refine our post-processing and organizational techniques to accommodate that level of data, which now goes to another vendor for the actual inspection piece."
In addition to refining inspection processes in the air and on the ground, PAU has improved the way it works with the FAA. "I'd say that our relationship with the FAA has been strengthened," he asserted. "We developed quite a significant safety case to be able to go after additional beyond visual line of sight approvals because of the flight time, flight hours, maintenance records, and everything else that we can provide. Now, the FAA recognizes our level of operational success when we seek additional approvals."
SwissDrones Slow Motion from Phoenix Air on Vimeo.
Currently, PAU and Xcel are looking to gain FAA approval to fly BVLOS with the SDO-50V2 airframe from SwissDrones. "Xcel wanted an airframe that could fly farther carry and more weight and allow for repeatable, scalable inspections," he explained. "We identified the SDO-50V2 as an aircraft that met all the requirements we were looking for to basically plug-and play within our existing inspection operation."
Wheeler reported that the aircraft "has flown successful demonstration flights for the FAA" and that his company continues to provide information to the agency on its request for a 44807 exemption. Should the FAA approve the request, Wheeler believes that PAU and Xcel would dramatically improve its already effective inspection programs.
"We're intent on flying beyond visual line of sight as we have but doing it at scale with an aircraft that's capable of flying for an hour-and-a-half to two hours," he said. "That would take our average inspection of around seven miles up to possibly 25 to 30 miles. We'd gain four times the operational efficiency with this platform."