A new drone on the horizon is set to disrupt the market with its long-range, high-endurance and high-speed capabilities. This is FlightWave Edge, by FlightWave Aerospace Systems. 
FlightWave Aerospace Systems is a California-based startup founded in 2014 by Dr. Michael Colonno and Dr. Trent Lukaczyk. Both received their Ph.D. from Stanford's Aerospace Design Lab, where they worked together on supersonic passenger jets with Lockheed Martin and NASA. Three years later, the company is launching its first product, the FlightWave Edge.
The FlightWave Edge is a vertical take-off and fixed-wing UAS built from fiber reinforced composites, with a weatherproof design and a small logistic footprint so anyone can pack and assemble it out of a hard case in just one minute. It comes with a click-to-fly touchscreen tablet controller to create automated flight plans for most applications, while still offering a manual pilot option.
What's most impressive about the drone is the capability of flying up to 100km/hr, with a range of up to 100km, a battery durability of 120 minutes as an airplane, while withstanding winds up to 40 knots and poor weather conditions.
"FlightWave grows out of a community of drone users with very unusual use cases," said Co-Founder and Chief Technology Officer Dr. Trent Lukaczyk, "We knew that the Edge UAS would be launching from hard-to-reach places, like a thin strip of sand on the edge of water, or from the back of a truck at the edge of a forest, or even from the back of a boat on the open ocean. We knew that the Edge would be asked to fly to hard-to-reach locations, like miles from shore over open water to watch for illegal fishing boats, or over acres and acres of fish ponds in Hawaii, or miles away over windy, rainy hills to inspect infrastructure. These missions require a very unique vehicle that the market has yet to see."

Furthermore, the drone features a swappable twist-lock payload bay, allowing for an easy integration of standard and custom

payloads

. Through the company's Payload Partner Program, payload developers can easily integrate their payload, from three-dimensional models to interface specs for data and power pins, by sending the design to FlightWave and letting its engineers review and integrate it with the drone. FlightWave will also allow the addition of the developed technologies to the online catalog of Edge UAS payloads, allowing partners to generate additional business by offering an upgradable payload for existing Edge UAS users.
"The Edge isn't just a drone: it's an airborne development platform. FlightWave is the only company with an open-source platform to integrate new sensors," said FlightWave CMO Edmund Cronin. "Some clients will design something so personally suited, so unique, that we may only make it once. Other designs will excite the whole marketplace and, once certified, will be made publicly available in our store. We know we'll be surprised — and likely inspired — by what new sensors our partners design to fly".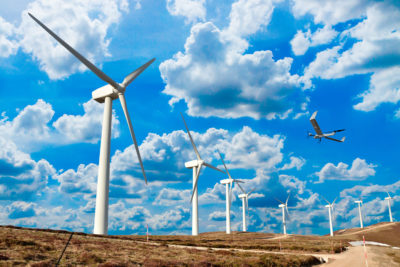 Additionally, FlightWave will receive an investment from Breakout Labs, a new Thiel Foundation's funding and support mechanism for radical science companies. Breakout Labs is "confident that FlightWave will quickly penetrate the nascent drone market and rapidly grow into bigger projects" and is eager to help support its long-term goal: to fundamentally change the performance of aerospace vehicles via a carbon-free future.
To understand how and why this idea came to life, and learn what FlightWave's personnel background means to the industry, we connected with Dr. Trent Lukaczyk.
"I had this unusual opportunity to join a team of biologists on a trip to Ofu, American Samoa (an island about halfway between Hawaii and Australia)," explained Dr. Trent, "On the island at Ofu, I was the drone pilot tasked with mapping the coral reef that surrounded the island. I had about a month beforehand to throw together a 3DRobotics DIY quadcopter (remember that blue and black aluminum frame), and once we got to the island, I flew 25 flights over the next 10 days. Each flight was super stressful. We had to take off from tight spaces on a beach, with lots of wind, and for 12 minutes I was clinging to my controller wondering whether the quadcopter would make it back to land, or run out of power over the water. What we are building is a direct result from these experiences. Both through first-hand experience running tough missions in hard-to-reach places, and talking to people embedded in the drone community, it was clear that there was a need for a durable vehicle that flew longer, faster, and farther. It was also clear that if we accomplished our vision for the technology, it would unlock a whole new set of capabilities for projects that we were passionate about, like monitoring the environment."
The Edge will release in Q1 2018 for anyone who pre-purchases it now for $7,500 during its pre-sale period, rising to $10,000 later on. FlightWave will also showcase the Edge this September in Las Vegas.
"The Edge UAS is just the beginning," added Dr. Trent, "Soon after our first deliveries of the Edge UAS, we plan to start making available a solar wing upgrade that will extend the endurance of the aircraft by another 30 minutes. Next, we'll be working on larger vehicles that can fly heavier payloads for longer flights."