During Commercial UAV Expo, which took place in Las Vegas from September 7th to the 9th, we had the opportunity to reconnect with friends and colleagues after a hiatus of face-to-face events that lasted over 18 months. As incredible as it sounds, this lapse in personal encounters also resulted in a giant leap in innovation for our industry. The number of companies exhibiting and the new tools and advances in established technology presented at the event were refreshing and brought a sense of optimism to the enormous crowd roaming the exhibit hall every day.
One company in particular caught our attention, CR Flight, and the reason is simple: they managed to deliver unheard of efficiency from electric propeller propulsion. We sat down with Robert Lundy, CEO of CR Flight for an interview about their technology as it stands today and their future plans.
"We've been working on this counter-rotating approach for years now and decided to demonstrate this revolutionary electric propulsion units (EPU) to potential customers and partners," Lundy said with obvious enthusiasm. "We are confident that this transformational technology will directly address the needs of many of our potential UAV (unmanned aerial vehicle) customers."
When pressed about more details about their claims of revolutionary performance, Lundy elaborated.
"Our patented eVector™ technology delivers impressive efficiency gains for all electric propeller aviation systems, not unlike a turbocharger for internal combustion engines," he said. "eVector, a contra-rotational technology, significantly enhances thrust efficiency and overall performance of all electric propeller aviation systems. Our eVector EPU increase thrust efficiency by 30% to 50% and offer 100% increased operating range, while at the same time running quieter and with zero emissions."
For a graphic illustration of this comparison with traditional technology, please see the performance envelope below where CR flight on the orange line exceeds a standard electric propulsion system by 40% to 50% and the standard system experiences thermal runaway and fails.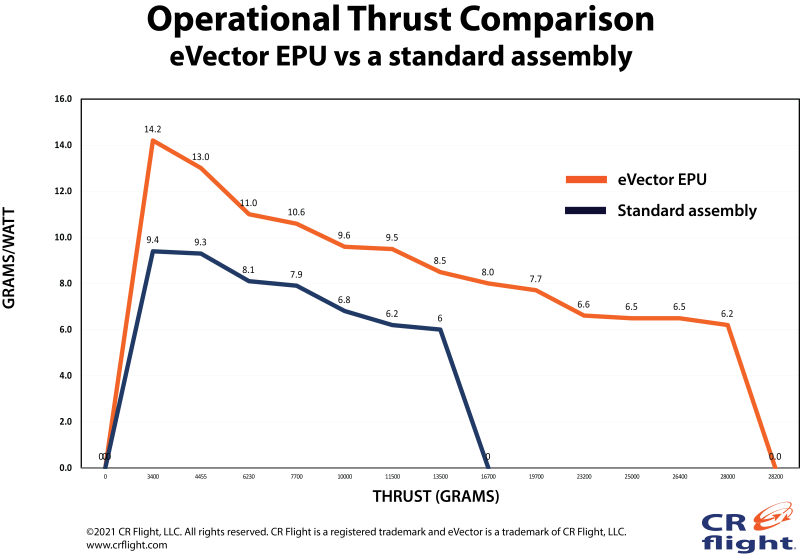 "Every manufacturer of electric UAVs should take a serious look at CR Flight technology," Robert said. "Imagine your platform realizing gains that were neither part of the original design nor anticipated in the future! Our electric propulsion units offer manufacturers dramatic increases in performance."
The conversation then turned to availability and options.
"This contra-rotating technology will transform electric propeller propulsion," he continued. "CR Flight currently offers three Electric Propulsion Unit models: eVP-10, eVP-20 and eVP-50 designed for applications of 10, 20 and 50 pounds of thrust, respectively. The company is filling orders today."
With most UAVs on the market today being powered by electric motors, the size of the market for CR Flight technology is enormous. In a time when flights beyond visual line of sight (BVLOS) are getting closer and closer to being a daily reality, a technology like this is surely positioned to make a difference in the lift capacity and range of existing designs.