Last month, Transport Canda granted Drone Delivery Canada Corp. (DDC) official approval for Beyond Visual Line-of-Sight (BVLOS) flights. With this approval, DDC will conduct BVLOS flights in the Golden Horseshoe/Southern Ontario area transporting Class 7 dangerous goods. This work will build on DDC's experience transporting medical radioisotopes by drone on its Care by Air 13.4km commercial drone route.
To learn more about DDC's new BVLOS approval and what it means for medical deliveries in Canada, Commercial UAV News spoke with DDC CEO Steve Magirias. We discussed the approval process, safety issues around transporting dangerous cargo, and the future of the drone delivery sector.
Commercial UAV News: Describe the process of receiving BVLOS flight approval. How did you work with regulators and public agencies, and what were the key issues that needed to be addressed to gain approval?
Magirias: DDC has been working with Transport Canada, the civil aviation regulator, for several years in order to build up our expertise and our level of trust with the regulator. We used a crawl-walk-run approach where we began with lower risk VLOS operations and evolved to more complex operations (BVLOS and dangerous goods). This is the same approach taken for previous BLVOS ops and the carriage of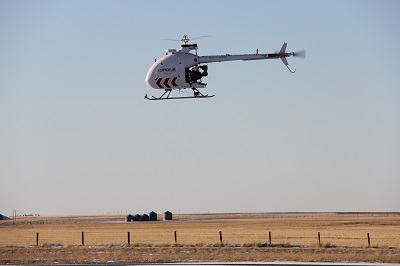 dangerous goods. For this particular BVLOS operation, a detailed concept of operations and operational risk assessment were provided to the regulator to satisfy the safety aspects for both our DG and BVLOS operations. In addition to Transport Canada Civil Aviation, DDC worked closely with the Transport Canada Dangerous Goods Directorate and the Canadian Nuclear Safety Commission to ensure that we addressed all the regulatory requirements for the carriage of medical radioisotopes. Finally, both Transport Canada and the Canadian Nuclear Safety Commission conducted audits of DDC operations to ensure we were putting into practice what we had on paper. Once the safety concerns of the various regulatory authorities were addressed, Transport Canada Civil Aviation issued the Special Flight Operations Certificate to enable both BVLOS operations, as well as the transport of radioisotopes.
Commercial UAV News: Explain how DDC is ensuring safety in these operations.
Magirias: DDC has worked with the various regulators, including Transport Canada Dangerous Goods Directorate and Canadian Nuclear Safety Commission, to ensure that our processes and procedures are suitable for the types of operations being conducted and the goods being carried. Instead of asking for any specific waivers or exemptions to the current regulatory frameworks, DDC chose to work within the existing regulatory structure, with an aim of providing operational data to support the update of the current framework to more accurately address the reality of RPAS operations. This included creating various new checklists, notification processes, emergency response plans, and a company radiation protection program, to name a few.
Commercial UAV News: Your company has called this approval a "significant milestone." What makes it so important?
Magirias: DDC continues to work towards enabling the advancement of RPAS operations, and whether this includes being one of the first drone companies to obtain a Canadian Transportation Agency Licence, which is required by anyone providing a domestic air cargo service, or the being the first to carry radio-isotopes, or ensuring safe BVLOS operations can be conducted in the complex environment of the Golden Horseshoe/Southern Ontario,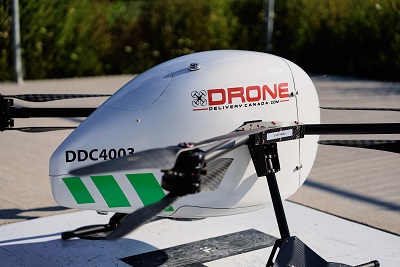 we will strive to push the envelope so as to provide a model for others to follow and to provide the regulators with the data needed to advance their regulatory activities. In this context, DDC was extremely pleased to see the release of the new Transport Canada Low-Risk BVLOS regulations. These regulations will permit certain BLVOS operations to be conducted without requiring special approvals for each operation. This will provide greater regulatory certainty for operations by removing the current wait times for special flight operations certificates—the current approval methodology.
Commercial UAV News: What impact do you think this approval will have on public understanding and acceptance of drone delivery operations?
Magirias: As the general public learns more about the positive contributions RPAS activities provide, an increase in public acceptance will follow. The Care by Air project is just such a project. Showing that critical medical supplies, such as time-sensitive radioisotopes, can be transported in a timely manner without being impacted by road congestion or other factors which negatively impact ground transportation will continue to enhance the public awareness.
Commercial UAV News: What's next for DDC? Are there other types of cargo that you plan to deliver, or other regions targeted for BVLOS flights?
Magirias: We'll look to all regions of Canada to seek unique and challenging opportunities where our technology can make a difference in people's lives. Similar to the BLVOS and dangerous goods operations we recently conducted in Fraser Lake, BC, DDC will strive to find those operations to support Canada's remote and first nation communities, improving their quality of life. Additionally, we will look at additional medical use cases where the timely and reliable movement of critical medical tests, samples and supplies can be provided, improving the quality of medical care to patients.