The world of business is driven by the need to grow. If you are not the biggest, then you are swallowed, acquired, and assimilated by the biggest. This process has traditionally developed organically, starting with an idea that slowly grows to become a small private corporation, which ideally leads to increased sales and eventually being traded as a public company in the stock market, also known in the U.S. as Wall Street.
The process by which private concerns become public corporations has traditionally been known as IPO or Initial Public Offering. It was the Holy Grail of business: to become a public company with all the respect and responsibilities that such a move would entail.
Now Wall Street has come up with a new trend that might be relevant to the unmanned aviation industry: SPACs.
SPACs, or Special Purpose and Acquisition Company, are legal entities with no commercial operations established with the sole goal of raising capital through an IPO with the intent of acquiring an existing company. Also known as "blank check companies," SPACs have been around for a long time, but it is just recently that they have become prominent, or shall we say "the new trend?"
In the past, big money involved owning shares in a company in the pre-IPO stage in which only the founders, family, friends, and employees of small companies ready to go public had access to these coveted shares. Some of these people went on to become gazillionaires in companies like Microsoft and Apple, in which shares valued from a few cents a share transformed into hundreds of thousands of dollars per share over the span of decades and through multiple splits. But these examples are rare, and the privilege of belonging to one of these entities pre-IPO is slim at best.
Now SPACs offer every investor out there the chance to get in on the ground floor and buy shares of futuristic companies, pre-IPO, through the purchase of a relatively cheap SPAC that invests in a private company.
This is better illustrated with an example closely related to the world of unmanned aviation.
On February 10th, Archer Aviation of Palo Alto, Calif., an urban air mobility (UAM) company and developer of all-electric vertical takeoff and landing (eVTOL) aircraft, announced that it had entered into a definitive agreement for a business combination with Atlas Crest Investment Corp. (NYSE:ACIC), a SPAC that would result in Archer becoming a publicly listed company by Q2 2021. It is anticipated that the post-closing company, Archer, will be listed on the NYSE with ticker symbol "ACHR". Almost simultaneously Archer also announced that United Airlines agreed to invest in the company. Under the terms of its agreement with the airline, United placed an order for $1 billion of Archer's aircraft. United has the option to buy an additional $500 million in aircraft.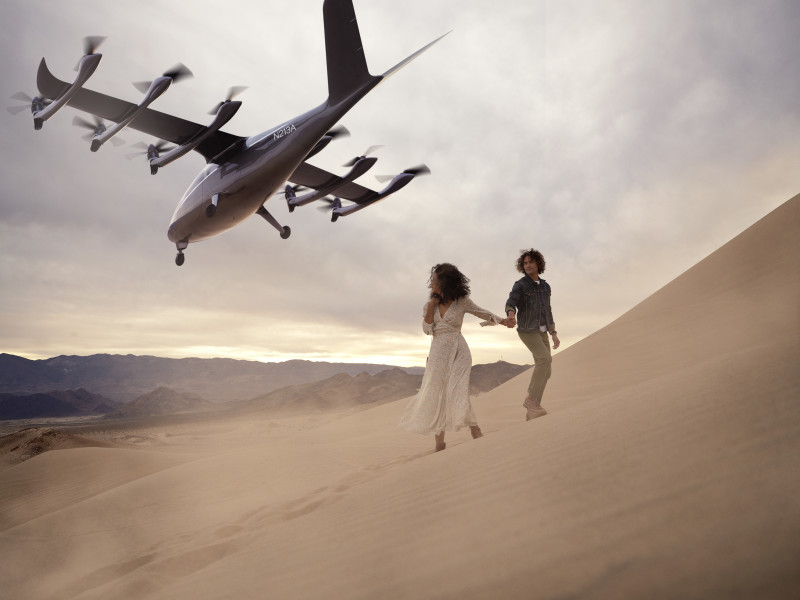 Another major announcement along these lines was Reinvent Technology Partners (NYSE:RTP), a SPAC formed by LinkedIn founder Reid Hoffman and Zynga founder Mark Pincus, who is investing in Joby Aviation another eVTOL company, in a deal that will value the non-traditional aircraft developer at $5.7 billion.
At the same time, companies that elected the IPO route, such as Ehang have raised billions of dollars in investment capital by trading (NASDAQ:EH) in the open market and attracting small investors.
But becoming a public company is not without perils. Recently, Ehang was accused of cheating and manipulating its stock price. On Tuesday, February 16, Wolf Pack Research published a scathing report denouncing claims of sales and revenue as "collection of lies about its products, manufacturing, revenues, partnerships, and potential regulatory approval of its purported main business."
So, with so much money being poured into emerging technologies such as UAVs (unmanned aerial vehicles), eVTOLs and UAM, via traditional venture capital (VC) or crowd funding, why are these SPACs now taking public these high-risk investments for the general public to participate in?
The obvious conclusion is that SPACs have followed the scent of traditional investors and large VC conglomerates and are also looking at unmanned and non-traditional aviation as the possible next big thing. But is it?
We still have to solve the issue of incorporating these vehicles into the National Airspace (NAS) safely, and we still have to figure out a business model that works for everyone and replace costly urban helicopter services that were really just for an elite. If you believe in our industry, as I do, perhaps it is time to look at these new companies being traded in the stock market and look at their financial considerations and not only their technical acumen, even though the real rewards in terms of profits, is still a few years away.