Speedbird Aero, a drone delivery and logistics startup that started in Brazil, has been leading by doing since its inception. In just five years, the company has grown from its four original members (the two co-founders, Manoel Coelho and Samuel Salomao, and their wives) to over 55 strong. It now produces three different airframes and has successfully flown them in over 10,000 missions.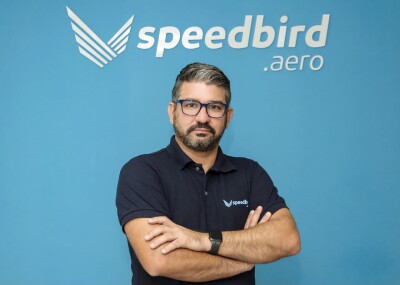 Now, the company plans to take flight in the United States. This behind-the-scenes peek at the company and its CEO Coelho provides deep insights into why this startup appears postured to soar in the States.
Fueled by a Spirit of Disruption
Coelho, the company's CEO, has had deep connections with aviation and disruptive tech from the start. Well, actually, before birth. His family, who emigrated to Brazil from Portugal in the 1920's, helped support and film the arrival of the first crewed South Atlantic night flight in history from Europe to South America.
His parents, both physicians, emphasized the importance of education and making one's own dreams come true. A lifelong multi-sport student athlete, Coelho looked to further both of those goals, when he came to the U.S. on a 4-year soccer scholarship to attend Grand Canyon University in Phoenix, Arizona. (By the way, in high school, he also rose to the ranks of state champion in tennis.)
After Coelho graduated with an international business degree, a Phoenix-based global telemedicine company, MedAire, providers of emergency medical training, equipment and remote medical advice for the aviation and maritime industries, hired him.
After 11 good years at MedAire, Coelho took another job as Head of Global Business Development at GlobalMed, a comprehensive and scalable telemedicine solutions company. That's where he met Salomao, Speedbird's co-founder and CPO. At the time, Salomao had responsibility for systems software. Together, the two orchestrated worldwide deployments for the company's major clients including the US Veterans Administration, Department of Defense and NATO. "Software controls hardware at a distance," said Coelho. He continued, "This is very similar to what we do today."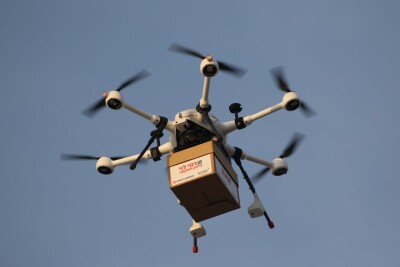 Creating Speedbird Aero was Salomao's idea—after he had seen the reality in the field. "He saw the difficulties in delivering medicines and lab specimens across healthcare deserts around the world," Coelho explained. "Samuel believed drones could make a huge difference in those logistics."
As for the company name, the inspiration came from a term Coehlo learned at MedAire. When one of its biggest customers needed to report an emergency on their aircraft and needed to speak with the doctors, they would identify themselves as 'Speedbird," according to Coelho. "We thought Speedbird Aero would be the perfect name for the drone logistics company that would deliver people whatever they needed," he said.
Before founding Speedbird Aero, though, Coelho attended graduate school at the Thunderbird School of Global Management in Phoenix, Arizona. He also secured a C-level position at MetaOptima, a skin cancer prevention company in Vancouver, Canada. Along the way, he married his wife, a Chemical Engineer, Eloisa Rios.
Despite success in life and career, the dream of creating a drone delivery company never faded for either Coelho or Salomao. Unable to secure US funding for their dream, in 2018, the families packed up, left their comfortable jobs and headed to Brazil to kickstart Speedbird Aero.
The initial go was rough. The co-founders remained essentially unemployed for almost a year. "It was just me, my wife, my co-founder Samuel, and his wife for a whole year, flying around and demonstrating our aircraft," recalls Coelho. "We were the first ones to start a drone delivery and logistics company in Brazil and Latin America," explained Coelho. "The only way for us to grab attention was for us to actually do it, and to do it right. Our goal was to make this so scalable that anyone without much experience in flying could actually safely operate our aircraft. Our difference is to fly-by-wire, automatically."
Speedbird Aero's first drone, the DLV1, a lightweight axle rotorcraft that can carry up to three kilograms (6.6 pounds) of payload, received the first drone type certification from Brazil's National Civil Aviation Agency (Agência Nacional de Aviação Civil or ANAC). ANAC has bilateral agreements with the Federal Aviation Administration (FAA) and the European Aviation Safety Agency (EASA).
During these early tough times, the Speedbird leaders held tight to their goals and values. Coelho explained, "I had been very lucky to have been a part of very disruptive and unique organizations. Money was never the final objective. It was always about the mission. When you have a mission in place, even when things hit you hard, you can still stand up, dust it off, move on and continue."
Speedbird Aero received initial funding and hired more people in 2020.
Leading by Doing
From 2020 on, Speedbird has continued on an upward trajectory. ANAC granted the company approvals for the country's first beyond visual line of sight (BVLOS) operations, including operations at night.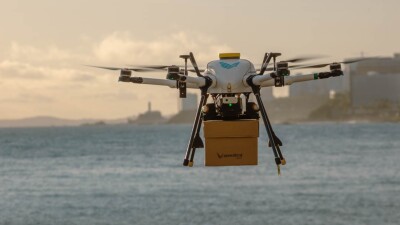 ANAC also gave permission to fly the company's DLV2, a heavier cargo lift axle rotor drone that can carry almost three times the weight and fly three times the range of the DLV1.
Coelho credits the ANAC for welcoming him and the Speedbird team, from the beginning. "Once we showed them we could do what we said, that we could deliver with drones, that we could demonstrate the concepts, they gave us the support we needed to succeed in obtaining the certification."
One of Latin America's firsts, in initial trials in 2020, Speedbird delivered food from two iFood restaurant hubs to nearby customers in two municipalities. Within the first year, Speedbird flew 4,000 deliveries. Of these, over 700 were BVLOS flights and more than 1,000 in urban environments.
The return on investment soon became apparent. Speedbird Aero's DLV1 drone could fly a 2.8 kilometer route in 5 minutes and 20 seconds, compared to the roughly 25 to 55 minutes ground transportation took for the same delivery.
Within two years, ANAC granted authorization for Speedbird to do drone-assisted food deliveries for iFood with loads up to 2.5 kilograms within a radius of 3 kilometers, another unprecedented authorization in Brazil.
With tremendous success at home, Speedbird Aero continued its international expansion with a game-changing trip to Israel. Israel's Innovation Authority, Ayalon Highways, the Ministry of Transportation and the Civil Aviation Authority invited Speedbird to be the first foreign company in its Israel National Drone Initiative (INDI) BVLOS pilot project demonstrations.
Coelho recalls, "In Brazil and in the southern hemisphere, our GPS fluctuates a bit more. It drifts throughout the day, which makes precision landing based on GPS less accurate, but we had never experienced a total GPS loss." Then they got to Israel where GPS is very stable and accurate, but jamming seemed a constant threat. "We had to learn very quickly to adapt our technology to each environment we operate in," Coelho said.
Coelho and his team met other great Israeli companies and formed strong alliances. Cando Drones became the official operators for Speedbird drones in Israel, where they also integrated advanced technologies from Parazero, Elsight, and HighLander.
"What we learned from that first experience in Israel," Coelho reflected, "is that we need to be open-minded and humble. We don't know everything. We will learn. And we will accomplish the mission."

They did accomplish those missions and continue to accomplish many more in Brazil, the U.S. and Israel. Speedbird Aero along with its partner Dronery Fly Ltd. (part of Cando Drones), recently conducted the longest BVLOS drone delivery flight (16km) and the first-ever drone takeoff from the Ilan and Asaf Ramon International Airport in Eilat, Israel.
At home, Speedbird Aero continues to expand their food delivery operations with the food tech giant iFood. They are adding two more drones to the original route and new operations in two new cities in the coming weeks.
ANAC also granted Speedbird Aero the first authorization to fly biohazard materials for Grupo Pardini, one of the largest diagnostic centers with more than 8,000 collection points spread throughout the country of Brazil. Pardini and Speedbird Aero have also launched the longest BVLOS corridor in a major urban area, encompassing 30 km dotted with multiple droneports across the capital city of Salvador. This will ensure the collection, delivery and processing of lab samples in record time.
Besides deliveries of food, in support of swine artificial insemination, beverages, eCommerce and laboratories, Speedbird has signed additional R&D and commercial agreements with six other very large organizations that are flying daily. Stay tuned for these public project announcements.
Home Away From Home
Although born in Brazil, with a company initially based there, Coelho has spent more than 25 years in North America. As of this year, he's back to what he refers to as his "home away from home," the US. This year, Coelho moved full time to Florida. When he's not traveling around the world, he now splits his time between there and São Paulo.
Why? Because Speedbird Aero has plans to open up a US-based headquarters somewhere…soon. They are also in advanced discussions to partner with key US drone players and have plans to participate in the FAA's BEYOND program. "This is going to become a 90 billion dollar industry by 2030," Coelho predicts. "And we are going to be a big part of that."
Coelho lauds his team for the company's continued wins. Borrowing from Teddy Roosevelt, he says: "It's not the critic that counts. It's the warrior in the arena that gets the credit. The ones that get their faces smashed to the sand, bleed, but still stand up day after day…working…doing things. That's our team!" Coelho exclaimed.
He continued, "We have great people that are completely committed. Speedbird Aero is more than just a company. Everyone is very excited about our mission and I think that is what makes us so successful despite the daily challenges and skeptics."
If past performance is an indicator of future success, it truly does appear that Speedbird Aero will, indeed, prevail.
To learn more about Speedbird Aero, visit their website at https://www.speedbird.aero/ or follow them on LinkedIn https://www.linkedin.com/company/speedbirdaero/
Watch Manoel Coelho's interview on "Leading by Doing" on the Full TILT (Tech Industry Leadership Talks): https://www.youtube.com/watch?v=tD8GU78KlGc
See Manoel and Yoav Amatai from Elsight discuss their partnership on the Dawn of Drones 2023: https://www.auvsi.org/episode-75-yoav-amitai-ceo-elsight-and-manoel-coelho-ceo-speedbird-aero