When we analyze the obstacles to a massive deployment of drones and air taxis in the national airspace (NAS), the first issue that comes to mind is the Federal Aviation Administration (FAA) and their absolute need—and mandate—to maintain the current safety levels for crewed aviation, especially commercial airliners, and the millions of passengers they move every year.
If we take into account the thousands of daily commercial flights and the countless private aircraft crisscrossing our busy skies, we reach the conclusion that the conversion of non-traditional aviation from experimental to revenue-generating enterprises will probably take place in countries where general aviation is not such a big factor and commercial routes are fewer and mostly between a small number of specific areas.
In the last few weeks, we have been writing about success stories with small drones in Latin America where innovators are working with their respective civil aviation authorities to come up with business models for distribution that are acceptable and implementable in the short term.
But how about other regions of the world with similar conditions? We heard of a company based in Oman, and with offices in California, the United Arab Emirates (UAE), and Turkey, that decided to tackle the issue of last mile deliveries by designing and manufacturing a complex delivery system based on drones.
UVL Robotics was co-founded by Moosa Al Balushi and we had the opportunity to talk to him about his experience launching his company and the approach they took to such a new market.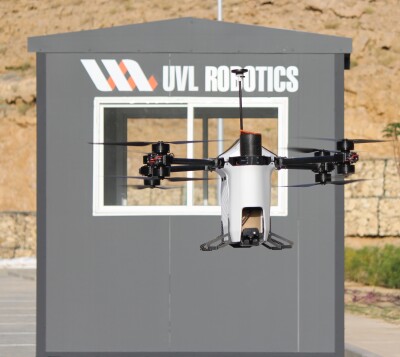 "The first thing we did, was to invest in a comprehensive study of the market and its possibilities in terms of revenue but also making emphasis on potential issues and roadblocks," Moosa said with confidence. "We wanted to assure our investors that such a new technology could be implemented in a period of time that would guarantee a good return on investment."
The study arrived at four basic conclusions:
Drone delivery of single and multiple parcels in urban environments soon will achieve cost parity with the human delivery, while being safer and up to 3x faster.
The all-electric drone-based solutions are greener than land-based alternatives in many ways. For example, there is no idling at loading/unloading, and there are no rubber particles that pollute the air, leading to a 30-50% reduction in CO2 emissions.
The business model is proven to be cash-positive and scalable, providing a clear path to profitability for customers and investors. Autonomy, payload-specific containers, and fixed depot-to-parcel station routes are what makes the model scalable, way beyond anything that a piloted drone model can achieve.
The calculation also takes into account all possible compliance issues associated with employing drones in urban environments, such as noise regulations, privacy restrictions, and no-fly zones. Drone-based delivery reduces the number of road accidents which is beneficial to the overall urban environment.
"We come from a background in logistics and for us this was just the next step in the evolution of an industry that is maturing around the world around the issue of green energy and less pollution," Moosa elaborated. "But instead of focusing on large vessels and long distances, we choose to narrow our R&D to solving the issue of the last mile, the least efficient link in a long chain of distribution."
We have heard enough examples of great tests around the world, but we wanted more concrete data on what UVL Robotics is doing today to make drone package deliveries a reality.
"We are already delivering in Oman, the UAE is in the final testing stage, and in Dubai we are already negotiating with the Civil Aviation Authority (CAA) for initial steps," said Moosa with enthusiasm. "We are also aiming at having something in place in Riyadh in preparation for the FIFA World Cup Finals in Qatar in November 2022."
But given the current state of human deliveries, we decided to press Moosa on making a concrete comparison, and he delivered.
"A good example would be the price of delivering a 3 kg (6 ½ lbs) grocery parcel, which will be $5 or less in a scenario where 6 drones perform 192 sorties per day within a 10 km (6 mile) radius. This amount closely matches what it normally costs customers to have their parcels or food delivered by most major traditional last-mile players today," said Moosa. "We can be competitive relatively soon and the deliveries will be at their destination faster and with less pollution."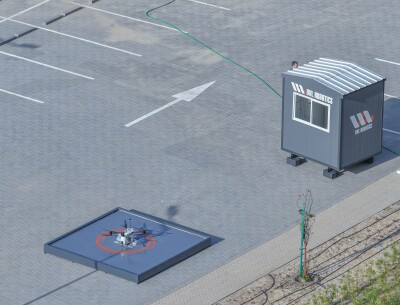 When we asked about the delivery method, Moosa was clear that the issue of placing the parcel in the hands of the end customer is still being analyzed.
"Today we are delivering by landing and placing the parcel on the ground but at the same time we are also studying the possibility of winch deliveries by the end of the year," said Moosa. "We are convinced that in three years this unmanned delivery will be everywhere in the Middle East and UVL Robotics will be a good part of it."
With the strong connections that exist between all the CAAs of the world, including the FAA in the US and EASA in Europe, we can rest assured that these first attempts worldwide, such as UVL Robotics in the Middle East, ORKID in Colombia, Aerialoop in Ecuador, and Zipline in Africa, will create a rich database of hard numbers that would allow drone deliveries to expand into more complicated airspaces while maintaining the safety of the flying public.