Having gone through various prototypes since its inception, Amazon Prime Air has recently unveiled its latest delivery drone, the MK30. Set for a 2024 release, the MK30 is the successor— and a lighter and smaller version—of the MK27-2. It introduces an increased flight range, expanded temperature tolerance, safety-critical features, and a new capability to fly in light rain.
As one of Prime Air's focuses, noise signature reduction is critical for the public's acceptance of drone delivery. While Amazon's drones are already quieter "than a range of sounds you would commonly hear in a typical neighborhood," the MK30's perceived noise reduction of 25% over the previous iteration shows the company's commitment to that goal.
Regarding safety and reliability, the MK30 will also incorporate airborne functions with Amazon's perception systems to detect objects in-flight. This means the drone will feature a sense-and-avoid system to autonomously avoid other aircraft, people, pets, and obstacles and allow operations at greater distances. As with all previous iterations, the drone will undergo rigorous evaluation by national aerospace authorities like the FAA to prove its safety and reliability.
"We're very much inspired by aerospace principles, follow very rigorous design standards, and we're very tough on ourselves in terms of expectations for performance and reliability of the system," said Sean Cassidy, Director, Safety, Flight Operations & Regulatory Affairs at Amazon Prime Air, during the Commercial UAV Expo. "We're constantly refining the system with the goal of the safest, most effective, and most efficient delivery system possible."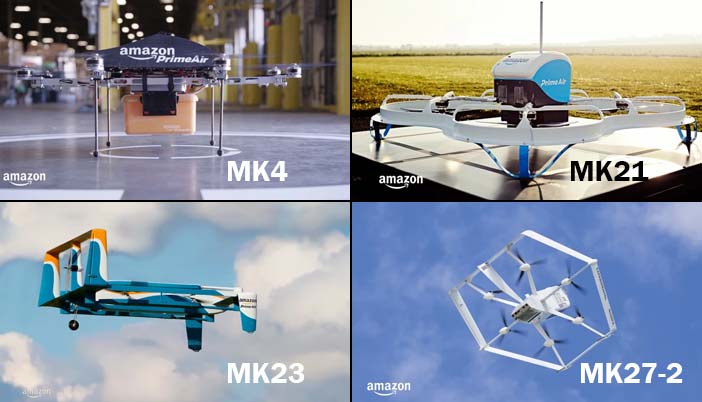 After working on it for almost a decade to make it a reality, Amazon has finally announced preparations for drone deliveries at two locations later this year: Lockeford, California, and College Station, Texas. Both will be at the forefront of the development of drone delivery technology, since the public's feedback will help Amazon create a service that will safely scale to meet customers' needs everywhere. Amazon will also create new jobs, build partnerships with local organizations, and help reduce climate change's impact on future generations.
"Unlike the way we conducted our first operations, where we were taking the drone to a remote rural area and doing initial proof of concept and limited commercial operations, Lockeford and College Station are two uniquely situated and designed locations," Cassidy added. "We have the warehousing operation, flight control, flight operations, and maintenance on-site, and we're excited to take this next phase of operations."
Amazon's drone delivery technology and investment in its logistics network represent the most effective path to sustainably deliver a vast selection of items in under an hour and eventually within 30 minutes at scale. In the months and years to come, Prime Air expects to expand this service to more customers worldwide.