I was lucky enough to be part of the team that developed the first rudimentary RTK techniques in 1992 while working for a small Canadian firm, GeoSurv, in Ottawa, Canada. At the time, GPS was a very unreliable signal and SA/AS (selective availability and anti-spoofing) played havoc with our early attempts to establish good locations in a moving vehicle. I remember Paul Mrstik, GeoSurv President and founder, as he struggled to overcome the most persistent issues that prevented us from succeeding. Those were days of many trial and errors but eventually, Paul and his partner James Ferguson prevailed and we could use RTK for the first time in commercial applications.
Today, RTK is utilized across the world, and the use of satellite positioning is not restricted to the GPS constellation. That has led to the creation of a Global Navigation Satellite System (GNSS) that is being further transformed by unmanned vehicles and the miniaturization of GNSS receivers. A recent development from the
GeoCue Group
is proof of just how fast and powerful this transformation will be for all of those users.GeoCue (via its wholly owned AirGon subsidiary) announced it has completed the integration of the new
DJI Phantom 4 Pro RTK
(P4R) into their AirGon Sensor Processing Suite (ASPSuite). ASPSuite is well known as the post-processing solution for their proprietary "
Loki direct geopositioning system
" for DJI and other manufacturer's drones. ASPSuite enables integration of the P4R with third-party L1/L2 GNSS base stations such as systems from Septentrio, Leica, Trimble, Tersus, TopCon, CHC and others in a high accuracy Post-Process Kinematic (PPK) workflow.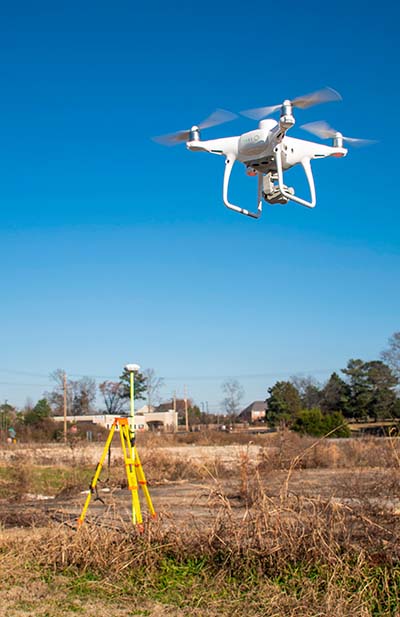 In addition to performing Post-Processed Kinematic (PPK) processing, ASPSuite includes support for options often required in engineering grade surveys such as:
Vertical transforms (e.g. ellipsoid to country-specific geoids)
Creation of and transformation between collection datums and local coordinate systems ("site calibration")
Application of antenna static and dynamic lever arm corrections
Full support for Loki direct geopositioning systems
We reached out to Lewis Graham, President and CTO of GeoCue/AirGon for his insight into the announcement."Our experience integrating our Loki direct geopositioning system into DJI drone platforms over the past few years has allowed us to tailor our ASPSuite PPK workflow to these systems," Lewis said. "Achieving high accuracy with a non-metric camera such as those used on DJI units requires careful attention to all details of the process.  We communicate this information to our customers."Currently, the DJI D-RTK-2 base station (optionally available) for the P4R can only be used in RTK mode and then only if it is being sited on a known location. The D-RTK-2 does not allow access to an observation file, preventing it from being stationed using an online positioning service such as OPUS, AUSPOS, Canadian Geodetic Survey services and so forth. An additional consideration in GeoCue's integration into ASPSuite was that professional surveyors already have a survey kit that they need to be incorporated into this workflow.GeoCue is also offering camera calibration services for the P4R for those customers who wish to do minimal or control-free high accuracy mapping projects (the DJI "calibration" is not a rigorous photogrammetric calibration). In a recent test of a GeoCue-calibrated P4R using an OPUS positioned base station and PPK processing with ASPSuite, GeoCue achieved about 4 cm horizontal and 5 cm vertical network accuracy (RMSE) with no ground control points. While not quite as accurate as a Loki solution, these results are remarkable for a low-cost drone.GeoCue, as an authorized DJI Enterprise Dealer, offers several bundles to cover the needs of the survey community:
ASPSuite + the Phantom 4 Pro RTK drone – This kit includes camera calibration. It enables a full photogrammetric workflow in PPK mode using the customer's L1/L2 base station. This is the highest accuracy method of performing drone surveying.
ASPSuite only – This is for customers who have a survey-grade L1/L2 base station, already own the P4R drone and now need a proper surveying workflow. This offer includes camera calibration (customer pays to/from shipping to GeoCue for their P4R).
ASPSuite + Survey Grade L1/L2 Static Base Station + Phantom 4 Pro RTK drone – This is for customers who are entering the drone mapping business but do not currently own a base station. This option includes camera calibration.
ASPSuite + Survey Grade Base/Rover kit + Phantom 4 Pro RTK drone – This is for customers who need the ability to collect check points or to add ground control points as well as use the base for the network tie for the P4R. This option includes camera calibration.
All options include online training and one year of customer support.In addition to the above, GeoCue offers a full range of data processing software, cloud-hosted data management, consulting and training services for drone mapping workflows.With this integration into existing DJI technology, Geocue has provided the market with a remarkably accessible solution to add accuracy and reliability to a widely used platform.