Flying a drone at a construction site for 3D Mapping and BIM Verification isn't always a simple endeavor. There are numerous legal and logistical requirements that need attention before a drone operation can take place, which sometimes aren't favorable at all. How can one work around it and still get the needed data?
Two years ago,
Pix4D
experienced these struggles firsthand at construction sites. Originally a software solution provider to process images taken by hand, by UAV, or by plane with any types of camera, the company has become well-known in the drone industry because of their creative approach to problems just like these.To run a drone operation at a construction site, operators need flight permission, favorable weather conditions and a certain amount of dedicated resources. Sometimes, combining the three isn't an easy task, which meant utilizing one of the most common pieces of equipment at a construction site presented Pix4D with a perfect solution for the job. That was when the
Crane Camera Solution for 3D Mapping
was born."The first test on site was done with a smartphone, fixed on the jib and the results were good!", said Pix4D Marketing Specialist, Sabrina Cardot. "We then ran a series of tests to produce a solution that could be autonomous, weatherproof and fully automated to capture images and send those images to our cloud."To help improve the solution and fix bugs, the company launched an early adopter program for customers who would be willing to test the solution on a larger scale and on a significant period. Today, the company continues to further develop the solution and add new functionalities to make it that much more powerful.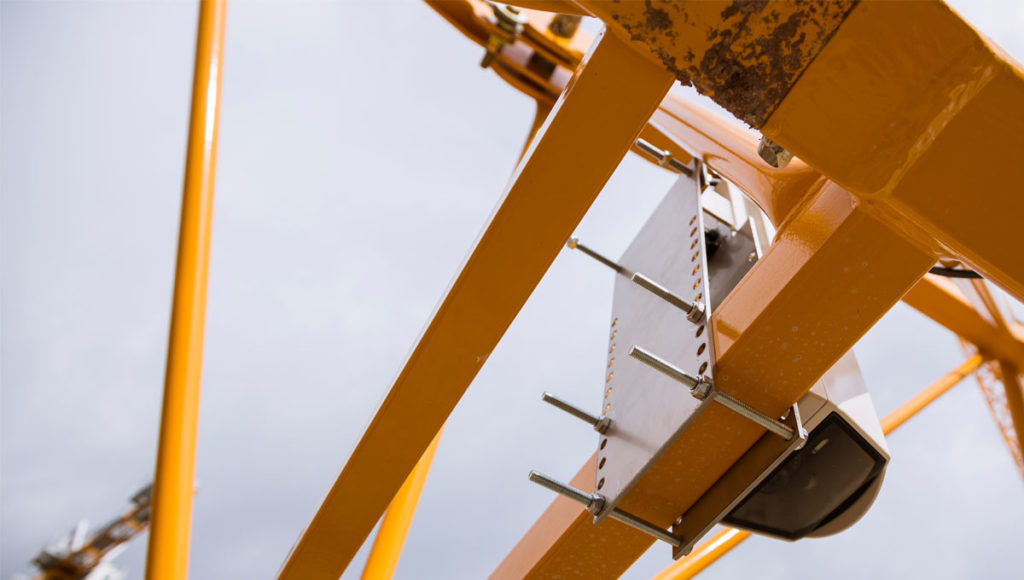 Pix4D's Crane Camera solution is not a just simple camera though. It features the
senseFly S.O.D.A camera
, and produces comparable results to UAVs by reaching an accuracy of 1 to 2 cm. The solution is fully autonomous (powered by the crane) as well as fully automated. In contrast with a drone or other handheld solution, Pix4D's Crane Camera solution doesn't face challenging regulatory hurdles and is not at the mercy of weather conditions. The Camera Crane removes the need for flight permissions and human resources to be on site to capture images."It's a complete stand-alone solution for site surveys with a smart system integration of professional photogrammetric camera, mini-computer, GPS/IMU navigation sensors, Cellnet communication, and photogrammetry software", Cardot told Commercial UAV News. "It captures images automatically, and because it's equipped with a 4G connection, the images are immediately sent to our cloud to be processed and converted into 2D/3D."Since its first installment in November 2016, the Crane Camera solution has been installed on about 40 construction sites for more than 30 construction companies worldwide. By automatically generating 2D maps and 3D models, the solution facilitates planning, increases productivity and helps to easily detect, for example, design clashes or schedule deviations. It's made a big difference for a variety of construction professionals."We have a customer who was using the Crane Camera and BIM, and had a situation where an engineer thought he noticed the new construction did not match the design documents", Cardot continued. "He assumed something had been built incorrectly. However, his quick research revealed that he was using an outdated set of design documents and changes had been made and approved that he was not aware of. By having access to BIM software, he was able to recognize this issue and update the design documents he was using for his reference."Although the Crane Camera is an efficient solution, Sabrina pointed out that the company promotes the use of UAVs first, unless there's no possibility to fly a drone all the time on site, which is where the Crane Camera comes in as a powerful alternative. If there's a need for additional information like the facades of the buildings, or to cover a larger area, users can easily complement the Crane Camera data with drone data, since
Pix4Dbim cloud software
allows users to easily combine both."To help to provide even more detailed BIM files, Pix4D is working on a new way to automate object recognition and 3D modeling, using drone-captured imagery and unique machine-learning photogrammetry processes. Eventually, the company wants to industrialize the Crane Camera solution and combine the crane-based data with ground-based handheld cameras, as well as to develop integrated solutions to automatically produce 3D point clouds of the construction site as seen from multiple angles. It's just one of the
many initiatives
the company is moving forward with to redefine how professionals can approach a given task in a
faster, cheaper or safer
manner.The Pix4D Crane Camera is
available for a monthly subscription
. Renting the solution provides access to the hardware and software along with full support.