Last year, Commercial UAV News ran a webinar with AirGon LLC (a wholly owned subsidiary of GeoCue Group Inc.) that was focused on what it meant to enable high accuracy mapping with DJI drones. To further explain and explore many of the topics that were discussed during that webinar, in we laid out what kind of hardware can be used to enable high-accuracy mapping, as well as what a geodetic network is, and the various available systems to position your collected data in the real world. Find out more by reading, "What Does it Mean to Use DJI Drones to Enable High Accuracy Mapping?"
With that topic fully detailed, we can move onto how
AirGon
managed to overcome the issue of non-existent PPK/RPK systems for DJI drones.
 AirGon's LOKI System
Release in late 2017,
the LOKI system
comprises a controller that contains: the GNSS engine, a Linux computer, a self-contained battery, AirGon's custom processor board that makes sure the system works, including camera mid-exposure pulse (MEP) interpretation and power management, and an active GNSS antenna that's necessary for accuracy and also as a way to conquer the noise environment. Additionally, it features what Lewis calls "a personality cable" that connects the LOKI system to the DJI drone through the SD card slot, USB interface, or a DSLR camera "hot shoe" adapter. The cable listens to message traffic on the drone, and via what's going on with that message traffic, it can discern when to declare a mid-exposure pulse.

The LOKI system also comes with bounding kits to attach it to the drone in a manner that doesn't require any drone modification to work. Furthermore, it includes a couple of hours of web training on AirGon ASPSuite, the software to import support files, process the Loki observations in PPK mode, and update image headers with the refined position information (an optional CSV file can also be output). In addition, there's a year of software support for ASPSuite. 
Mapping Workflow Steps
Before you send the drone flying, you need to prepare and follow a number of steps to make sure you succeed on what you're trying to achieve.First of all, there are project requirements, which is the definition of the final products to be delivered. Then, you need to plan the mission and check which strategy you will use once you send the drone flying. Once these are set, you fly the drone, collect the data, transfer it to a PC, process the Base Station and PPK data, and then use Structure from Motion (SfM) software to create the point cloud and orthophoto. Finally, you perform accuracy analysis, clean and analyze the data, and generate your products.On the image below you can find the whole PPK workflow using AirGon ASPSuite.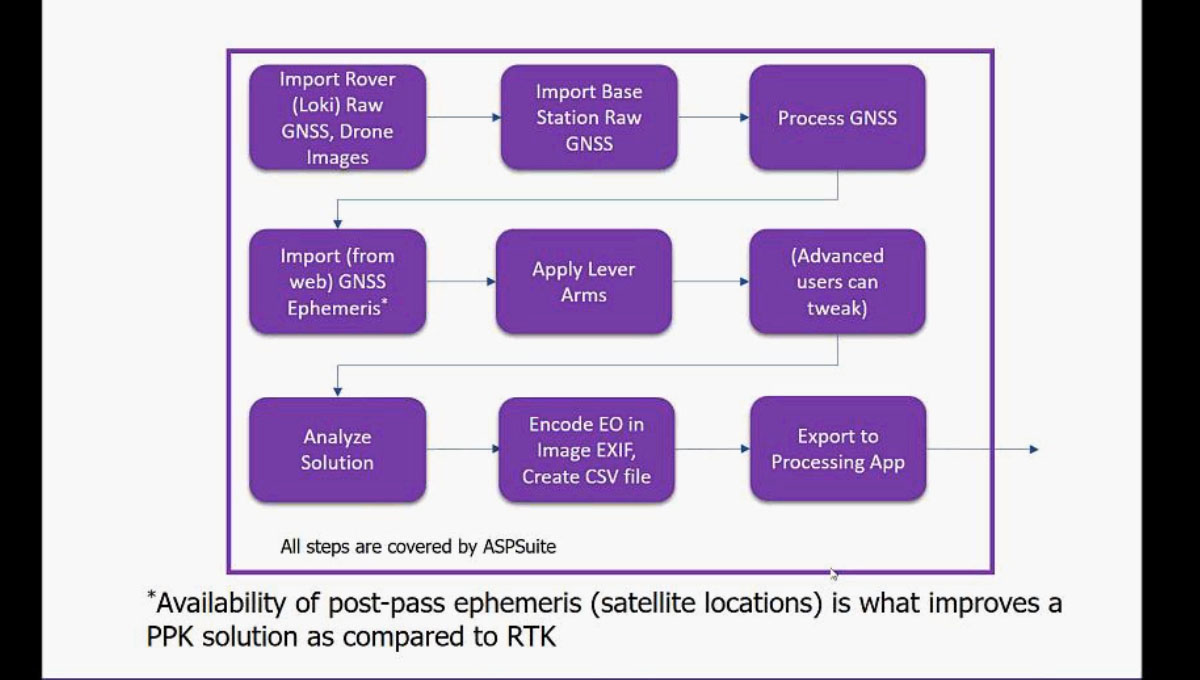 Real World Results
In terms of accuracy in real-world use cases, Lewis provides an example where AirGon flew an Inspire 2 equipped with LOKI at 47 meters altitude. By using a couple of control points to correct for small error in the camera focal length, they reached a horizontal error of about 2,5 centimeters, and a vertical error of about 3,25 centimeters, which is "certainly adequate for any kind of imaginable drone mapping project".To provide you with an idea of how using LOKI and ground control points help reaching high-accuracy mapping, performing the same mission without any of those systems results in a horizontal error of over 5 meters, and a vertical error of 116 meters. This is because DJI drones do not correctly encode the elevations that they put in the image.Additionally, Lewis showed the chart below which relates to more intensive testing. The first three tests were flown with calibrated focal length and Principal Point Offset (PPO) of the camera in the laboratory, no ground control points, and equipped with LOKI for Direct Geopositioning. Compared with the last three tests on the chart, where the camera calibration was performed on-site, it's clear how results can go south in a hurry.
AirGon BYOD Mapping Kit
Designed to provide everything you need for low-end drone high-accuracy mapping from the mission planning aspect of it, all the way to delivering products to customers, AirGon developed the
AirGon Mapping Suite.
Depending on the drone you're using, Lewis recommends you stick with the Mission Planning software that comes with it. So, as an example, for DJI it would be the Ground Station Pro software, the eMotion for senseFly's eBee drones, or if you're using a DSLR camera drone, use the mission control software that was provided with it.Then, the AirGon Mapping Suite helps you complement your own hardware, as it includes: the AirGon Sensor Package Software Suite (ASPSuite) for PPK Post Processing; PhotoScan for Photo-Correlation (or Pix4D as an optional upgrade); AirGon's LP360 software for analysis and data extraction; and Reckon, a web-based system for data delivery. Moreover, the suite comes with comprehensive online training, and 1 year of technical support and software updates. 
Questions and Conclusion
By the end of the webinar, there were a few questions, with one of them being what the impact is of that extra weight the LOKI system adds on the Phantom 4 Pro, or the Inspire 2."We did a test with a Phantom 4 Pro", Lewis answered. "In calm winds, with no LOKI attached to the drone, our flight time was 24 minutes. With the Loki direct geopositioning system attached, it was slightly over 20 minutes. So, of course you pay a penalty when you add extra weight to the drone, but it's definitely not a killer. Also, that's the worst case scenario because that drone is so light. If you have a choice in what drone to use, I would recommend the Inspire 2 because you get better wind resistance."Someone else asked about the best practices for GCP layout, how to determine the number of points, spacing, etc. for a particular project area, where Lewis answered the AirGon Mapping Suite includes "a module on how to plan and lay out ground control points when you do and do not have Direct Geopositioning".Another question was about the quality degradation when switching back from a full-frame Sony A7R with 36 MP to a 1-inch sensor camera such as DJI's X4S that Lewis recommended previously. "There is no doubt whatsoever that the better the camera, the better the photogrammetry that you're going to get." However, Lewis hasn't seen a huge difference in horizontal and vertical accuracy. The differences between both are more about the dynamic range of the camera, how well it can see in dark areas or, for example, do coal piles, which is where the Full Frame cameras are an advantage. But in terms of accuracy, except for rolling shutter cameras, there's not a huge difference between anything 1-inch and above.The last question was if there's any need to understand everything related to drone mapping beforehand when starting out, and what the learning curve is."I don't think you do need a lot of domain expertise, and I think that's proven out by the fact that we've internalized this for a number of customers. A good example of that is
Packaging Corporation of America
where they're using it for mapping wood chip piles and log piles. They don't have domain expertise in photogrammetry, and yet they've had no trouble at all internalizing these operations."In conclusion, Lewis encourages people who are now starting to use the technology, or even for more experienced people who want to learn more, to get a package such as the AirGon Mapping Suite, since it includes everything you need to get your business running for around $8,000. If you own a DJI Inspire 2, a Phantom 4 Pro, or a DSLR camera drone, and you're looking at high-accuracy mapping, the LOKI system costs around $6,000 and provides outstanding results.If applicable to the project at hand, these two systems will you provide you with a better Return On Investment (ROI), and a more efficient, safer and easier way to perform your work
Click here to watch the full webinar