Thursday, June 3, 2021 | 11:00AM – 12:00PM Eastern Time
Drones and AI: Improving Workflows
Drones are increasingly being incorporated into workflows to help gather high-quality data about assets. Over time, however, developers have needed to push drone technology to meet end users' demands for more intuitive and responsive flight, data collection, processing, and analysis. Panelists will discuss how AI and machine learning is improving workflows from data collection, processing, and analysis to the final deliverable.
---
Moderator
Linda McLaughlin, Conference Program Manager, Commercial UAV News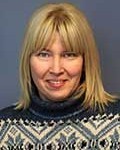 Linda is a conference producer for the technology group at Diversified Communications, managing conference program content for events including Commercial UAV Expo Americas and SPAR3D/AECNext. She has developed technical content for conferences in a range of sectors and technologies, including engineering process improvement, building design and AEC, materials science, pharmaceutical & biotech, healthcare IT. Her background is in sales and marketing; she began her events career in sales at PTC and since then has developed content for organizations including The Knowledge Foundation, Daratech and Cambridge Healthtech Institute (CHI).